Tyco Retail Solutions First to Market Mobile Handheld Acousto-Magnetic Deactivator

All-in-one scanner deactivator helps retailers improve transaction throughput and reduce nuisance alarms to enhance customer experience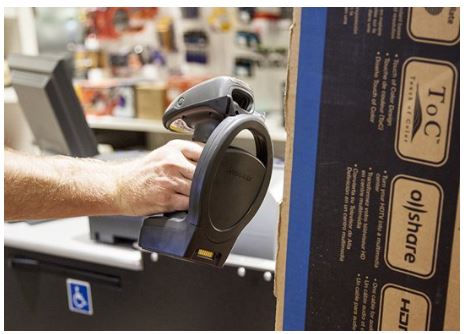 NEUHAUSEN, Switzerland—June 11, 2014—Tyco Retail Solutions (www.tycoretailsolutions.com), a leading global provider of retail performance and security solutions, today announced the launch of the first Sensormatic Mobile Handheld Deactivator. This new all-in-one unit enables rapid and easy deactivation of Acousto-Magnetic (AM) Electronic Article Surveillance (EAS) labels during the barcode scanning process for faster transaction throughput. Lightweight yet durable, this portable deactivation scanner device was developed to improve the customer experience by increasing speed at checkout and reducing nuisance alarms responsible for causing unnecessary customer inconvenience. Tyco's latest innovation helps retailers, especially those selling large, bulky items like Do-It-Yourself (DIY) stores and mass merchants, increase productivity so sales associates can spend more time servicing customers.

Designed to easily connect to handheld barcode scanners, Tyco developed the breakthrough Sensormatic Mobile Deactivator to enable store associates to simply and rapidly scan and deactivate all protected items in the shopping cart without lifting them onto the counter, thereby improving both customer checkout throughput and deactivation rates.

One of Tyco's large home improvement retail customers identified reducing checkout time, especially for heavyweight items, as an opportunity for improving their shoppers' experience. They recognized some point of sale (POS) processes were time consuming, inefficient, inaccurate and could require cashiers to lift heavy merchandise.

By working with Tyco to deploy the Sensormatic Mobile Handheld Deactivator, the DIY retailer has seen great results as the mobility feature allows cashiers better flexibility to scan and deactivate heavy, bulky items in the shopping cart, increasing productivity and customer focus. This retailer also found the device helps reduce heavy-lifting related injuries and decrease nuisance alarms at the door by 50 percent, as sales associates do not miss tags on large items. In addition, since labels can only be deactivated after they are scanned for purchase, the retailer is tackling internal theft and helping create only true alarm events. With this level of deactivation intelligence and control they are helping prevent employee theft, scan avoidance and merchandise switching.

Read more here.