Retailers Can Add Biometric ID without Replacing Card Readers with New Zwipe Biometric Card


Retailers Can Now Reduce Reliance on Cards/Passwords for Authentication without Hardware Changes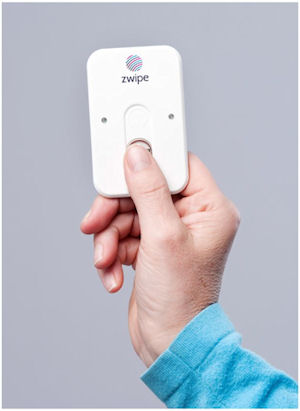 OSLO, NORWAY - June 24, 2014 - Moving the biometric technology from the reader to the card, Zwipe's innovative on-card authentication gives retailers the ability to upgrade their access control systems to biometric practically overnight. Eliminating the need to swap out traditional card readers for biometric readers, Zwipe provides a simple and cost-effective solution for biometric access control. The contactless Zwipe biometric card reads the user's fingerprint in less than one second and, once verified, sends a signal to the reader to unlock the door. This eliminates the risk of lost or stolen cards being used for unauthorized access as well as strengthening the audit trail of accountability.

Eliminating the problems of solely deploying PINs and standard cards, the contactless Zwipe biometric card lets retail employees authenticate themselves directly on the card through something they are, a fingerprint. Only then will the card system activate the lock. The on-card fingerprint scanner with 3D capacitive technology resides on the contactless smart card which has universal compatibility with all ISO 14443 contactless card readers. The Zwipe biometric card is DESFIRE EV1 and MIFARE Classic compatible.

"In most cases, a retailer only has a few people at a few places where they really need to deploy biometrics but changing out a card reader for a biometric reader for only those people or locations is too expensive or too impractical," emphasizes Zwipe CEO Kim Humborstad. "Using the biometric card is much more secure than simply using a standard card, which verifies only something they carry, a proximity or smart card."

The biometric card is safer to use than other available ID and authentication solutions on the market today. The fingerprint data is captured by the on-card fingerprint scanner and is thereafter encrypted and stored only inside the card. No exchange of data is conducted with external systems. This provides secure template management since the fingerprint never leaves the card. It also eliminates user concerns with privacy issues. The card is unique to the user and only the authorized card holder can activate card communication with the reader. When a positive match occurs, the Zwipe biometric card will activate encrypted communication with the existing lock or reader in the same way as othercontactless cards.

More information is available at www.zwipe.com.

About Zwipe
Founded in 2009, Zwipe is a fast growing company in the center of a quickly evolving industry. Zwipe has a strong portfolio of Patent Applications and is continually developing more. The Zwipe product is a contactless card with which users authenticate themselves not through something they know (pin/code) or solely carry (a standard card) but through something they are (their fingerprint). The card is based on an NFC (Near Field Communication) platform with no external database containing sensitive information as the fingerprint data is only stored inside the Zwipe card. To learn more about Zwipe, please visit www.zwipe.com or follow Zwipe on Twitter @zwipe.