December 19, 2014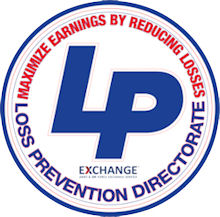 The Exchange HQ Loss Prevention Team, Dallas, Texas

Greetings from The Headquarters of the Army and Air Force Exchange Service

"Maximizing Earnings by Reducing Losses"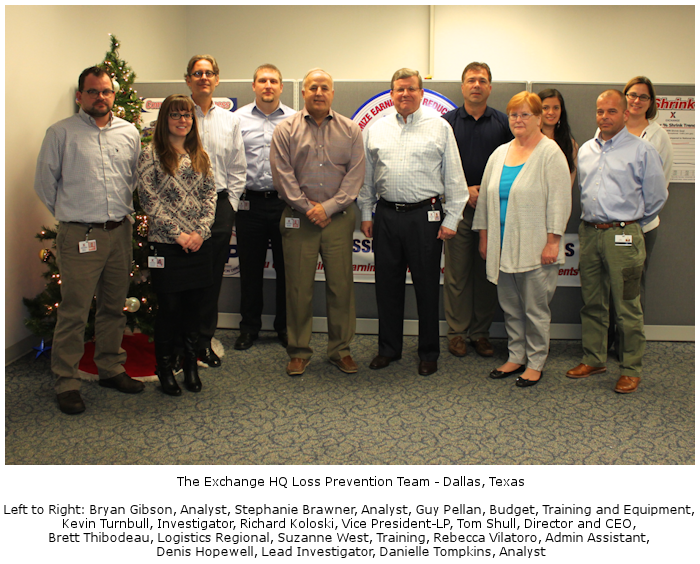 December 15, 2014


Burlington Stores LP Team from Territory 4 - Region 16 -
Dallas, Ft. Worth

"Loss Prevention and Law Enforcement - Building Partnerships"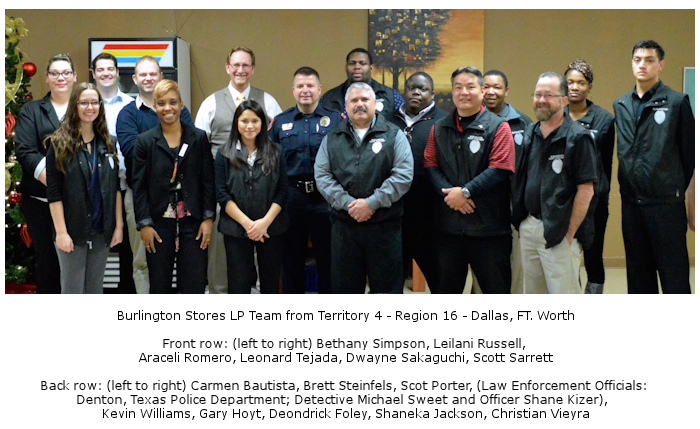 December 8, 2014



Burlington Stores LP Team from Territory 3 - Northeast

"Teamwork"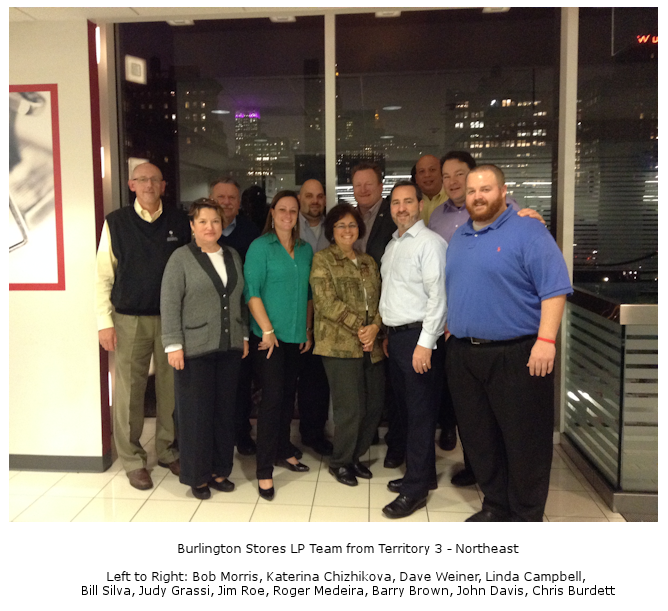 November 24, 2014


Michaels' Loss
Prevention Team

"Working together to reduce Shrink, minimize Risk,
and improve Safety."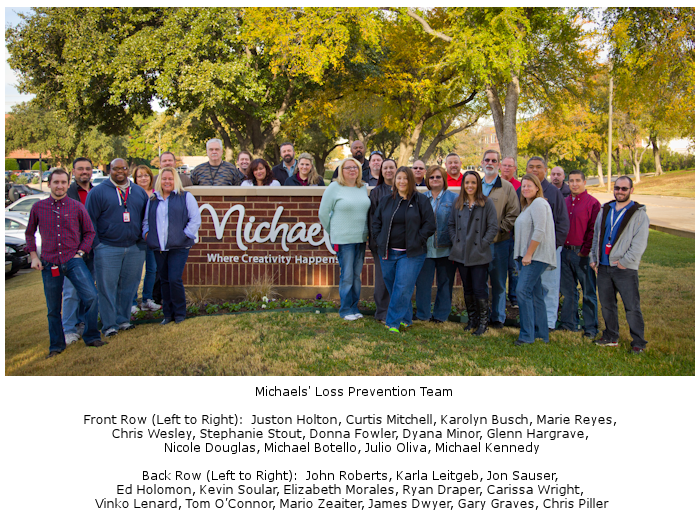 November 21, 2014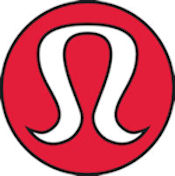 lululemon athletica
Asset Protection Field Team

"When we govern ourselves according to the practice of Asteya, we will enhance our culture of honesty and integrity and naturally achieve our asset protection goals."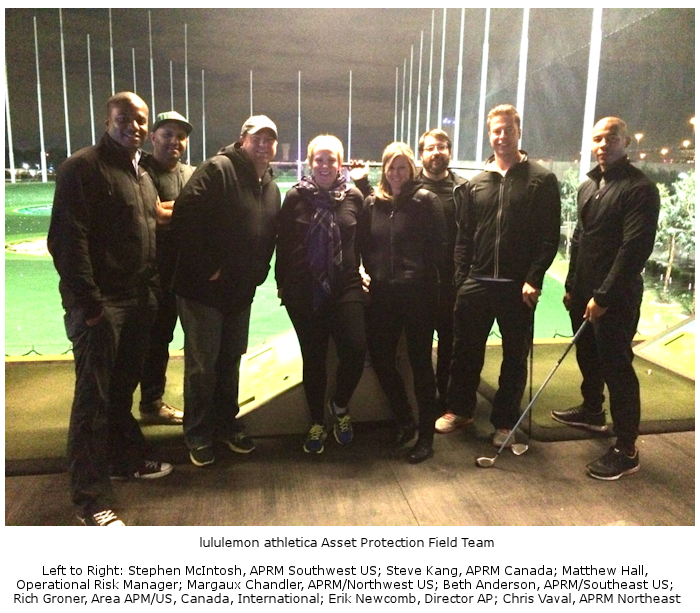 November 20, 2014

November 19, 2014


Super Kmart #4059 Loss Prevention Team - Taylor, MI

"Building a culture, through safety
and shrink"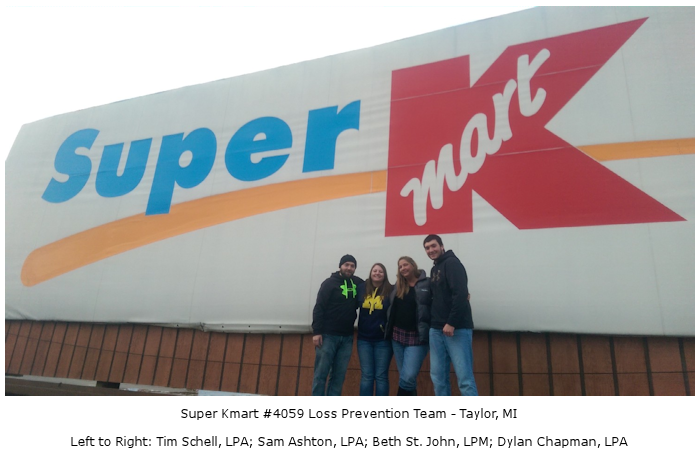 November 18, 2014



Penske Logistics Loss Prevention Team


"Dedication at Every Turn"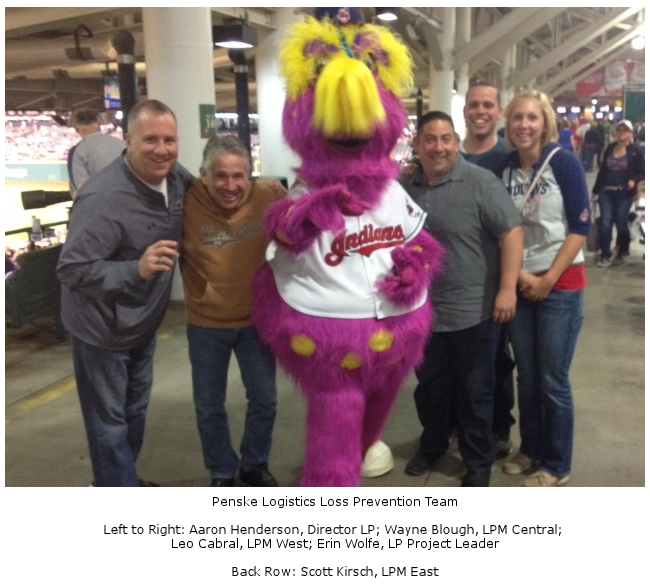 November 17, 2014




Family Dollar Loss Prevention Team

"Work Hard. Have Fun. Make a Difference"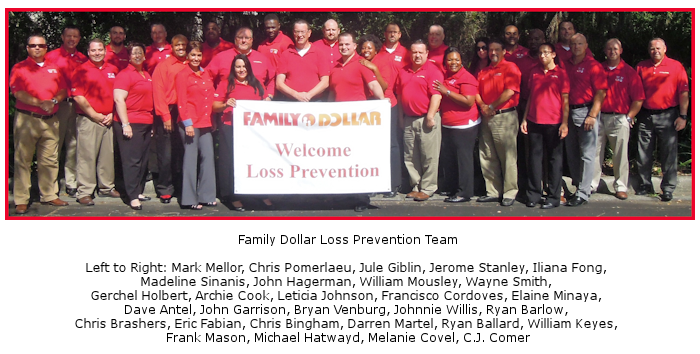 November 14, 2014




Burlington Stores, Inc. Houston, Texas
Loss Prevention Team

"Burlington - Brag About It!"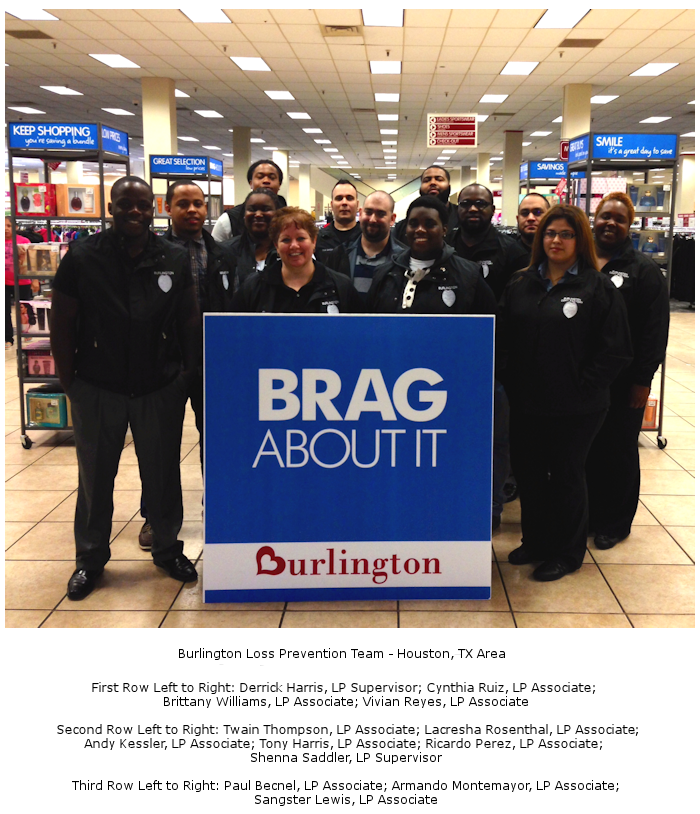 November 13, 2014


GameStop West Market LP &
HR Team

"People. Passion. Prevention."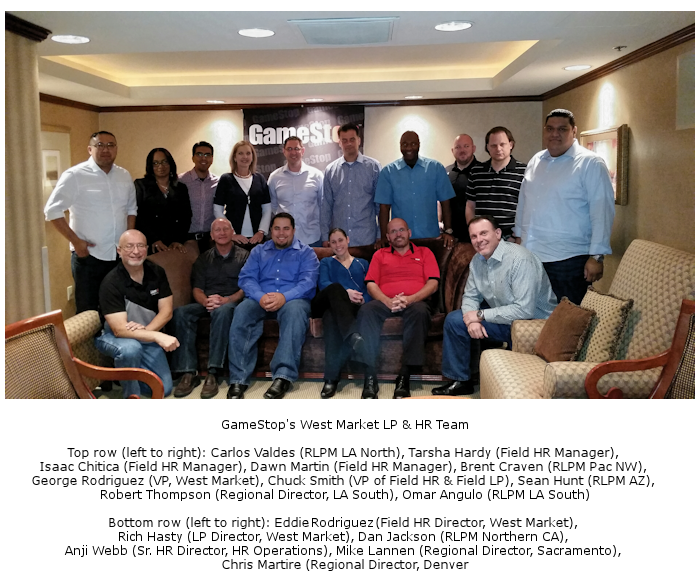 November 12, 2014




Burlington Stores, Inc. Kansas City
Market Loss Prevention Team

"It Takes A Team to Beat Shortage"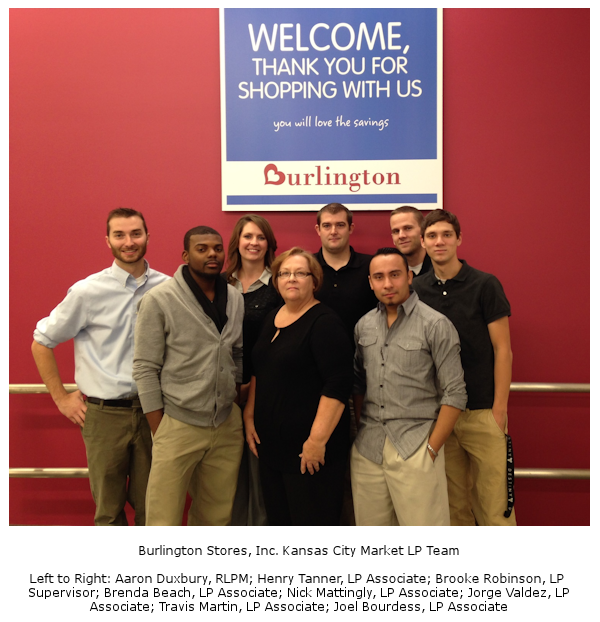 November 11, 2014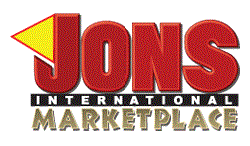 Jons Marketplace Corporate Loss Prevention Team

"We Shop the world for you"



November 10, 2014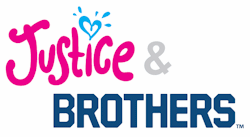 Justice & Brothers Stores Loss Prevention Team

"LP - Your Profit Protection Professionals"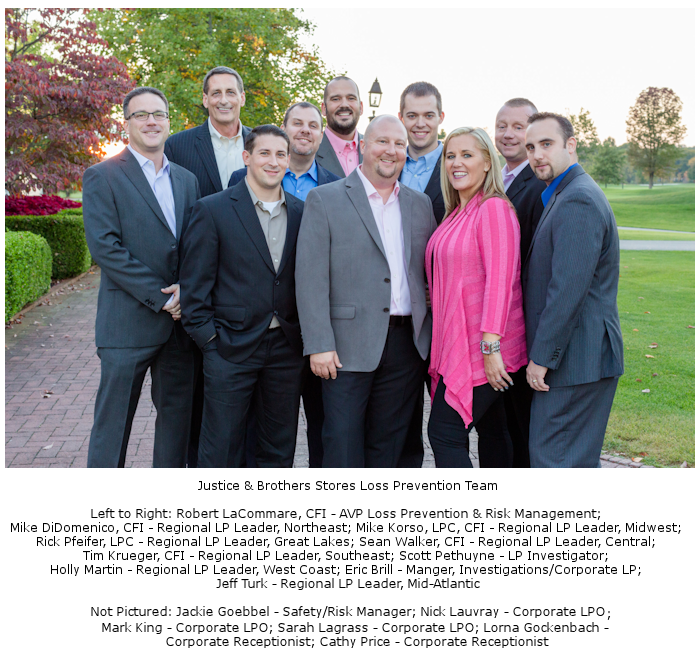 November 7, 2014






Macy's Western Florida Loss Prevention Team


"Making MAGIC!"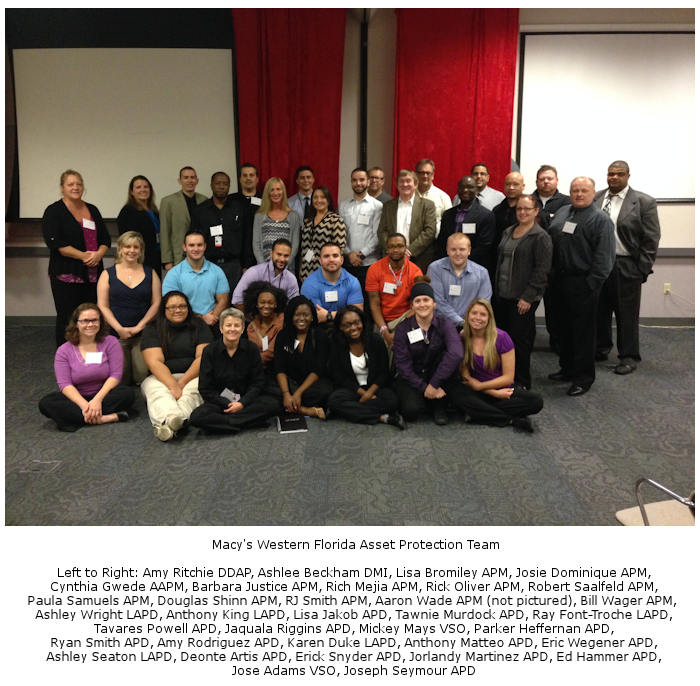 November 6, 2014





Ahold USA Asset Protection Investigations Team


"Getting Better Every Day"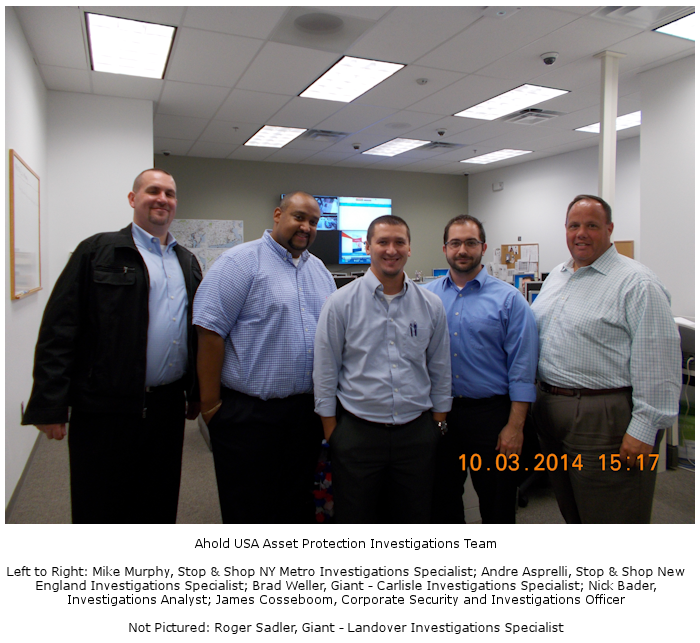 November 5, 2014


Sears Hometown and Outlet Stores Loss Prevention Team

"Taking a business approach to Loss Prevention Issues"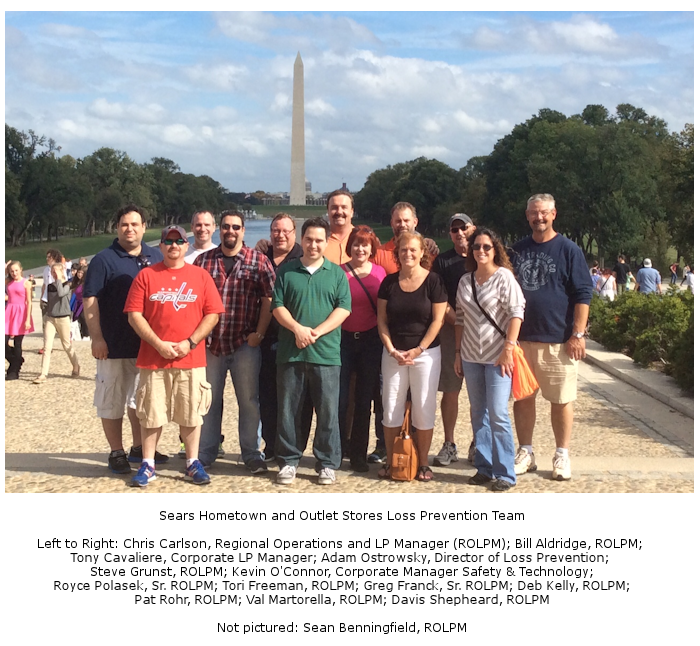 November 4, 2014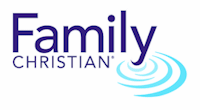 Family Christian Loss Prevention Team

"Protecting the Family Christian Mission to Serve Orphans and Widows"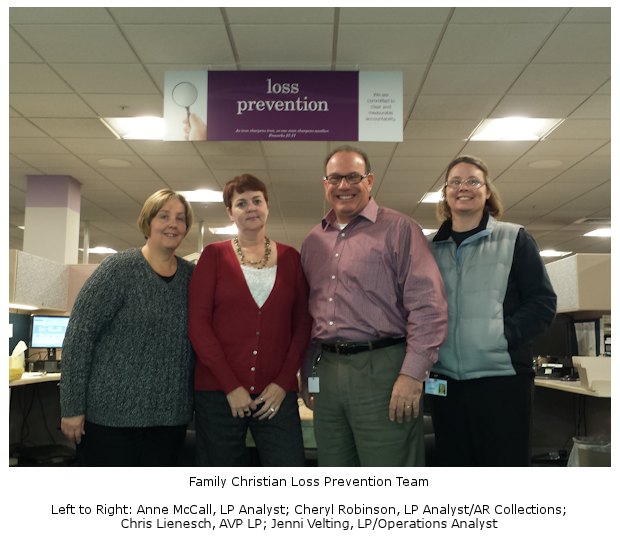 November 3, 2014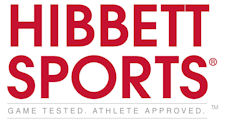 Hibbett Sports Asset Protection Team

"Great Company...Great People...Great Team!"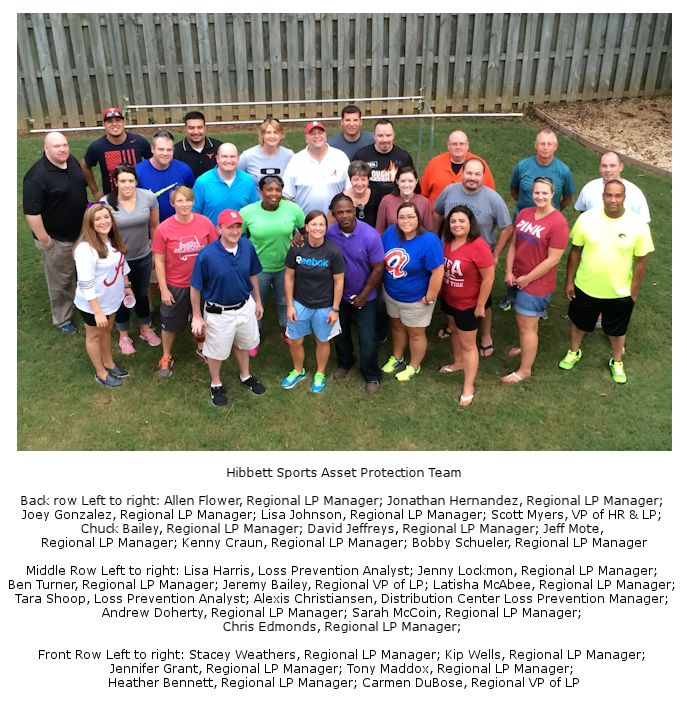 October 31, 2014



David's Bridal Loss Prevention Team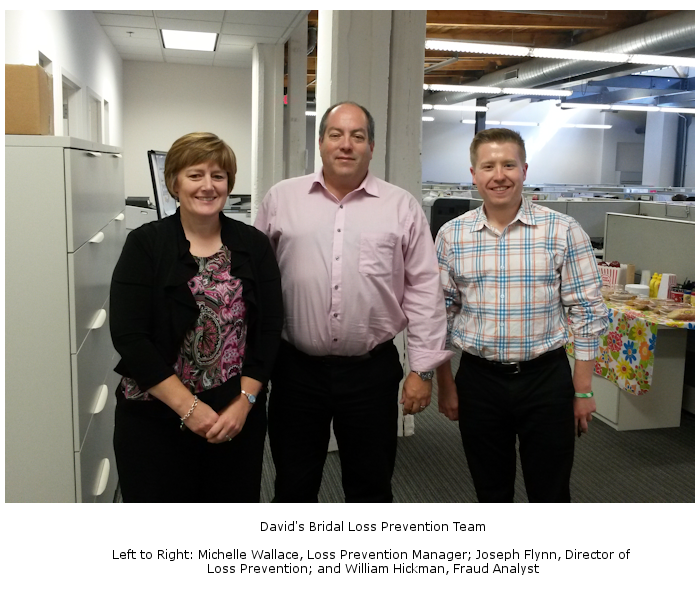 October 30, 2014



Tilly's Loss Prevention Team at Huntington Beach

"If It's Not Here, It's Shrink"


October 29, 2014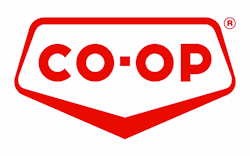 Federated Co-operatives Limited Loss Prevention Team

"Protecting People, Property and Reputation"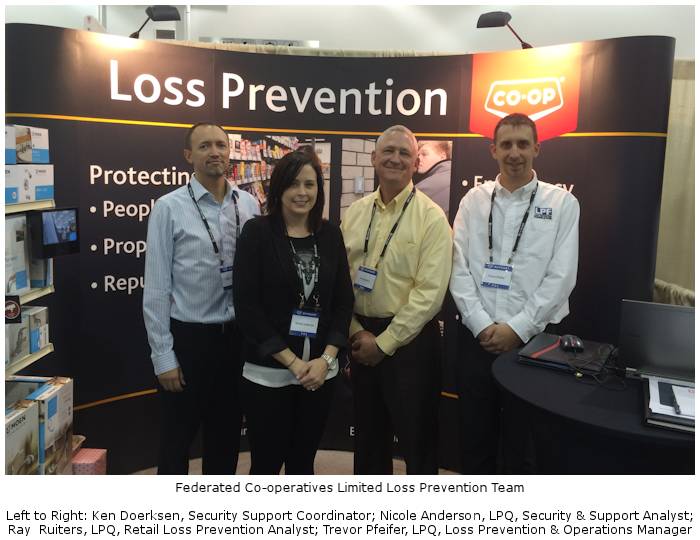 October 28, 2014



CVS Area 4 Loss Prevention Team
at Constellation Field in Sugarland, Texas

"Health is Everything"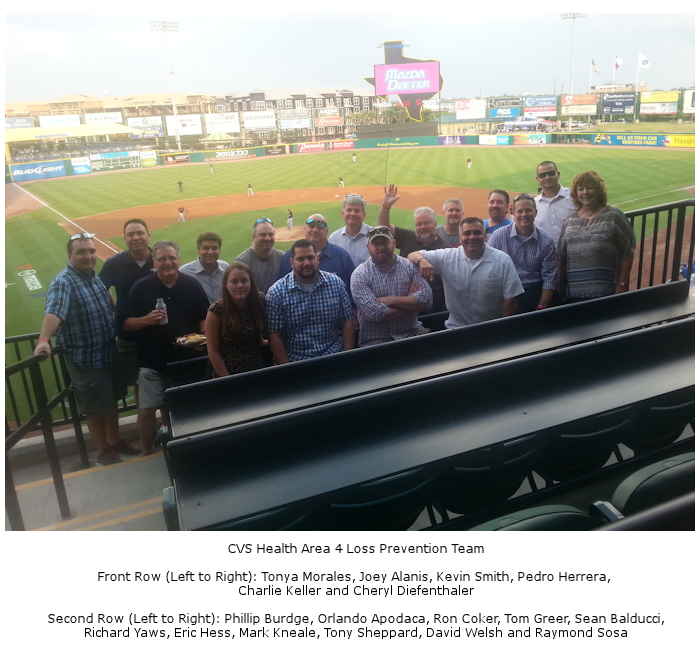 October 23, 2014


Albertson's Loss Prevention Team District 2 and 3 in the Seattle Market at the WSORCA Conference in Tacoma

"See It, Feel It, Think It"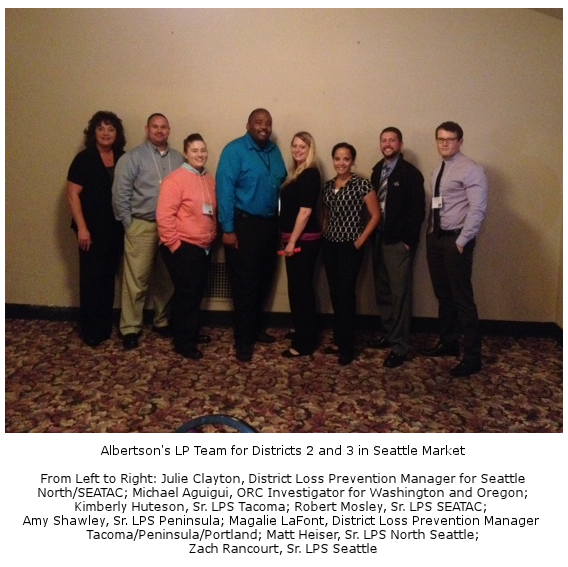 October 15, 2014




Burlington Stores


Region 28 Austin/San Antonio Market LP Team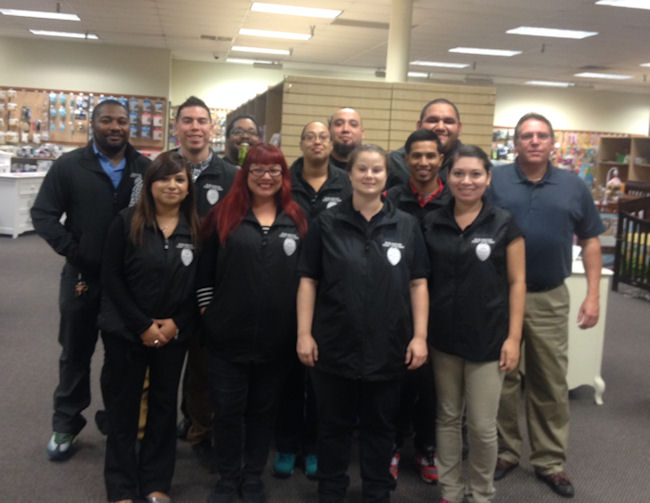 (Back Row) David McMillan, LPS; Mark Hernandez, LPA; Wendell Wade, LPS; Crystal Johnson, LPA; Eric Gamboa, LPA; Ricardo Leija, LPA; Johnnie Chromcak, RLPM (Front Row) Sarah Quintanilla, LPA; Debra Villarreal, LPA; Stacey Pankratz, LPA; Carolina Torres, LPA



October 2, 2014



Columbus Ohio , Macy's
District LP Team


Giving back at the Food Bank

"Making Magic by 'Giving Back'"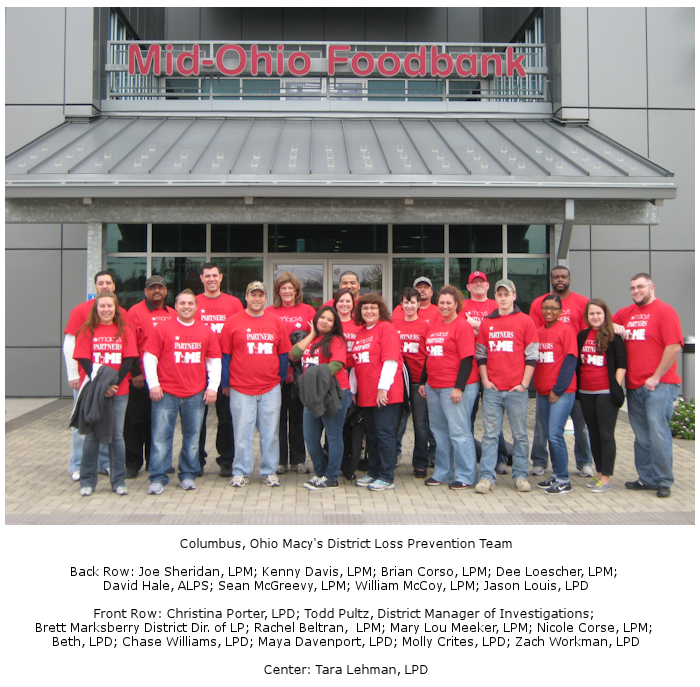 September 26, 2014





Lane Bryant Loss Prevention Field Team

"P3...People, Process & Profit"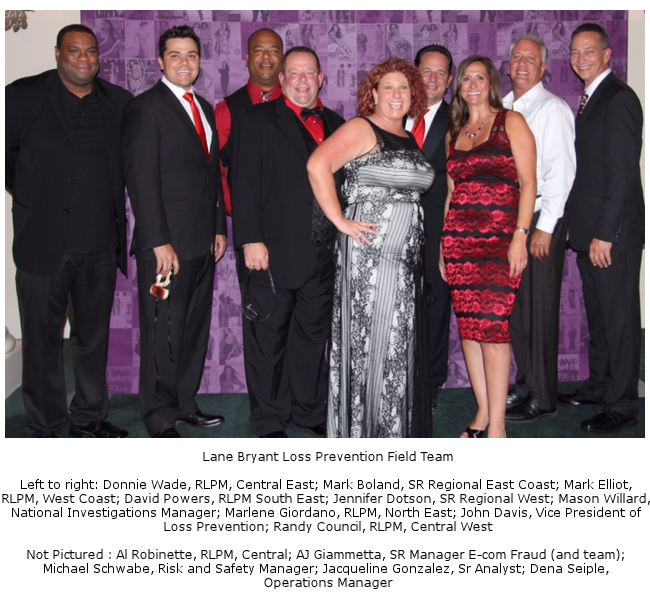 September 25, 2014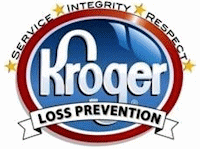 Kroger Loss Prevention Team

"Protecting Assets, Driving Sales"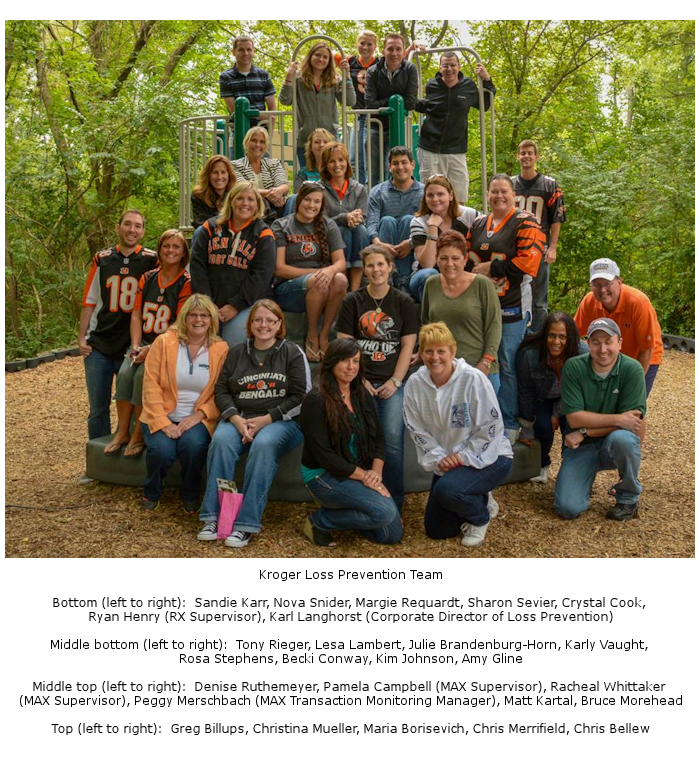 September 23, 2014




DSW Loss Prevention Team


"Living Our Values. Protecting Our Assets."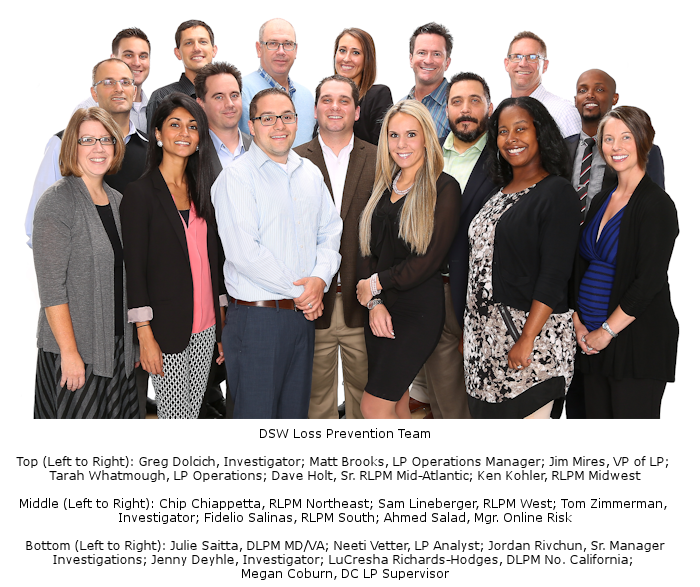 September 22, 2014


Charming Charlie's Loss Prevention & Safety Team

"Reducing Shrink one Color at a Time!"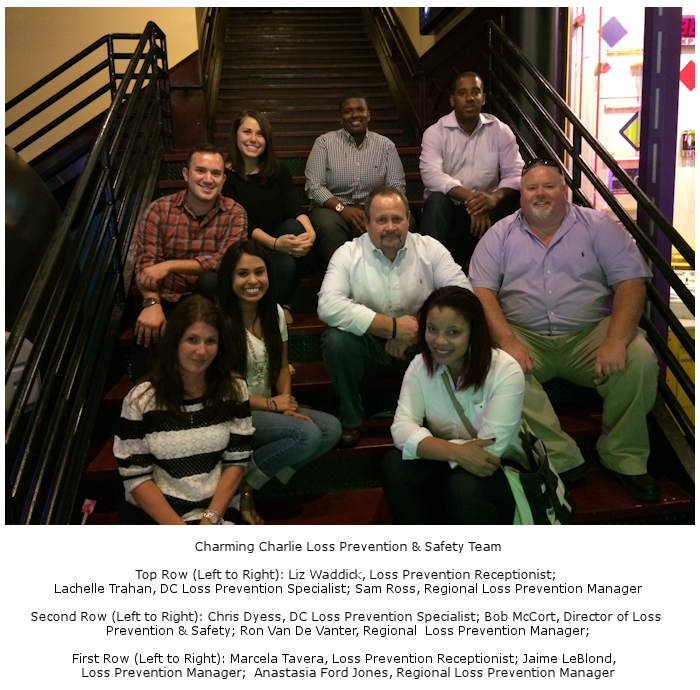 September 19, 2014



The Reitmans (Canada) Ltd. Loss Prevention Team

"It Begins With You!"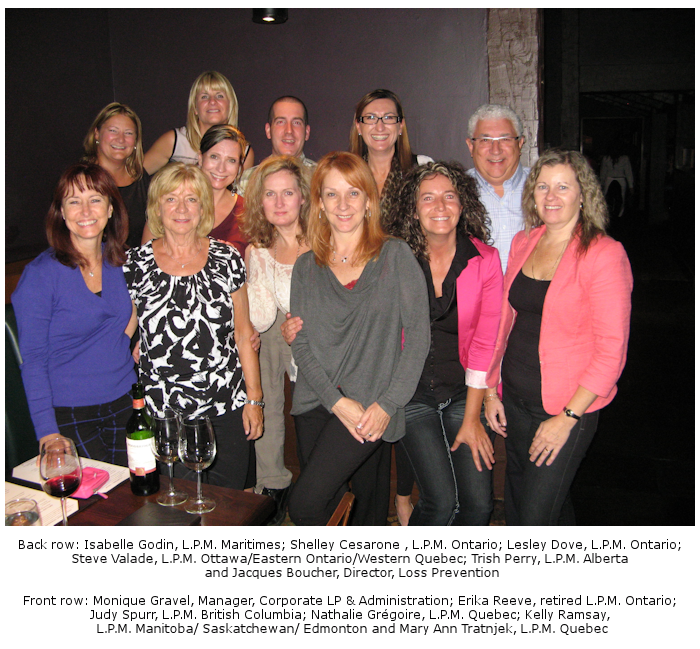 September 18, 2014



The Children's Place Corporate Team

"Think Shrink...We Do!"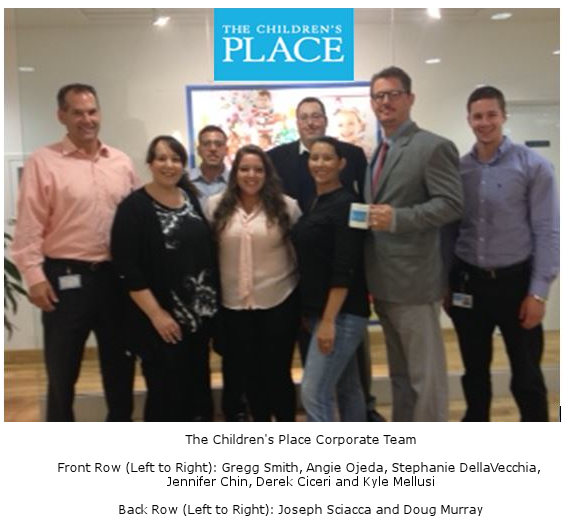 September 17, 2014

The Staples Global Loss Prevention Team -
Division 1 at their Global LP Conference in Mystic, CT

"To become a world class Global Loss Prevention team through partnership with our customers and associates"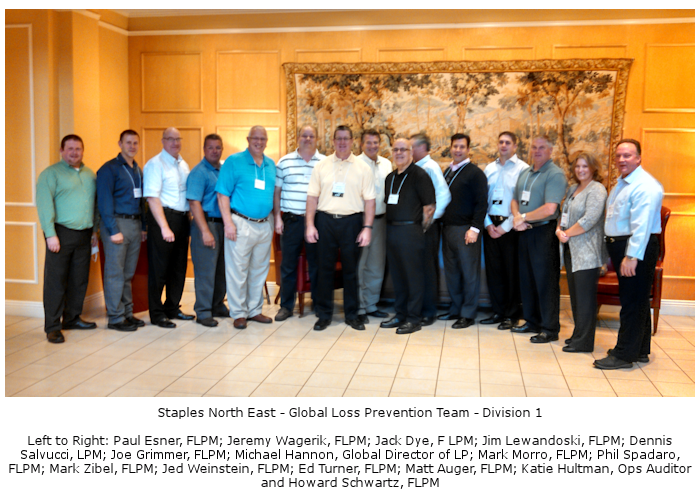 September 16, 2014



The Asset Protection Manager Team for Home Depot District 220

"Enhance and Protect the Home Depot Brand"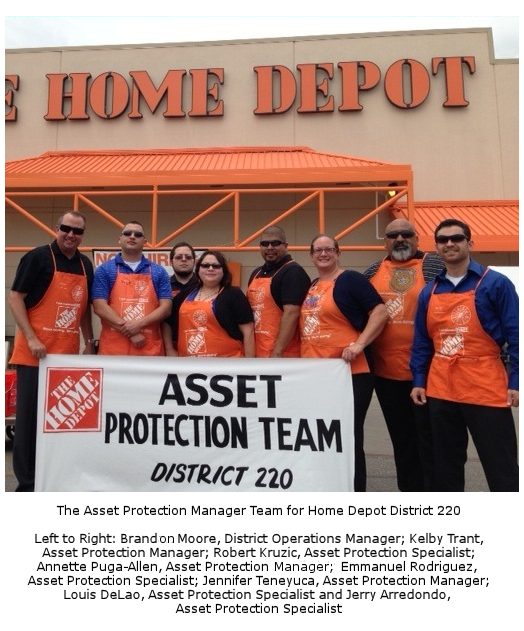 September 12, 2014





Walmart's Global eCommerce Investigations and
AML Risk Analytics Team

"VUCA: Volatile-Uncertain-Complex and Ambiguous"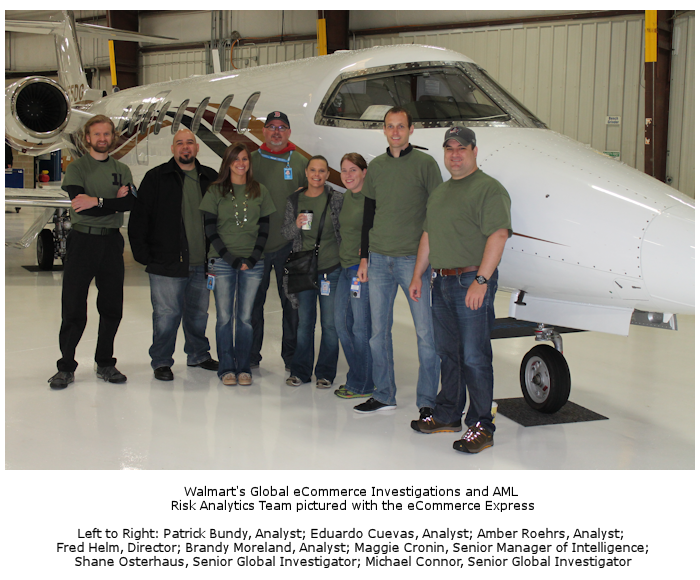 September 11, 2014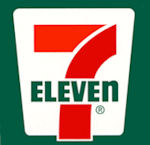 The 7-Eleven Asset Protection Team from Corporate Headquarters

Showing that #7Elevencares by helping at North Texas Food Bank, sorting and bagging apples for their program

"7-Eleven Cares"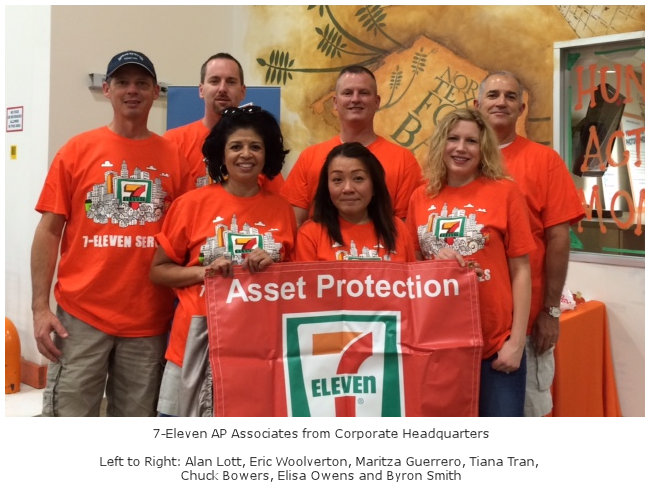 September 10, 2014

The Brookstone Loss Prevention Team

"KHPH - Keeping Honest People Honest"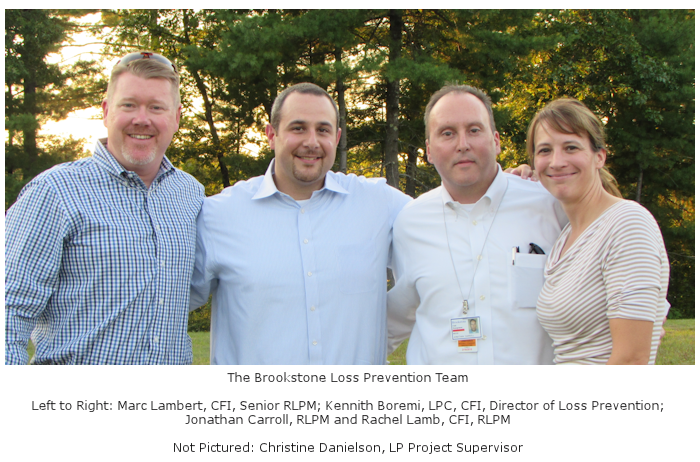 September 9, 2014



Instakey Security Systems' newest
Loss Prevention Qualified employees

"Making KeyControl Simple!"

LP Qualified (LPQ) is a certification that was designed to be a benchmark education for loss prevention professionals, driven by the Loss Prevention Foundation. Instakey looks forward to next year when more personnel will be testing for their LPQ Certifications and others will be moving on to their Loss Prevention Certification credential!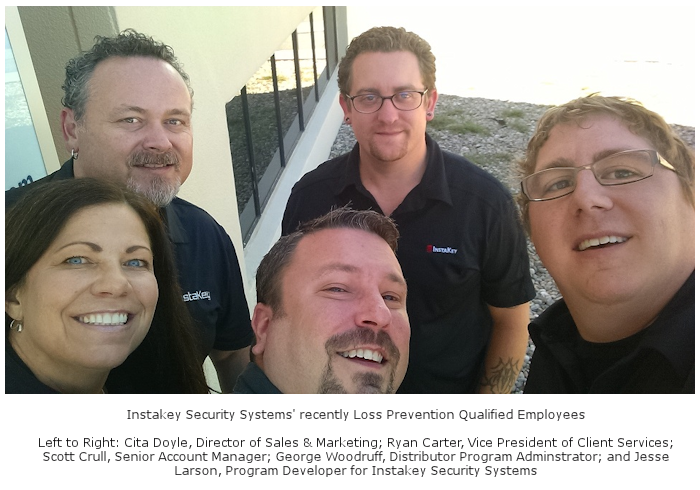 September 8, 2014

Dunkin' Brands Loss Prevention Team

"Protecting the Integrity of our Brands while Driving Overall Profitability"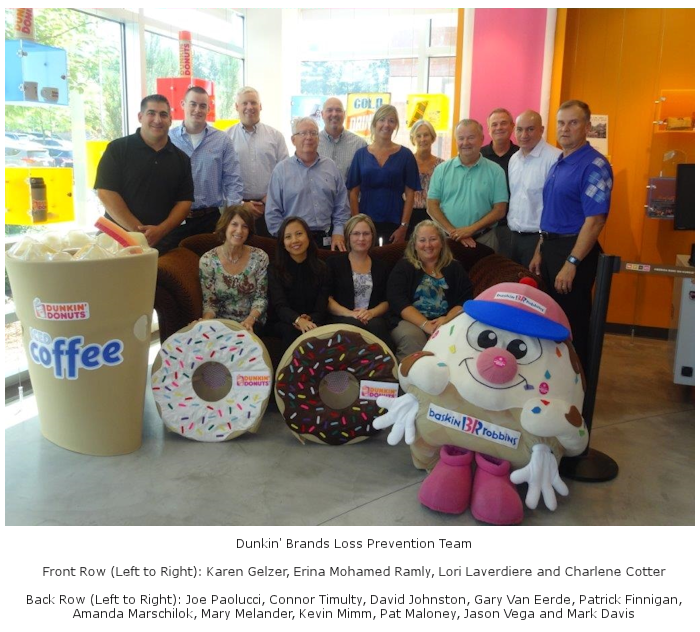 September 5, 2014



Macy's Carolina's Loss Prevention Team

"The Magic of Macy's LP"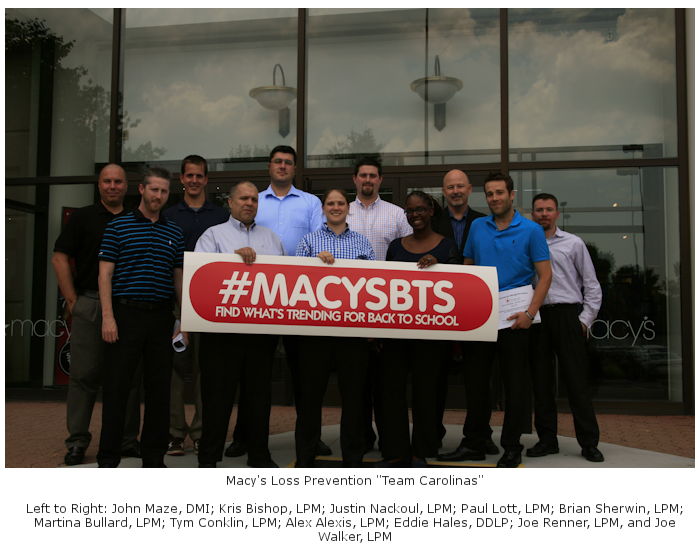 September 4, 2014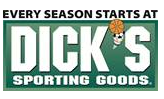 Dick's Sporting Goods Ohio Valley Region Loss Prevention Team

"Every Season Starts at Dick's Sporting Goods"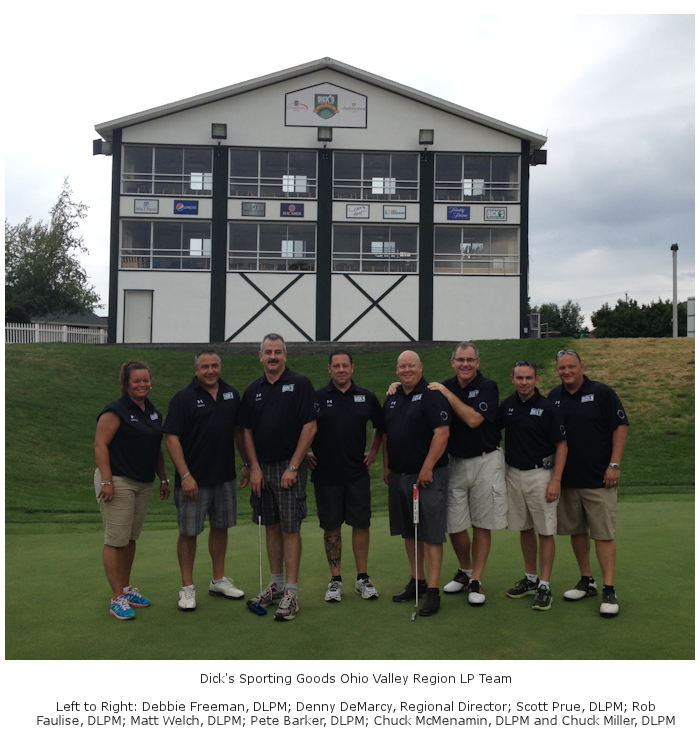 September 3, 2014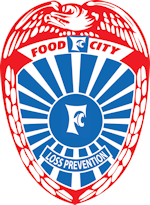 K-V A-T Food Stores, Inc. (Food City) LP/Security Team at FOOD CITY 300 Race

"Run the best store in town"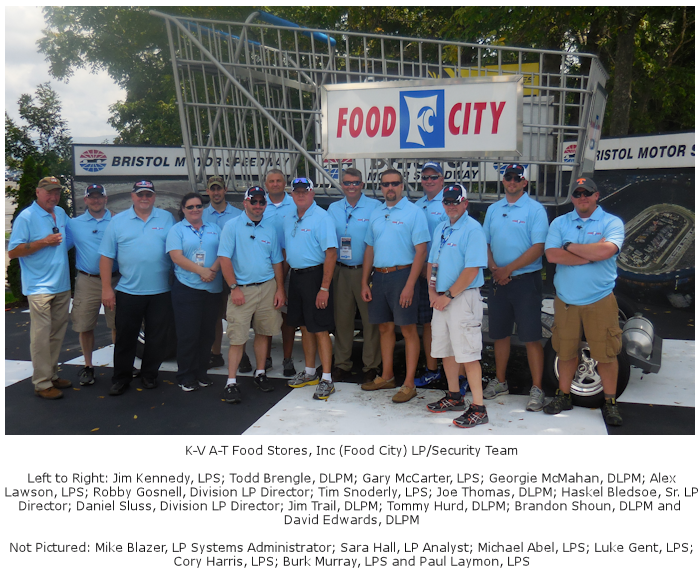 August 29, 2014


Macy's Loss Prevention Leadership at Corporate and VP Level
"The Magic of Macy's LP"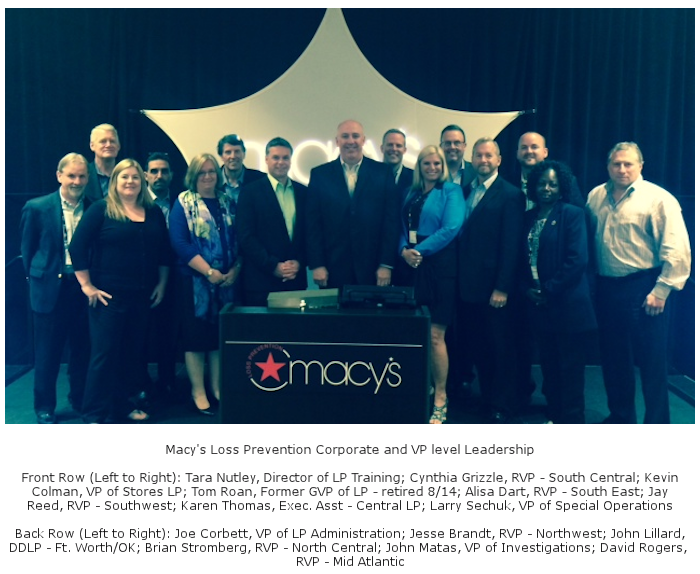 August 28, 2014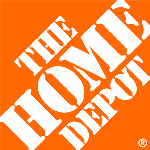 Home Depot's District 164
Asset Protection Team
Having fun at Team Night at the Phillies

"Preventing Loss at the Biggest Home Improvement Retailer in the World"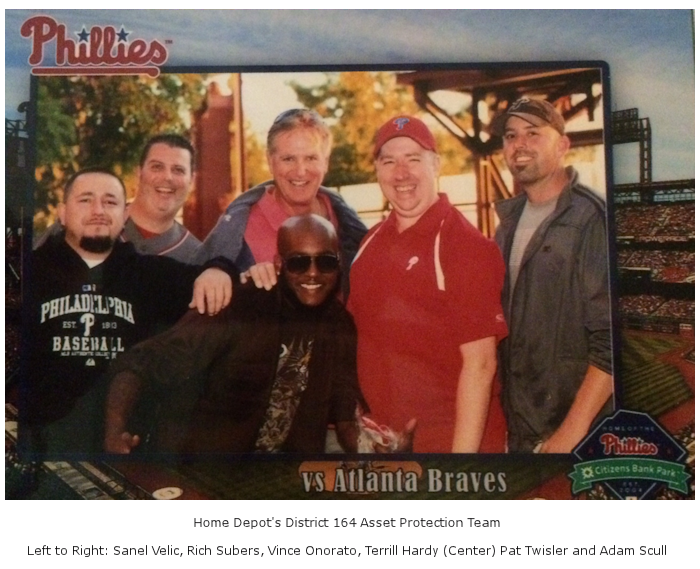 August 27, 2014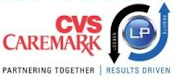 CVS Caremark's Area 18 Loss Prevention Team in front of the first CVS Pharmacy store in Washington State!

"Partnering Together, Results Driven"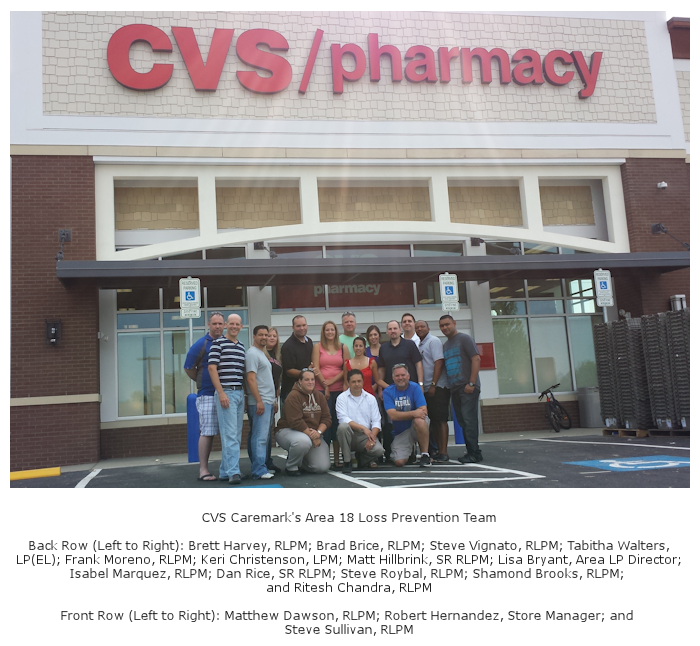 August 19, 2014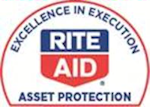 Rite Aid's Corporate AP Team

"Rite Aid Pride"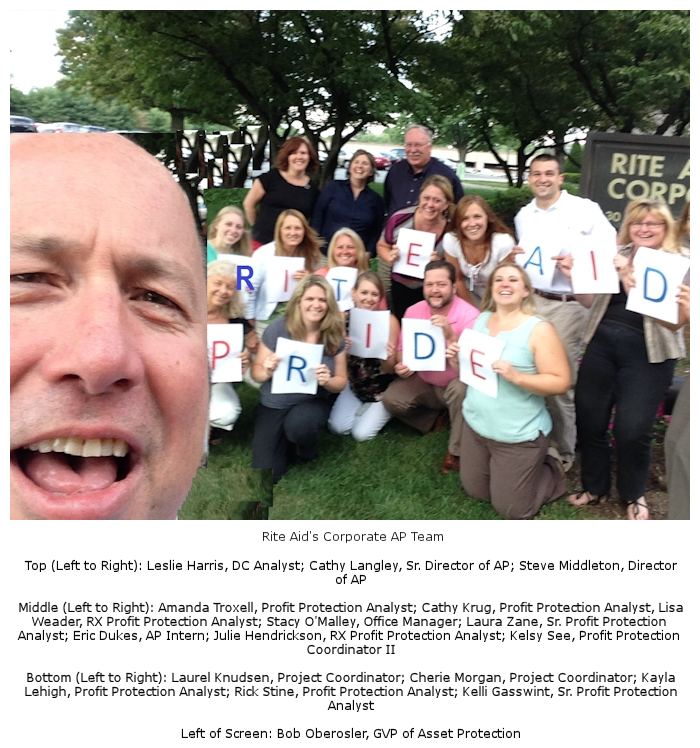 August 18, 2014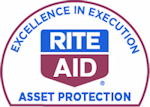 Rite Aid Division 1 AP Team

"Excellence in Execution"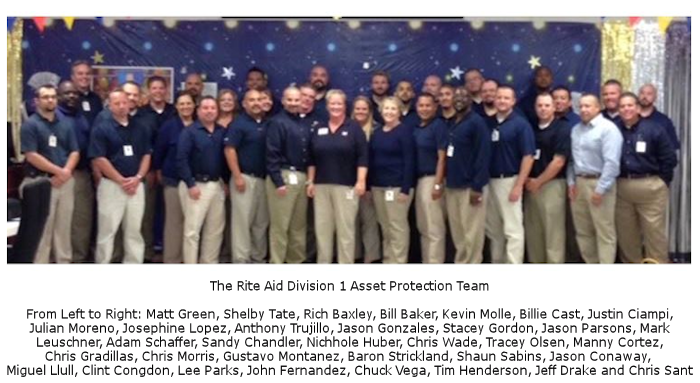 August 15, 2014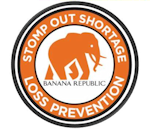 Banana Republic Loss Prevention

"Stomp Out Shortage"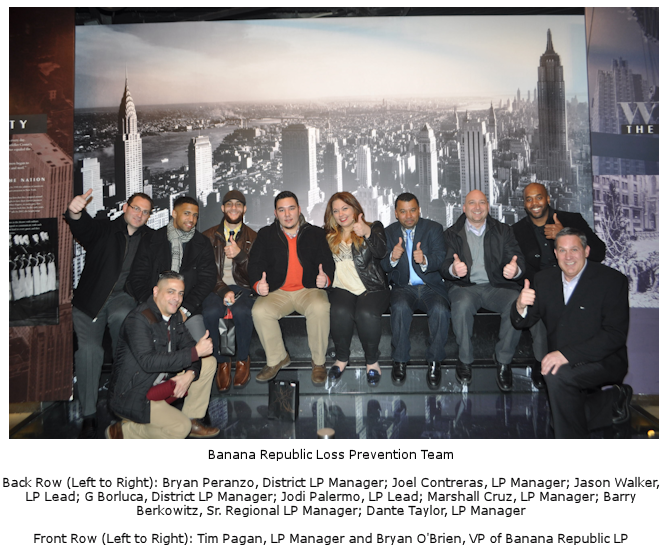 August 14, 2014

Kmart District Loss Prevention Team
Representing Kansas, Missouri, Nebraska, Oklahoma and Texas

"Our vision is to Serve, Delight, and Engage our members while they SHOP THEIR WAY!"

"We build teams of engaged associates who embrace change and technology and achieve operational excellence to drive profitable sales."

"Deliver a "Wow" member experience!"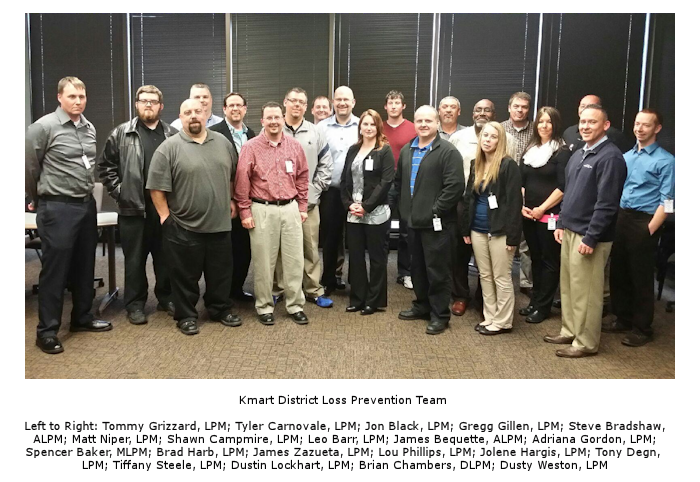 August 13, 2014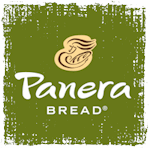 Panera Bread Loss Prevention Team
at the RLPSA Conference



"Our goal is to protect our associates, our customers, and the company's assets to help maintain the profitability of our Bakery-Cafes. Loss Prevention supports a cafe environment in which respect, honesty, and safety come first among associates. We provide services to support the above goal directed at assisting field operators to better focus on the company's Key Initiatives."
August 11, 2014



Bob Evans Farms Loss Prevention Team

"To integrate the Security & Loss Prevention Department policies and procedures into the consciousness and culture of Bob Evans Farms while protecting our valued customers, employees, assets and reputation"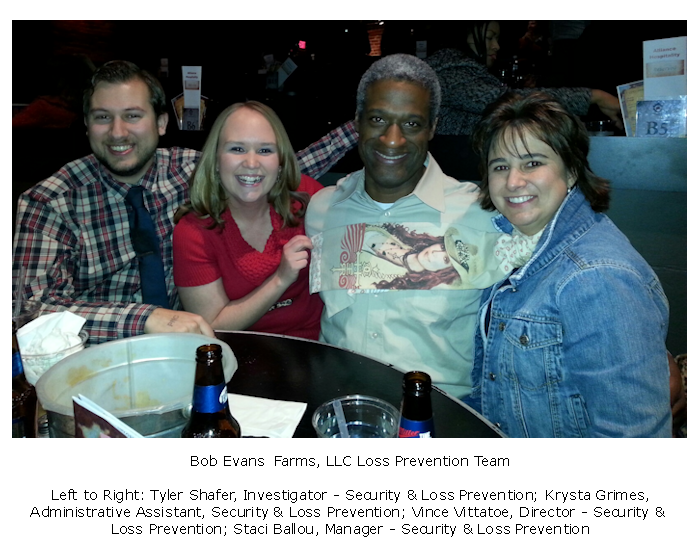 August 6, 2014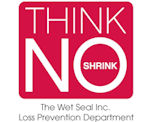 Wet Seal's Loss Prevention Team



"Think NO Shrink"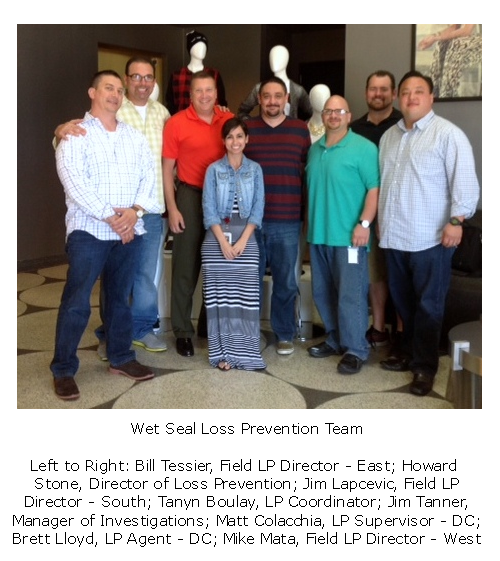 August 4, 2014



Sears Holdings Corporation's Supply Chain LP Team
at Corporate HQ

"To serve, delight and engage our Members while they shop their way"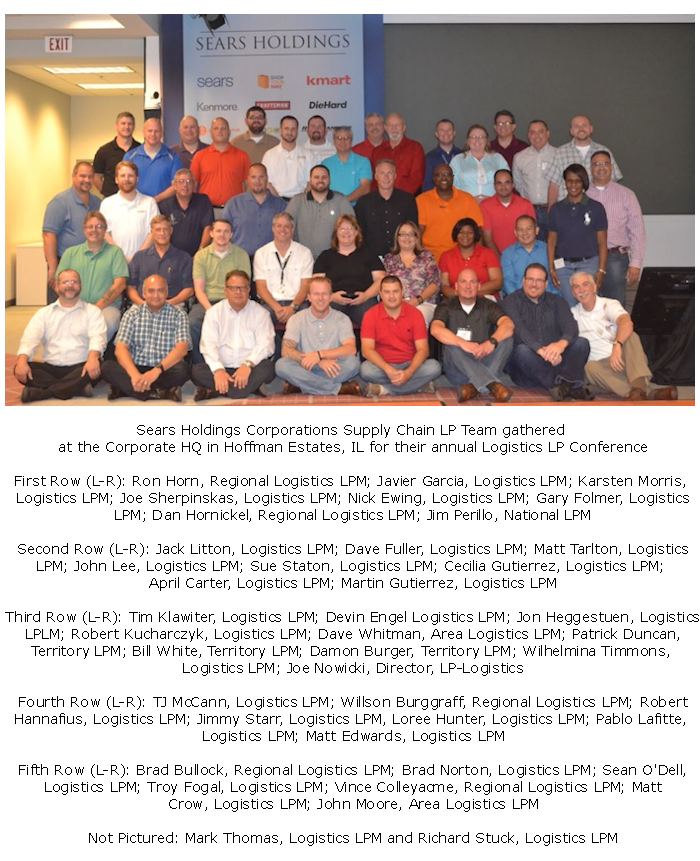 August 1, 2014


REI's Asset Protection Team Kayaking in Seattle

"We are Agents of Change"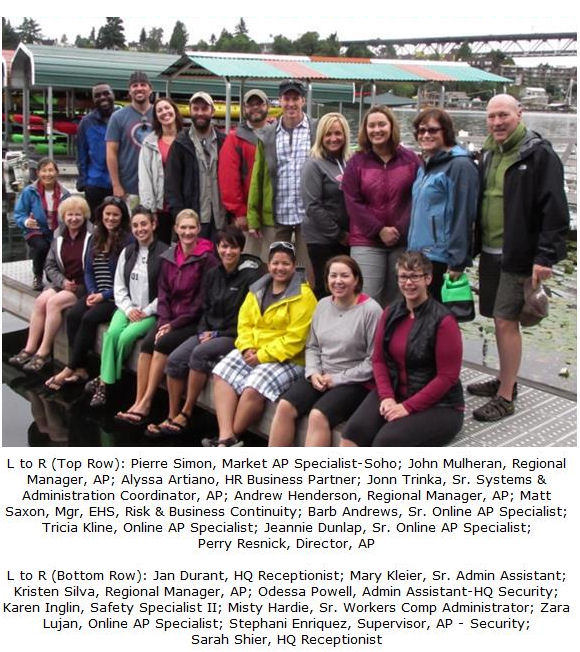 July 31, 2014
Bob's Discount Furniture Loss Prevention Team

"Trust but Verify"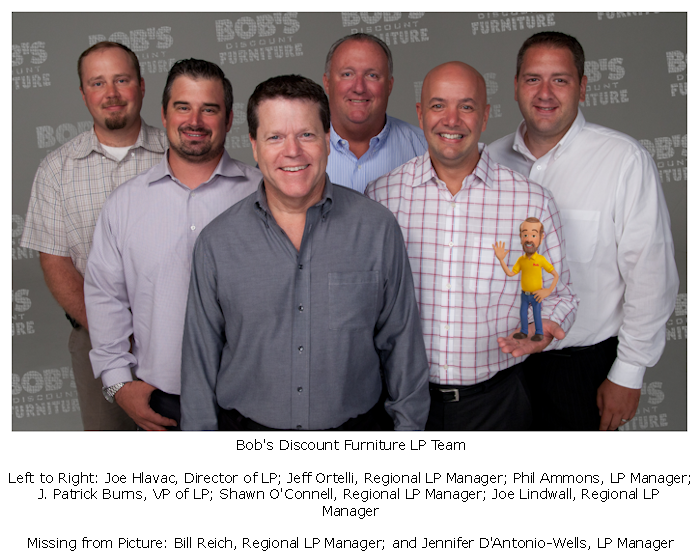 July 30, 2014


Bloomingdale's LP Executive Team

Central Team, Regionals and LP Managers gathered together for some team-building cooking exercises at the HCC Culinary Arts Institute in New Jersey

"A stronger you, makes a better us"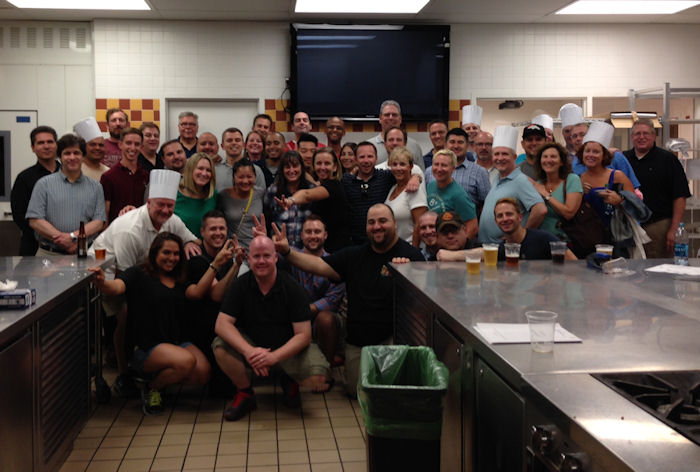 We're cooking now!

July 24, 2014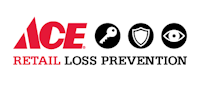 Ace Hardware Corporation Retail LP Team

"Together we are Ace"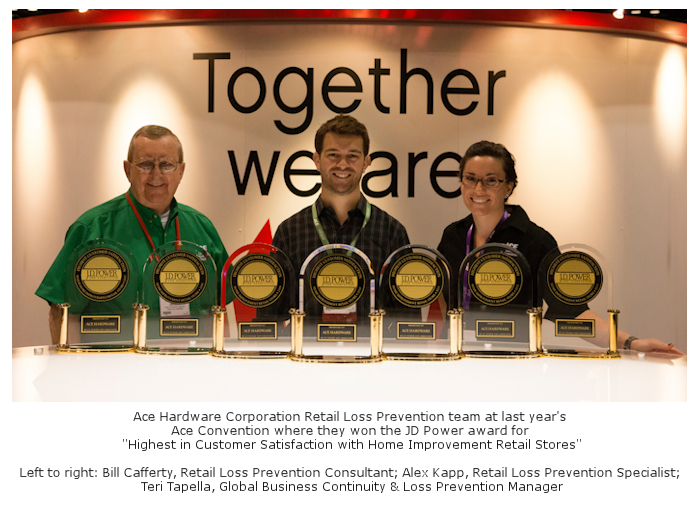 July 23, 2014

Rent-A-Center's LP US Operations Team

"To maximize company profits through the innovative use of physical security, training, data analysis and investigations while remaining true to RAC Core Values"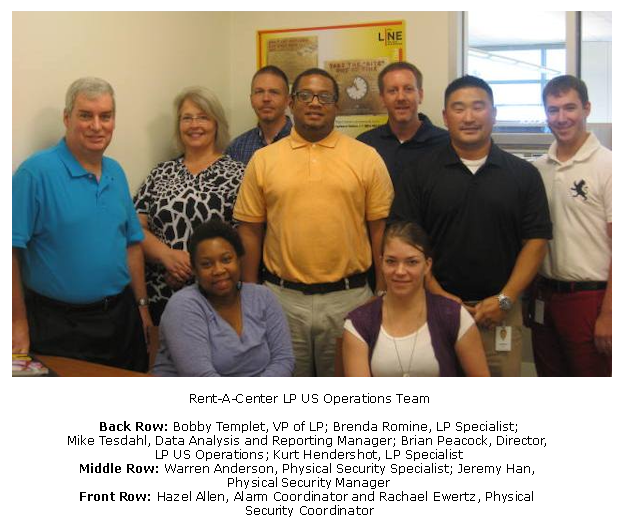 July 21, 2014

Walgreens Southern California
AP Solutions Team

"Safety, Security, Profitability and Resiliency"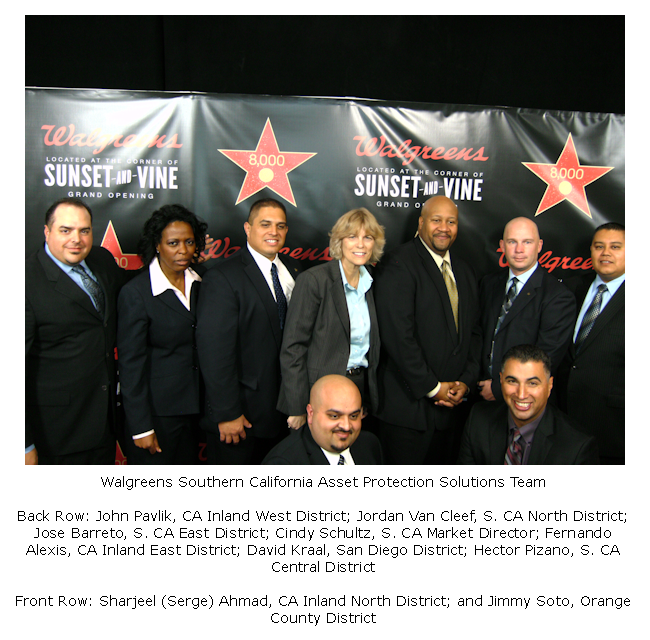 July 18, 2014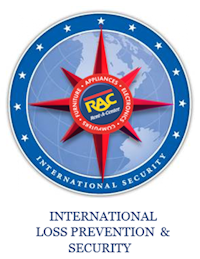 Rent-A-Center's International Loss Prevention & Security Team Building in Puerto Vallarta, Mexico

"One Team, One Mission, One Goal!"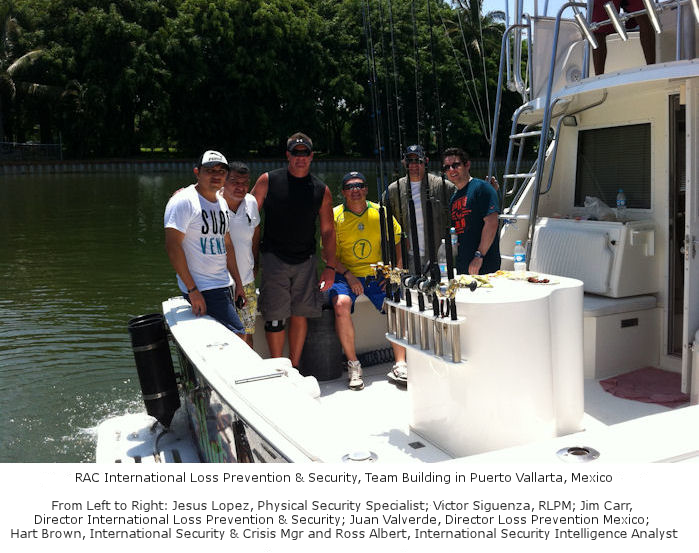 July 17, 2014



AP Team at 7-Eleven's AP Team

"Fighting shortage with a Slurpee in one hand and
a network cable in the other"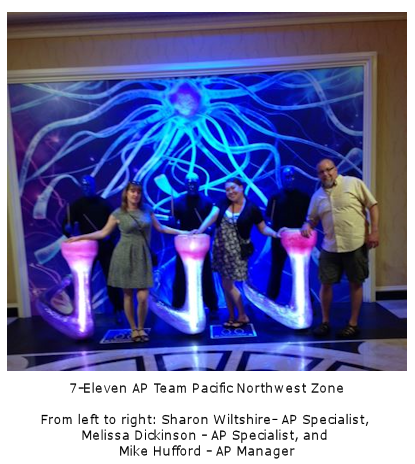 July 9, 2014

Dressbarn's AP Team

"Inspire Integrity"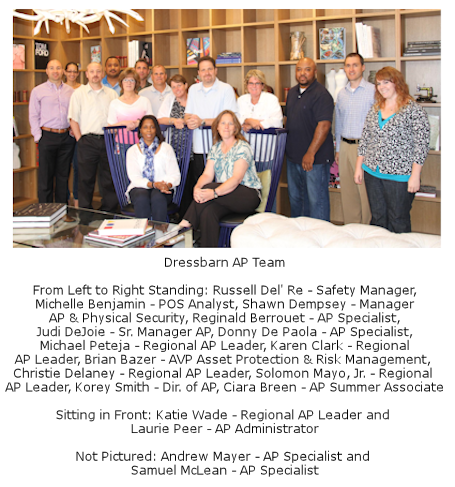 July 8, 2014

PacSun's LP Team at Crystal Cove State Beach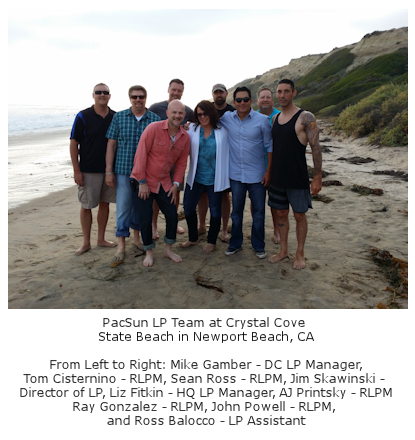 July 3, 2014

PetSupermarket's LP Team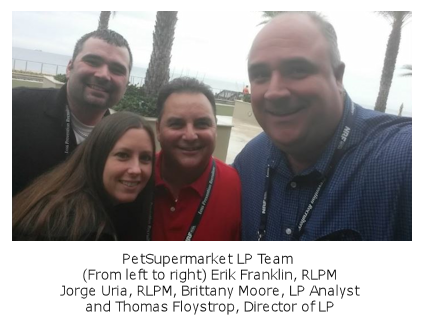 June 27, 2014

Bloomingdale's LP Team