Tyco Retail Solutions Innovative Footwear Tag Transcends Traditional Product Protection

Unique shopper-friendly design helps TJX Canada enhance shoe merchandising and security for a comfortable customer experience

NEUHAUSEN, Switzerland — Tyco Retail Solutions (www.tycoretailsolutions.com), a leading global provider of retail performance and security solutions, has announced its Sensormatic Acousto-Magnetic (AM) hard tag for high heel footwear helps retailers worldwide go beyond traditional product protection to effectively secure and merchandise their shoe inventory for maximum customer impact. Unlike other market offerings, the tag's sleek and non-invasive design affords the shopper an optimal shoe fitting experience while offering retailers effective protection for this typically "difficult to protect" category.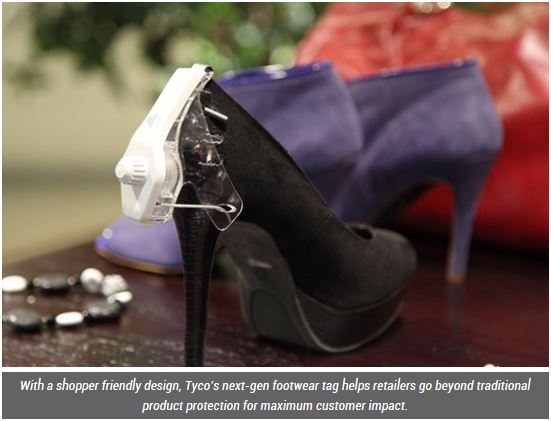 One of the most theft-prone items in today's retail environment is footwear, particularly for retailers in self-service formats such as discounters, mass merchants and hypermarkets. Loss prevention is a key factor in this industry – especially the theft of designer label shoes. According to the latest report from the Global Retail Theft Barometer (GRTB), shrink is on the rise across the globe, due to an increase in organized crime and economic factors. Footwear is listed as one of the top frequently stolen items, given their high price and ease of resell.

Many current anti-theft footwear solutions are clumsy, conspicuous or impede the process of trying on shoes, disrupting the shopper's buying experience. Retailers are constantly struggling to strike a balance between protecting and openly merchandising footwear while providing an easy and comfortable way to decide about the fit and style in order to make the right purchase. With a shopper friendly design, Tyco's next-gen hard tag addresses the needs of this large, un-served market in helping retailers go beyond previous ineffective tagging solutions to safeguard their latest shoe styles and satisfy customer demand.

Read more here.