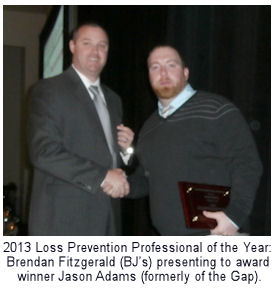 Submit your nominations for the 2014 New England ORC Awards
Deadline is next Thursday, July 31

In an effort to recognize those individuals within the loss prevention and law enforcement community that have gone above and beyond in the fight against ORC in New England, the N.E. ORC Symposium & Tradeshow will be presenting the 2014 N.E. ORC Awards at this year's event on Thursday, September 18 at the DCU Center in Worcester. Professionals working within the loss prevention/law enforcement community are being invited to submit nominations for these awards. To download the nomination form, click here. It includes a description of each of the awards and instructions for completing and submitting nominations. The deadline for submission is Thursday, July 31.

Multi-state retail fraud ring busted in New Canaan purchasing gift cards The suspects were attempting to purchase gift cards, with gift cards. Subsequently, the suspect vehicle was stopped in the Walgreens parking lot. The suspect vehicle was searched and valuable, suspected fraudulently obtained merchandise was seized. It appears that the suspects were involved in similar schemes in New Jersey and Pennsylvania. An observant employee at Walgreen's in New Canaan alerted police Monday to an attempt at fraudulently buying gift cards, resulting in the arrests of three young South Carolina people, police said. (Source newcanaan.patch.com)

4 Suspects To Be Charged In Fake Gift Card Scheme in Commerce Township, Mich. Oakland County Sheriff deputies arrested the suspects after they went into a Meijer store on Haggerty Road in Commerce Township and paid for one item with a gift card and then used other gift cards to withdraw a bunch of cash from the self check-out lane. (Source cbslocal.com)

Cal Expo police arrest major credit card fraud suspect: hitting Bloomingdales in San Francisco A 21-year-old man was arrested in Sacramento on Tuesday, accused of creating credit cards in his name with stolen account numbers -- and using that stolen data to spend thousands of dollars on electronics, clothes, shoes and jewelry, police said. Darius Deangelo Evans was taken into custody on a felony warrant issued by the San Francisco Police Department, alleging he used the stolen information to make large purchases at a Bloomingdale's store in the city. Evans is now held at the Sacramento County Jail on $500,000 bond. When a California State Fair attendee learned of unauthorized activity on his or her credit card at the Cal Expo event, police launched an investigation as to how that could have happened. They looked into the matter for 10 days, according to a news release from the Cal Expo Police Department. (Source kcra.com)

Ringleader of national diamond-theft heists pleads guilty in Portland
The man who masterminded a nationwide theft ring, in which members brazenly grabbed diamonds from jewelry stores around the country and sold them to a Philadelphia buyer, pleaded guilty Monday morning in federal court in Portland. Michael Young, 42, admitted to U.S. District Judge Marco Hernandez that he committed conspiracy and interstate transportation of stolen goods. He faces a maximum of five years in prison on the first count and 10 years in prison on the second count. Young was one of three defendants to enter guilty pleas on Monday. Co-defendant Samuel Livingston pleaded guilty to conspiracy to commit interstate transportation of stolen goods and receipt, possession and sale of stolen property. And the buyer, Eric Janovsky of Three Gold Brothers, pleaded guilty Monday to receipt and possession of stolen property. Several others affiliated with the diamond theft-ring have already pleaded guilty. According to Assistant U.S. Attorney Michelle Kerin, Young acted as the ringleader for the group, planning the thefts, recruiting members, assigning roles and serving as a lookout for 25 jewelry store heists that took place between December 2009 and June 2011 around the country. (Source oregonlive.com)

Chicago suspect tied to thousands in losses at multiple Walgreens and other retailers Wilmette investigators charged Vashion T. Freeman with thefts from the Walgreens on Nov. 13 of 2013, and on March 26 and June 21 of this year, Detective Michael Clark said July 21. However, they believe his arrest will clear up another three Wilmette thefts. Freeman is also being investigated in connection with similar thefts in Elk Grove Village, Hoffman Estates, Buffalo Grove, Wheeling, Schiller Park and Highland Park. Clark credited the arrest to cooperation between member forces of the Cook County retail organized crime task force, and the ability of Wilmette investigators to make use of the task force's bulletins. One such bulletin described a Hoffman Estates theft in which the suspect used a getaway vehicle that matched the description of a newer gray SUV used in connection with the June 21 theft from Wilmette's Walgreens. (Source suntimes.com)

2 charged in repeat Palmetto, FL Walmart theft
A Palmetto duo was charged with theft after they stole $600 of merchandise and groceries from the Palmetto Walmart Supercenter, according to the Palmetto Police Department. Eric James Sorg, 35, and Christine Ann Kerns, 34, were arrested just before 6 p.m. Monday at the store, 508 10th St. E., Palmetto. Sorg and Kerns were reportedly seen taking grocery items and leaving in a truck without paying. Police say Kerns later re-entered the Walmart and stole a bed topper, comforter set and bath carpets valued at $602. (Source bradenton.com)


Couple attacked Stop & Shop store manager after stealing $700 worth of razor blades in Wyckoff, NJ A Kearny couple was arrested after they beat and dragged a store manager who caught them pilfering $700 worth of razor blades from a borough supermarket near police headquarters, authorities said Tuesday. The manager and a security guard confronted Robert S. Paulter III, 30, and Jennifer Y. Chen, 28, as they left the Stop & Shop Saturday afternoon. Chen knocked the manager down while Paulter grabbed the man and dragged him across the sidewalk. Police found the manager suffering from head and leg injuries after they responded to a call for a fight at the store. The pair was each charged with robbery and inflicting injury. Chen faces an additional charge of heroin possession. (Source nj.com)