Secret Service raids Abon coin shop - more details coming exclusively to Daily next week
The Secret Service conducted a search warrant at the Abon Cards & Coins store, 115 Park Avenue West, with the help of other agencies, including the FBI, IRS and Mansfield police. "The reason we conducted the search warrant is we have been engaged in a multi-jurisdictional wire fraud investigation involving the online Internet sale of a vast array of stolen merchandise," said Smokey Everett, special agent in charge of the Cleveland field office for the Secret Service. Larry and Donna Bence own Abon Cards & Coins and do 80 percent of their business online, selling items to all 50 states and internationally. In 2011, and again in 2013, Bence wrote letters to area police agencies, including Ontario and Mansfield police departments seeking assistance. "I would request that you provide Abon with a list of any of the above items and related items that are reported to your office as stolen and any appropriate names to watch for," Bence wrote. The News Journal received several Mansfield police reports and an Ontario police report regarding thefts reported to their departments and later recovered, including 34 costumes valued at $6,800 stolen during a break-in at a Shelby business and later found at Abon. In another example, according to Ontario police records, a vacuum valued at $1,600 which was stolen from Vacuum World, was subsequently purchased by Abon for $60. (Source mansfieldnewsjournal.com)

Suspect arrested in PA on Identity and Theft by Deception in Rolex scam; possible ties to multi-state ORC On 07.20.2014 Patton Township Police took into custody Phil Nguyen from Garden Grove, CA, dob 07.11.1947, for charges of Identity Theft, Forgery, Theft by Deception and Access Device Fraud. Nguyen was in State College, PA at a local jewelry store and was attempting to open a line of credit in order to buy a $12,000 Rolex watch. He was using a fake CA driver's license and a fraudulent Bank of America VISA card in the name of James Wan for identification. A subsequent search of his rental car produced a previously purchased $13,000 Rolex watch from the Orchard Park, NY area under the name of Keith Yun. A fake CA driver's license and a fraudulent credit card in Keith Yun's name were also located during the search. Nguyen declined to answer any questions, but evidence shows that he flew into the Buffalo, NY airport on 07.17.2014, then drove to State College, PA, then to Pittsburgh, PA, back to the Buffalo, NY area and then again to State College, PA on 07.20.2014. A Jewelers' Security Alliance alert and information coming in from other departments indicates that Nguyen may be part of a larger Asian network using the same tactics to buy high-end watches over the course of the past several months and throughout several states. Anyone needing further information on Nguyen please contact Detective Erik Haas, Patton Township Police, 814/234-0273, ehaas@twp.patton.pa.us.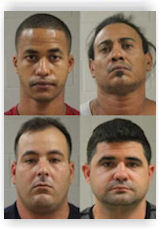 Walmart LP investigation leads to arrest of 4 Texas men on fraud, conspiracy charges Rolando Torres-Quindelan 42, Alain Perez 22, David Ferrer-Aranda 30, and Nelson Carballosa-Bacallao 31, all from Texas, were arrested Tuesday by Washington City Police for using stolen credit card information obtained from New Jersey. Investigators in New Jersey contacted the Washington City Police Department after finding out that credit card information stolen from a fraud case they were working, had been used at the Washington City Wal-Mart. After working with the Wal-Mart Loss Prevention Office, police were able to identify the four men that were suspected in the incident. (Source stgeorgeutah.com)


Two CA women arrested after identity theft and forgery spree at several retail locations Deborah Burrell Townsend, 50, and Kimberly Michelle Campbell, 56, are being held in Jackson County Jail on a more than $1 million bail. Each is charged with 33 counts of identity theft, 29 counts of forgery, four counts of first-degree theft, three counts of aggravated identity theft and a racketeering charge. In addition to mall stores such as Kohl's and Bed, Bath & Beyond, the women allegedly used fake checks and made fraudulent exchanges for cash at Target, Safeway and Albertsons. The spree has been ongoing for the past few days, investigators said. (Source mailtribune.com)

Man charged with shoplifting Red Bull and 5 Hour energy from ShopRite in Vineland, NJ

Suspects wanted after theft at Saks Fifth Avenue in Beachwood, OH