Progressive Grocer's 2014 "Top Women in Grocery" Awards Kroger Loss Prevention Executive Peggy Merschbach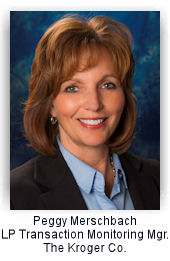 Now in its eighth year, PG's Top Women in Grocery awards program recognizes the integral role women play across all areas of the dynamic retail food industry, within the retailer and supplier communities, in three sectors: Senior-Level Executives, Rising Stars and Store Managers.

"With a record number of 311 watch-worthy women, our 2014 judging panel pored over hundreds of applications in search of candidates who went above and beyond their core responsibilities to deliver exceptional results," said PG Chief Content Editor Meg Major. "The incredible achievements of our 2014 Top Women in Grocery honorees provide an enduring portrayal of our program's founding purpose: to celebrate the continuing progress the previously male-dominated grocery industry is making to close the historical gender gap while prominently recognizing the vital roles women serve in their companies, communities and the industry at large."

All Top Women in Grocery winners are recognized in PG's June 2014 issue, and will also be honored at a gala awards celebration that will take place on Nov. 12, 2014, at InterContinental Chicago O'Hare, Chicago (Rosemont, Ill.). Registration and related information for the gala event – highlights of which include afternoon workshops and networking and an evening cocktail reception, dinner, awards ceremony and after-dinner dessert party – can be found here.



Peggy Merschbach, The Kroger Co. Loss Prevention Transaction Monitoring Manager, has been honored by Progressive Grocer magazine as one of the Top Women in Grocery for her strong leadership skills as well as for her ability to build cross functional relationships with other business units to develop loss prevention programs that add value for the company. Rarely is this honor bestowed upon a loss prevention associate so Peggy's nomination is especially noteworthy. Congratulations Peggy!