Turtle is a new all-in-one security sensor with multiple applications.
Use Turtle by itself as an EAS tag or with strapping to protect packaged goods.

Turtle can also be connected to a variety of cable styles to secure display products.
Turtle sounds tamper alarm as well as EAS gate alarm.


---

White Paper: Offender, Shopper & Employee Study on ILP's New "Turtle"
The Loss Prevention Research Council (LPRC) conducted a series of in-person survey interviews in the Gainesville, FL. Big Box retailer StoreLab in order to understand the impact of the Turtle on associates, shoppers and shoplifters.

This research focused on the Turtle's impact on protecting DEWALT Power Drills, one of the Big Box retailer's high-loss products.

Employee Feedback
●

100% of interviewed associates agreed that the Turtle is effective in deterring theft.
●

100% of associates interviewed about the Turtle strongly agree that it is not disruptive to their daily duties.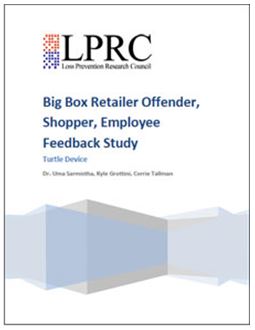 Offender Feedback
●

85% of the offenders said they would not steal the product if it was protected by the Turtle.
●

Over 90% of shoplifters noticed the Turtle and all of them understood the purpose of the Turtle.
| | |
| --- | --- |
| | Shopper Feedback |
| ● | 90% of customers believe the Turtle is effective at preventing theft. |
| ● | 97% of customers stated that the presence of the Turtle did not have a negative impact on their shopping experience. |
| | |
| | |