LP Senior Executive Making a Difference in Your News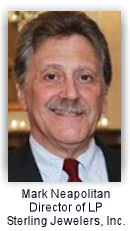 We all understand how important sharing critical information can be. The D&D Daily team scours the web every day, looking for the latest in retail loss prevention news and developments. In an effort to keep our readers the most informed in the industry, with exclusive real-time information, our staff also works closely with senior LP executives throughout North America. Leaders like Mark Neapolitan, Director of Loss Prevention for Sterling Jewelers.

With a combined experience of 41 years in Law Enforcement and Loss Prevention, Mark Neapolitan has been a driving force in keeping his fellow Jewelry Industry Loss Prevention professionals up-to-date. Information on smash-and-grabs, grab-and-runs, Rolex thefts, distraction teams, diamond switching, burglaries and robberies are all gathered by Mark - and then disseminated to the Jewelers Security Alliance, as well as his address book of a who's who of jewelry industry LP executives. Networking of information has long been the standard in the jewelry industry. In this sector of retail, this information can not only solve crimes, but it can save lives.

We here at the D&D Daily greatly appreciate Mark's contribution in adding value to our publication, to the industry and to LP executives worldwide. It's industry leaders like Mark who help lead the way in keeping you informed so that you can drive value and - most importantly - help keep 'em safe out there.

Help keep your industry and colleagues up-to-date. Submit your news to the Daily here.