Cook County Regional Organized Crime Task Force Training & Conference - Day One Draws a Crowd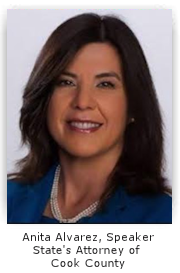 The 2014 Cook County Regional Organized Crime Task Force Training and Conference began on Thursday September 4, 2014 at Hamburger University on the McDonalds Campus in Oak Brook, Illinois and drew the largest number of attendees yet with several hundred law enforcement and retail partners gathered together. In her opening remarks, Cook County State's Attorney Anita Alvarez emphasized the importance of these partnerships and explained that the CCROC is being used as a model for other task forces around the country. With over 1,000 members from over 140 law enforcement agencies and 100 private companies throughout the Midwest, sharing resources and intelligence, the success stories are plentiful.

Several awards were given to key individuals in both law enforcement and the retail industry, to include several officers from the Chicago Police Department, the Cook County State's Attorney's Office, Verizon, Walmart and Meade Johnson. CCROC also for the first time ever provided endowments to two law enforcement families. These families both have a child who suffers from a life threatening affliction.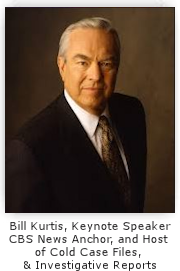 Bill Kurtis, the keynote speaker for the event gave an excellent presentation on the JFK assassination, presenting different theories on the number of shots fired, who fired them, and in the end described it as the greatest murder mystery of all time.

The presentations were all completely filled with attendees spilling into the hallways. Topics discussed were ORC, Terrorism, and Cold Case investigations. Attendees were also able to hear from an Ex-Offender on what motivated him, how he stole, what he looked for and how he profited from the sale of stolen property. His tips for keeping property safe were quite interesting.

Overall the first day of the conference was hugely successful with great workshops, lots of networking, and numerous vendors sharing their products to assist law enforcement and retailers in the area of loss prevention and asset protection. By the looks of tomorrow's agenda, it will be just as interesting!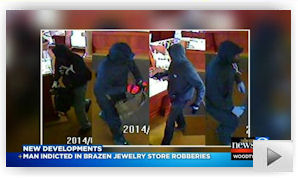 Armed Rolex Gangs Striking Jewelers Across the Country - Suspect indicted in $1.4 million heist in suburban Detroit A Pennsylvania man is facing federal charges in connection with a brazen Rolex robbery at a Plainfield Township jewelry store as well as a similar crime in suburban Detroit, where $1.4 million worth of Rolex watches were stolen. Surveillance video from Paul Medawar Fine Jewelry on Plainfield Avenue on April 22 showed four people entering the store with their faces partially covered and brandishing guns while they ordered employees to the floor. Investigators were able to match DNA from blood left at the scene to 42-year-old Nathaniel Pembrook of Philadelphia. The three other suspects are still at large. "There are apparently several gangs running around the country targeting just these watches," Paul Medawar said. The Rolex gangs come armed, because there is a lot of money to be made in a robbery; one of the watches in Medawar's Rolex case sells for $34,000. (Source woodtv.com)

Investigators seize $11,000 in counterfeit Rolex, Burberry, Gucci and Michael Kors merchandise Authorities charged the owner, manager and clerk at a Seaside Heights Boardwalk store after seizing nearly $11,000 worth of knockoff merchandise, including dozens of Snoop Dogg vapor pens. State and local investigators last Friday raided "In the Cut" and seized more than 150 watches with such designer brand names as Rolex, Burberry, Gucci, Michael Kors and Casio G-Shock that they said were selling for $49.99 to $209.99. They also snatched up bogus 37 Snoop Dogg G-Pens that retailed at $129.99, as well as knockoff Ray Bans and NFL gloves. (Source cliffviewpilot.com)

18-year-old arrested on six counts of credit-card fraud in Indiana

Mississippi man arrested for credit-card fraud in Jones County