Cook County Regional Organized Crime Task Force
Training & Conference - Day Two: Fighting ORC through Education

Written by Melissa Schammert
AP Solutions Manager, Walgreens

Day two of the conference did not disappoint. During the course of the first hour, Cook County Regional Organized Crime Task Force (CCROC) Board Members discussed the multi-functional website as well as how CCROC has impacted the community during the course of 2014.

After the opening presentation given by the CCROC Board Members, the first workshop that was attended was Fraudulent Travel Identity Document Investigations presented by Matthew Williams. This workshop gave insight into how fraudulent travel identity documents coincide with Organized Retail Crime.

The second workshop attended was Money Laundering with Virtual Currency presented by Phillip Osborn. This workshop was beneficial in showing how there are massive loopholes in virtual currency and how Organized Retail Crime Groups are using virtual currency to Launder Money.

The third workshop attended was Insurance Fraud presented by Mark Sakalares. This workshop was insightful in explaining how the NCIB (National Crime Insurance Bureau) is a not-for-profit organization dedicated to fighting insurance fraud and crime.

This is my fourth year attending this conference. This conference continues to inform and educate on the ever growing ways Organize Retail Crime effects society. Not only does the conference have insightful workshops, the networking that is done at this conference is immeasurable.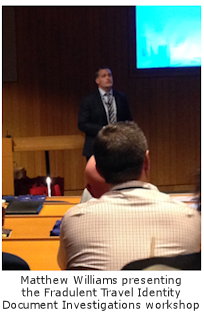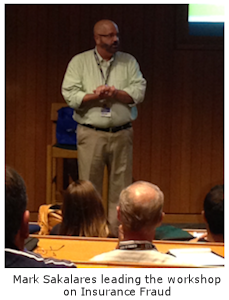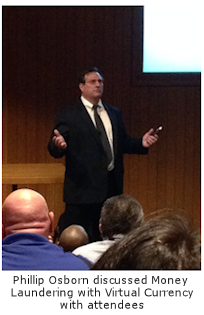 Thieves snatch $176,000 in jewelry from The Bay (Hudson's Bay) in Vancouver Two men and a woman entered The Bay at Orchard Park Mall in the early hours of Aug. 19 by using tools to remove the locks. Once inside, they smashed glass cases and stole high-end jewelry and watches, including one $18,000 white gold diamond cluster ring and various 14 karat gold and white gold diamond earrings and pendants. The group grabbed more than 130 pieces of jewelry in total before jumping into a waiting vehicle, possibly a Jeep Cherokee with a sunroof. (Source ctvnews.ca)







3 men hit Wal-Mart in Waterford, Conn., for 5 LCD TVs Police arrested on suspect and are turning to the public to help ID the other two. (Source wtnh.com)




Texas Woman sentenced in wire fraud, identity theft; 5 years and $1 Million in restitution to Telecheck Renata Rochelle Galvan, 52, of Mission, Texas, was sentenced Monday by U.S. District Judge Pamela L. Reeves to serve to serve 60 months in prison, pay more than $1 million in restitution to Telecheck, and serve three years of supervision following her release from prison. Galvan pleaded guilty in April 2013 to a federal indictment charging her with conspiracy to commit wire fraud and aggravated identity theft. According to the indictment, she, her husband, and her sister conspired in a scheme to negotiate counterfeit checks at retailers in Tennessee, Arkansas, North Carolina, South Carolina, Georgia, Virginia, West Virginia, Kentucky and Texas, resulting in losses in excess of $1 million. (Source thedailytimes.com)

Two women charged with $1600 retail theft from Walmart in Waynesboro, PA

Philadelphia woman pleads guilty to theft at Lord & Taylor in King of Prussia; 7 prior convictions

Internet fraud, identity theft on rise in South America; Card skimming, counterfeit credit-card fraud had increased by 27% in 2013 and contributed to 39% of the overall credit card gross fraud loss, while lost and stolen credit card fraud increased by 102%