8th Annual New England Organized Retail Crime Symposium and Trade Show - DCU Center Worcester, MA, September 18, 2014

Recap by Kevin M Plante, LPC
Chairman of the Retailers Association of MA loss prevention committee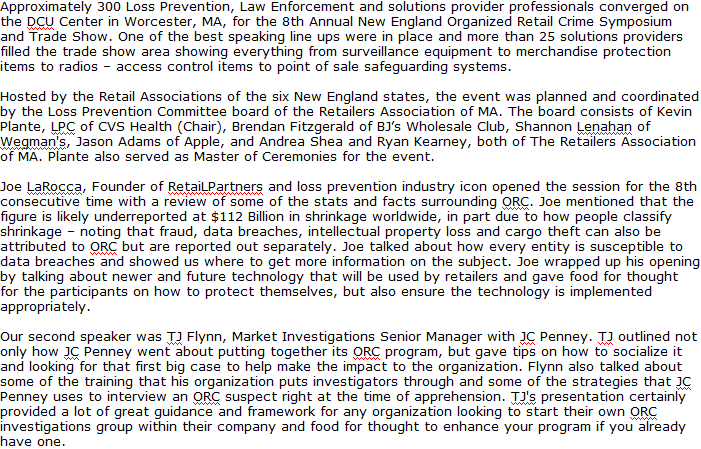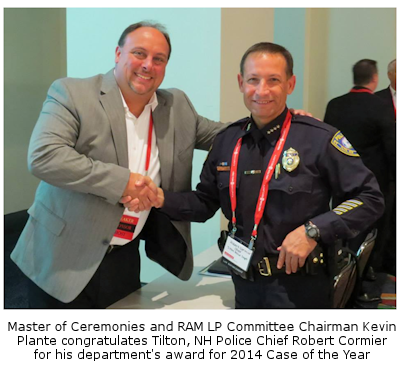 Our next speaker was Jay Bartholomew, Unit Chief for the Major Theft Investigations Unit at the FBI in Washington, DC. Bartholomew talked about the ties ORC has to other major issues such as narcotics and terrorism, but also stressed the importance of partnering and continued training on the subject. He also put into perspective when to consider using federal law enforcement for help as opposed to local or state level law enforcement and reviewed some of the US code violations that could be used to prosecute someone as part of a larger criminal enterprise. He also warned of the shift states are taking to raise felony levels and shifts federal law enforcement is taking on priorities for investigation.

Next, Kevin Plante parlayed a brief update on the state of NEORCA, the New England Organized Retail Crime Alliance, which was launched at last year's event. Plante talked about some of the enhancements being made to the site and how all New England states are involved in the sharing of information not only at retailer level, but at law enforcement level. If you work as a retail loss prevention professional or a law enforcement officer in New England or near New England, it is strongly recommended that you get a FREE membership to NEORCA by visiting www.neorca.org.

Next, Brendan Fitzgerald presented the NE ORC Symposium and Trade Show annual awards. They were:

Law Enforcement Officers of the Year – Peabody, MA law enforcement representatives Detective Ralph Scopa and Officer John Nelson for their long history of investigating and solving major ORC crimes on the North Shore of Massachusetts.
Loss Prevention Person of the Year – CVS Health ORC Manager Stefanie Mangiante for her work in and around New England closing some very substantial cases that involved multiple jurisdictions and multiple retailers.
2014 Case of the Year – Tilton, NH police department, led by Chief Robert Cormier, for investigating and arresting a crew of people from PA / OH on counterfeiting charges. This group was passing counterfeit checks and using stolen identities. Those suspects were also involved in a payroll check cashier scheme valued at more than $250K. At the time of apprehension, the suspects also had hundreds of unused stolen identifications in their possession. This likely saved countless people the aggravation of having their stolen identities used for fraud purposes.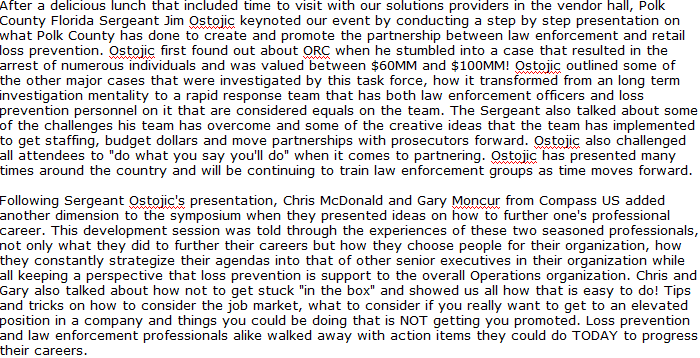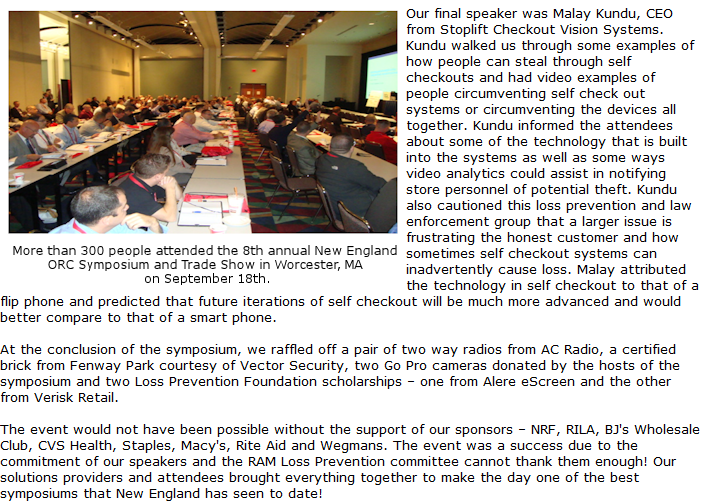 Spanish Judge Indicts 9 Persons for Cyber Fraud, theft of $45 Million
A Spanish judge charged nine people with fraud Sunday for allegedly participating in the theft of $45 million after a massive hacking of a bank's card payments system. Judge Eloy Velasco of Spain's National Court said the suspects include seven Romanians and two Spaniards, who allegedly fraudulently extracted money from ATM's in February 2013. The judge said there was evidence the suspects belonged to an international criminal organization that also laundered money and took part in credit card fraud. Velasco said the cash extractions were perpetrated on a global scale and are linked to eight hackers in the United States who penetrated the security system of a company that handled an Omani bank's card payments operations. Access code numbers were distributed by the hackers to cyber thieves around the world who made 34,000 cash extractions in 23 countries within a space of 13 hours, the court statement said. Authorities in the United States calculated that $45 million were stolen, making it one of the biggest heists in the 20th century. (Source abcnews.go.com)

Federal Authorities Charge Man In Philadelphia Area Theft Ring
Federal authorities have charged a man with being part of a theft ring that preyed on people who left wallets and purses in their cars at parks, gyms and ball fields all over the Philadelphia area. The US Attorney's office has charged 25-year-old Kyle Jones with conspiracy and bank fraud. They say he and unidentified co-conspirators stole licenses, check books, debit and credit cards from the unsuspecting victims, mostly women, and then used the stolen IDs to cash stolen checks at TD banks in Bucks County, South Jersey and Delaware. All told, prosecutors say, the group stole $120,000. The federal information in which Jones is charged details a well-organized system. Jones and accomplices allegedly cashed the checks at drive-through windows, in rented cars with fake or obscured license plates. The information makes clear that Jones was not the ringleader, but was paid for his work. (Source cbslocal.com)


Interpol op nets $50 Million fake goods across Asia Operation Real was conducted by police and customs agencies across 10 countries – Cambodia, China, Fiji, Hong Kong, India, Indonesia, Philippines, South Korea, Thailand and Vietnam. The operation resulted in the seizure of nearly one million fake or illicit products, including alcohol, cigarettes, cosmetics, clothing and electrical goods, Interpol said in a statement today. More than 660 individuals have been arrested or placed under investigation. An organized criminal group operating a factory producing fake cosmetics and packaging was dismantled in China, where 589 individuals were arrested and US$37 million in illicit goods were recovered. The fake cosmetics were found to contain high levels of mercury, which can be toxic to humans. A factory and logistics chain for distributing illicit cigarettes was also demolished. In Vietnam, some 690 counterfeit items were seized from street hawkers and retail shops, including more than US$3 million worth of illicit electronics. Authorities in Hong Kong discovered false compartments in container trucks, leading to the discovery of more than 600 smuggled electronic products. In South Korea, raids at retail shops, market stalls, checkpoints led to the seizure of some 500,000 counterfeit clothing items. (Source themalaysianinsider.com)


Ex-NBA Star Rex Chapman Arrested For Shoplifting $14k From Apple Store Retired NBA star Rex Chapman has been arrested and accused of stealing $14,000 worth of Apple products from a Scottsdale, Arizona Apple store. Chapman, whose professional career began in 1988 with the Charlotte Hornets and was followed by stints with the Miami Heat and the Washington Bullets, reportedly picked up the merchandise in the store and attempted to make it look like he was paying for them via self-checkout. Scottsdale police representative Sgt. Mark Clark says that Rex proceeded to leave the store with the items and took them to a local pawn shop, where he sold them for cash. Chapman allegedly stole the items over the course of seven different trips to the store. (Source inquisitr.com)


Trio stuffed suitcases, duffel bags with stolen Sawgrass Mills goods in Sunrise FL They had a taste for fashion, went only to designer stores, and never paid for the merchandise they selected, Sunrise police said. A trio of ex-convicts with long histories of thefts is accused of stealing nearly $40,000 in merchandise from the Sawgrass Mills mall. Carlos Enrique Taramona, 44, and Samantha Jesus, 24, are accused of methodically shoplifting from several stores in the mall, according to arrest reports. (Source sun-sentinel.com)