IAI and Vector Security Recognize Remarkable Women in Loss Prevention: Towanna Bazile

Towanna Bazile, MBA, CFI
Senior Investigator/Corporate Security
AT&T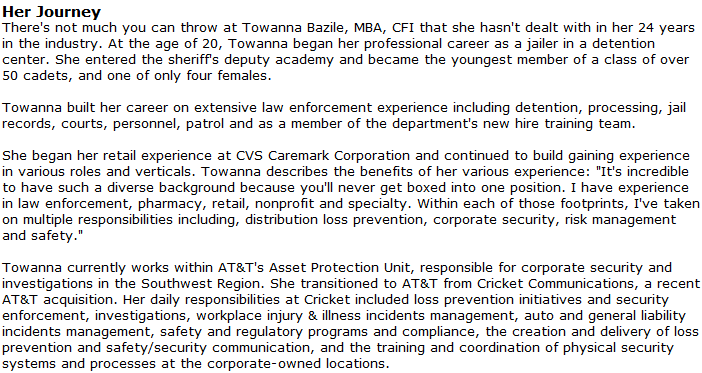 Read the rest of Towanna's story in this special edition of the CFInsider.

Her Personality...

Favorite Movie?
Men of Honor

Favorite Music?
Nico & Vinz and Mail Music

If you were in a movie, what movie star would play you?
Angela Bassett

If you could switch places with one person in the LP world - who would it be?
"Wow! This one is hard! I would want to 'shadow' two LP professionals, Gus Downing because
he is innovative, and Keith White, VP of LP at the Gap for his insight on strategy, leadership and
emotional intelligence."

The International Association of Interviewers (IAI) teamed up with Vector Security to recognize remarkable women in loss prevention through a special edition of the CFInsider, a publication of IAI. The group selected individuals who are well-rounded, tenured in their profession, value continuing education and are all-around excellent leaders in their organizations as well as the overall loss prevention field.

IAI based its selections on the key principles of IAI, then narrowed the list based upon these criteria: Industry Commitment, Dedication to Learning, Leadership Qualities, and Career Journey.


IAI will continue to recognize and honor remarkable women in the LP field each year by devoting a special edition of the CFInsider to them, as well as columns in their regular publication and dedicated space on their website, www.certifiedinterviewer.com.