Axis to Showcase Latest Technology Innovation at ASIS International

AXIS Q1615/-E Network Camera wins ASIS Accolades; Axis executives to participate in ASIS Education Program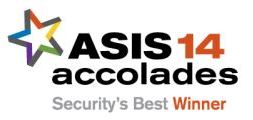 CHELMSFORD, Mass. - Axis Communications, the global leader in network video surveillance, will be featuring a range of new products and speaking in key educational sessions throughout ASIS International (booth #1023) in Atlanta from Sept. 29 to Oct. 1. This year's theme invites attendees to discover the Power of 4 with Axis: "4" hardware offerings, new "4K" Ultra HD technology, "4th" generation software and celebrating the "4th" decade of Axis.

Covering 5,000-square-feet, the Axis booth is packed with demos of its latest products, including several soon to be announced products, AXIS F Series, AXIS P39-R Series and AXIS P14 Series. Attendees will also be able to experience a new hands-on accessories workbench, 4K Ultra HD technology and an updated encoder and Ethernet over coax display. The Axis Partner Pavilion will feature an impressive line-up of 20 partners, showcasing the latest in analytics, access control integration, video management, storage and more to create a total solution. Axis will also be highlighting several technology partners in an all-new technology display.



AXIS Q1615/-E wins ASIS Accolades
The ASIS Accolades Competition recognizes 10 of the most innovative new security technology, products and service solutions exhibited at ASIS 2014. A team of judges representing end users and experts in security technologies evaluated all entries and selected this year's winners, including AXIS Q1615/-E Network Cameras. This is the fourth consecutive year Axis has received this recognition. The new fixed cameras automatically switch settings between high dynamic scenes with WDR - Forensic Capture and low light with Lightfinder mode to deliver exceptional image quality, day and night. AXIS Q1615 will also be on display in booth #1023.

Read more here.