Axis Announces Innovative Surveillance Solution for Large Areas with Simultaneous Full 360° Overview and Detailed Zoom

AXIS Q6000-E enhances the AXIS Q60-E Series, providing a 360° overview with four adjustable heads and one-click, high detail, optical zoom for uninterrupted situational awareness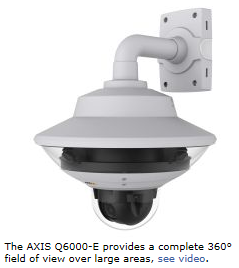 CHELMSFORD, Mass. - ASIS International, booth #1023 - September 29, 2014 - Axis Communications, the global leader in network video surveillance, announces AXIS Q6000-E, an outdoor-ready 360° network camera that integrates seamlessly with the AXIS Q60-E Series of PTZ dome network cameras to provide a unique surveillance solution (see video). AXIS Q6000-E will be on display in booth #1023 at ASIS International from Sept. 29 to Oct. 1.

With just a single click, operators can optically zoom in on details of interest with high precision while at the same time being able to maintain an overview of large areas of up to 215,000 sq. ft. - about the size of four football fields. This makes AXIS Q6000-E ideal for city surveillance applications, such as monitoring of public squares and parking lots, as well as food courts in shopping malls and other open areas.





Read more here.