Steven Neal Joins USS as Business Development Manager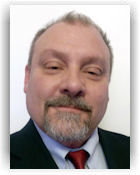 RANCHO CUCAMONGA, Calif., (September 29, 2014) – Continuing its rapid expansion, USS has announced that Steven Neal has joined the company as the new business development manager for the Northeast. In addition to his strong technical background in access control and CCTV systems, Neal brings to USS his 26 years of experience in sales management and business development.

"Steven is one of those rare individuals who can do everything from start to finish: design the system, price it, explain it to the customer, and implement it," said Adel Sayegh, USS' founder and CEO. "We are thrilled to have him."

"I am looking forward to helping establish USS as the major player in physical security arena," said Neal about his appointment. "USS is already a well-regarded leader in EAS, and its physical security capabilities far more advanced than is generally known. I am very excited about what the future holds for USS and its customers."

Prior to his joining USS, Neal held senior sales positions with Commercial Systems Group, Identicard and Morfield Communications. He is a graduate of Pennsylvania Institute of Electronics, with a degree in electronics engineering.




For more information, contact:
Bané Obrenovich
USS
(909) 484-7870 ext. 326
bane@UniversalEAS.com