Chico's Partners with Tyco Retail Solutions for RFID-Enabled Inventory Accuracy

In-store inventory visibility enhances customer experience at Soma Intimates stores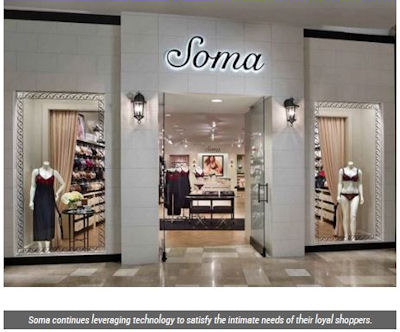 NEUHAUSEN, Switzerland - October 7, 2014 - Tyco Retail Solutions (www.tycoretailsolutions.com), a leading global provider of retail performance and security solutions, today announced positive results from its RFID pilot with Chico's. With focus on innovation in the store and evolving its omni-channel retailing strategy, Chico's partnered with Tyco to address inventory accuracy and visibility challenges in 13 Soma Intimates pilot stores. Harnessing the power of Tyco's RFID-based Inventory Intelligence solution, Soma associates can now access accurate, real-time inventory information in one place to better manage their deep merchandise assortment and to drive increased sales and shopper satisfaction. Having this level of inventory accuracy fosters associate confidence to provide a better customer experience.

Chico's is dedicated to enabling customers to shop anywhere, anytime, and anyhow they choose. Having visibility to accurate and timely inventory availability is a mandate across all channels and locations to support omni-channel initiatives. Use of RFID technology by Chico's Soma stores provides visibility to items across all pilot stores and distribution centers, extending from store receipt to customer purchase, and through the exit door. Insight into all channels at all times helps ensure customer satisfaction and limits lost sales due to inventory discrepancies or lack of item visibility.



"Our core value remains consistent: provide the most amazing customer service," said Ken Silay, Director, Technology, Research and Innovation for Chico's. "Innovation is an integral part of our mission to create a great customer experience. With RFID-based inventory intelligence, we can enhance the opportunity to have the right product available at the right place, at the right time to satisfy our in-store and omni-channel shoppers. Increasing our inventory accuracy helps minimize lost sales and out-of-stocks, keeping our customers happy and associates more productive. On our journey we've discovered innovation is always in fashion."

Read more here.