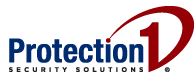 Protection 1 Launches HALO, its Home Automation and Video Verification Platform Protection 1 Takes Connected Home to the Next Level As the Only Provider of Video Verified Response and Solar Production Tracking

Protection 1, the largest full-service business and home security company in the U.S., has announced the advancement of its home automation platform, HALO. The HALO platform, which includes a fully integrated suite of connected home solutions available through a single app, has added new Central Station operator video alarm verification along with new energy efficiency features like solar power and energy monitoring to its list of capabilities. Powered by Alarm.com's leading cloud-based software platform for the intelligently connected home, HALO gives Protection 1's residential customers a comprehensive suite of secure connected home solutions. From a single mobile app, users can control and manage interactive security, video monitoring and energy management solutions as well as a broad ecosystem of connected devices. Using persistent monitoring and adaptive learning, Protection 1 customers get improved security, intelligent automation and effortless energy management capabilities. Read more here.

Brite Energy, Protection 1's Solar Arm,
Launches its Residential Business in San Diego
Phased Roll Out Planned to Allow Company to Scale Smart

Protection 1 announced its solar arm, Brite Energy, has launched in its first market, San Diego, Calif. Over the next several months, Brite Energy plans to execute a phased, market by market launch strategy that will allow the company to scale quickly delivering the industry-leading customer experience Protection 1 is known for. "Like Protection 1, Brite Energy will be distinguished by the quality of customer experience and speed of installation that differentiates us in the security business," said Timothy J. Whall, Protection 1 CEO. "We know that our customers are looking for a solar offering that parallels the experience and support we provide at Protection 1 and we are prepared to deliver exactly that. We believe our customer-first brand of service will allow us to quickly take a leadership position in the solar marketplace as we have in security and we are pleased to announce this milestone." Read more here.