The Next Revolutionary Alarm Service
for Retail Management

"Nutech National adds a game-changer to the Alarm Service Industry by unveiling SmartRetail Alert, the all-in-one text alert management service for retail."

Orlando, FL – November 19, 2014 - NuTech NaTional started off the week by announcing SmartRetail Alert, the app that goes way beyond Central Station data. This clever, user-friendly interface allows Regional and District Managers to not only receive Central Station data via text-message notifications, but also view and manage service and installation jobs.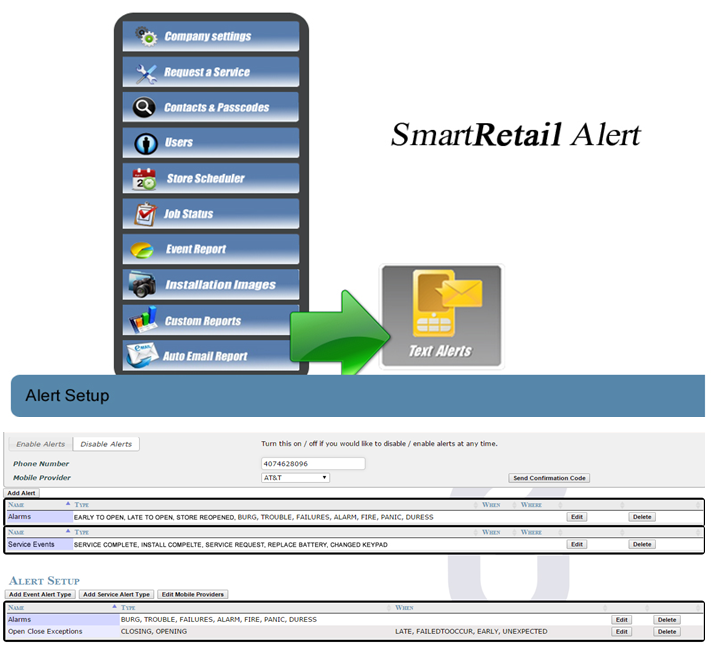 The end-user will be able to access information more conveniently than ever before. Service issues, service completions, store re-openings, late/early to open/close, installation notices and much more; will all be available through immediate text-notification.

SmartRetail Alert is just another cutting-edge service included with NuTech's brand new NuTech Link 6.0, a complete retail management software, offered free to all of NuTech's clients. As the technological field continues to expand, so do consumer expectations. Choosing the right security measures shouldn't have to utilize multiple applications to manage an alarm. This is why NuTech created SmartRetail Alert, serving as an all-inclusive security alert service. "With technology expanding daily, we have to keep up with the curve, NuTech is excited about SmartRetail as we see the benefits that immediate notifications via smartphone gives to our clients, allowing them to respond accordingly," said Greg DeTardo, President of NuTech National.

One of the convenient features of this service is that it's easy to set up and use. All the application needs is a phone number and provider; it is compatible with Android and Apple devices. From there, the client can enable, disable, add or delete alerts, and create alert exceptions (such as for opening/closing). SmartRetail Alert is completely customizable for the end-user as to what kind of alerts they would like to receive, and NuTech's support team is always available to help.

The next breakthrough in alarm management is here, making management simpler than ever before. Monitoring accounts with NuTech will give the client access to SmartRetail Alert and numerous other services and benefits for a greater retail alarm partner.

Experience More today, call 800-569-1600 ext. 1205.