Kurt Salmon, Tyco Retail Solutions and Mobispoke Join Forces to Deliver 1:1 Retailing

Alliance is anchored by an interactive demonstration lab at Tyco's Retail Experience Center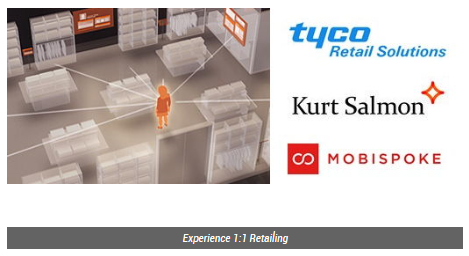 NEW YORK - January 8, 2015 - Kurt Salmon, Tyco Retail Solutions, and Mobispoke announced that they have joined forces to bring the future in-store experience - 1:1 Retailing - to life today. The result of nearly a year's worth of shared client engagements, this alliance is anchored by an interactive demonstration lab at Tyco's Retail Experience Center. To educate retailers on the key building blocks needed to facilitate 1:1 Retailing, experts will provide on-site demonstrations at the 2015 NRF Big Show in New York. To schedule an exclusive demonstration, visit www.kurtsalmon.com/retailingdemolab.

"With this collaboration, the retailers that want to provide interactive 1:1 Retailing experiences now have a platform upon which to build them," said Al Sambar, managing partner of Kurt Salmon's North American Retail and Consumer Group. "Together with Tyco Retail Solutions and Mobispoke, we provide retailers with the complete set of tools necessary to positively differentiate their in-store performance - and by extension, their customer experience - with 1:1 Retailing."

1:1 Retailing takes the information that customers offer regarding their shopping preferences and behaviors and seamlessly marries it with technology-enabled capabilities to provide a wholly personalized in-store experience. The result is an increase in shopper traffic, conversion and average basket size.

Tyco's industry-leading Store Performance software platform provides retailers with the in-store, real-time information that is mission critical for enabling rich customer experiences. As part of the platform, Inventory Intelligence enables retailers to achieve up to 99% inventory accuracy, and establish a strong foundation from which to implement successful 1:1 Retailing.

Read more here.