Cam Connections Finalizes Stock Sale

President and CEO Robert Bull Purchases Other Half of the Company From Former CEO Christopher Lesnewski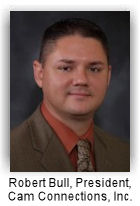 Cam Connections Inc., one of the fastest-growing security dealers and integrators in North America, has announced a change in ownership. Robert Bull, President and CEO of Cam Connections, Inc., has completed an agreement to purchase all remaining shares of Cam Connections stock from former CEO Christopher Lesnewski, who stepped down from the company on December 31, 2014 to start another business.

Robert and Christopher have maintained joint-ownership of Cam Connections since the end of 2010, when Chris' father Chuck Lesnewski retired from the company, which he founded back in 1998. Robert began with Cam Connections in 2002, and Chris joined in 2003. As the two men helped build Cam Connections into the industry leader it is today, they also formed a lifelong friendship. Robert credits much of the company's growth and success over the past decade to Chris' hard work and leadership.

"Chris has been absolutely amazing to work with throughout the years," Robert says. "It is hard to believe how a handful of people and a dream could become what Cam Connections is today. It is truly remarkable... Chris will always be like a brother to me and I wish nothing but the best for him in the next phase of his life. I am certain that he will deploy the same level of passion and success in his new business venture."

Cam Connections provides custom-tailored security and loss prevention programs for hundreds of America's leading businesses and government agencies. Their experienced staff - comprised of some of the country's best trained security, loss prevention and technology specialists - forms the foundation of CCI's elite security team: professionals whose focus is on complete client satisfaction.



About Cam Connections
Since 1998, Cam Connections has been a leading Loss Prevention resource in the United States. Our mission is to provide unmatched service in delivering electronic security solutions that are expertly tailored to the specific needs of each individual client. We are dedicated to heightening the value of our clients' businesses as a trusted partner in protecting their people and property.

Because we are a service provider and not a manufacturer, we are not tied to specific products or systems. We are free to select the most appropriate components from the entire marketplace, giving you the best solution at the best value. This also allows us to easily adapt your security system to meet your organization's existing procedures, rather than forcing you to conform to a pre-fabricated system.

Our dedication to customer service and our breadth of experience make us the ideal choice to protect your business from loss.

CAM CONNECTIONS, INC.
3970 S. Pipkin Road - Lakeland, FL 33811-1422
Tel. 863.583.3343 - Fax. 863.583.3349 - Toll Free. 888.544.1085
www.camconn.com