SEARS HOLDINGS TRANSFORMATION EFFORTS LEADS TO ASSET AND PROFIT PROTECTION BUSINESS UNIT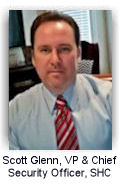 HOFFMAN ESTATES, Ill. - Sears Holdings Corporation announced today that it has reorganized its Loss Prevention program into an Asset and Profit Protection business unit to better align with the company's transformation and represent its evolving business needs.

"Our new Asset and Profit Protection business unit is a testament to how this team can contribute not only to the traditional profit improvement efforts of shrink and safety but also other key areas such as operations, business continuity and compliance, said Scott Glenn, Chief Security Officer for Sears Holdings. "We have built a strong team of leaders that understand the challenges that we face in today's retail environment and will continue to make an impact in the year ahead."

The new department includes leaders responsible for key areas across the company, including Kmart stores format; Sears stores format; Operations and Innovation; Learning and Development; Investigations, Online and Supply Chain; and Safety, Compliance and Home Services.