Tyco Retail Solutions Achieves Record Growth in Global Source Tagging

Major retailers worldwide rely on Sensormatic program to boost profitability and efficiency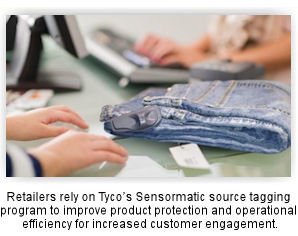 Tyco Retail Solutions (www.tycoretailsolutions.com) recently announced its fourth consecutive year of revenue growth for its genuine Sensormatic source tagging program. For fiscal year 2014, Tyco earned the highest source tagging revenue in the company's history, with growth in both source application of Electronic Article Surveillance (EAS) labels and recirculation of hard tags. Tyco's source tagging program is the largest in the industry, protecting the most popular consumer products and apparel items at the world's top retailers.

Tyco's comprehensive source tagging program encompasses source application of both EAS labels and reusable hard tags. Today, more than half of Tyco's genuine Sensormatic labels are applied by product manufacturers or packaging companies, allowing retailers to quickly deliver items to the selling floor, and reallocate labor to focusing on customers for a more personalized experience. With Tyco's global presence and unmatched source tagging infrastructure, retailers receive cost effective and robust merchandise protection with outstanding results.

Record-setting Tyco milestones for consumer goods source protected to date:

| | |
| --- | --- |
| ● | Over 50 billion total consumer products worldwide |
| ● | Over 4 billion computer accessories and other electronic items |
| ● | Over 2 billion tools, hardware, construction, and home & garden products |
| ● | Over 1 billion health & beauty and over-the-counter products |

An industry pioneer in apparel protection, Tyco introduced apparel and textile source tagging with EAS labels sewn into merchandise at the manufacturing source. Tyco initiated another source tagging first with Visible Source Tags (VST) that are affixed to apparel and then recirculated through the supply chain. With Tyco's newest dual technology Acousto-Magnetic (AM) EAS and RFID hard tags, retailers can now control shoplifting, and also gain vital RFID-enabled item-level visibility for better inventory management and connection to the Internet of Things (IoT). Gaining immense popularity with retailers, Tyco's recirculated RFID hard tags are a cost effective and environment-friendly approach for deploying full scale apparel RFID programs.

Read more here.