Bassett Sales Corporation Launches Live Security Operation Center Featuring Sony IP Cameras and 4K Monitors

Security Resellers, Integrators and End Users Receive Hands-On Education by Operating Sony IP Cameras and Monitors in a Live Security Setting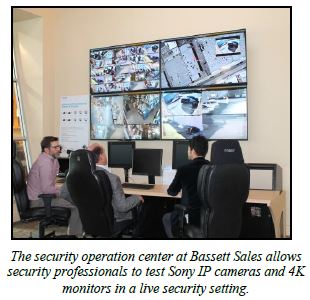 BURBANK, Calif., and PARK RIDGE, N.J. - March 17, 2015 - Bassett Sales Corporation, an independent manufacturers' representative, announced today that the company has officially opened its live Security Operations Center featuring IP cameras and 4K monitors from Sony's Security Systems Division. The center is available by appointment to security resellers, integrators or end users in Southern California who wish to test Sony IP cameras and 4K monitors in a live security setting.

"We want to give security professionals an opportunity to try Sony's IP cameras and 4K monitors in a real setting, rather than in a simulated environment," said Scott Bassett, owner and CEO of Bassett Sales. "We strongly believe that Sony provides users with the best video quality available in the security industry today, and we want people to be able to see the vastly superior video for themselves before making any purchasing decisions."

The security operation center features 23 of Sony's newest IPELA ENGINE HD surveillance cameras, including indoor/outdoor dome cameras, PTZ cameras, and special application cameras such as the SNC-HM662 360-degree hemispheric view camera with a panamorph lens. The cameras are located in live security settings such as parking lots, storage facilities, loading docks and office lobbies, enabling users to see how Sony's IP cameras function in various lighting and installation scenarios. In addition, Sony plans to provide 4K cameras to the site when they become available.

"We are pleased to be working with Bassett Sales on this security operation center," said Kenichi Mori, director of marketing and product management for Sony's Security Systems Division. "We truly believe that being able to test equipment in a live security environment is the best way for security professionals and end users to become educated about equipment specifications and the various features and functionality of IP security systems. These are the key elements that help them make decisions about which IP cameras and monitors will best suit their own security needs."

The security operation center is open weekdays by appointment only. Security professionals and end users are encouraged to contact Bassett Sales' Burbank, Calif., office at 818.766.2117 or sales@bassettsales.com.