Four Arrested for Retail Theft at Polk County Walmart
On Wednesday, March 18, 2015, the Polk County Sheriff's Office Organized Retail Crime Unit, along with Wal-Mart Loss Prevention store members, conducted a retail theft investigation at Wal-Mart in Lakeland, FL. Two suspects were seen removing a Greico baby swing from a shelf then walk to the customer service counter and returned the swing for a gift card. The suspects were joined by two others who concealed merchandise, including batteries, cooked shrimp and candy. All 4 were arrested, between the 4 suspects - 62 prior arrests and over 50 felonies. polksheriff.org
Two Verizon employees in Roswell, NM. Arrested; faked robbery to steal $7,200 in cash and $7,500 in merchandise Roswell police say employees of a downtown Verizon store admitted to lying about an armed robbery so one of the employees could steal cash and phones. Joshua Fitisemanu, 25, and Felicia Mejia, 21, turned themselves in and were arrested at the Roswell Police Department Thursday afternoon. An arrest warrant has been issued for the third suspect, 23-year-old Marcus Boyd. RPD said the trio called 911 on March 11 to report a robbery at 200 N. Main St. The employees gave officers a similar description of the alleged robber, who they said flashed a gun in his waistband when he entered the store. Investigators reviewed surveillance video from neighboring businesses and could not find a suspect matching the description. Police said the employees who turned themselves in admitted it was Fitisemanu's idea to steal from the store since they had allegedly garnished his wages. Fitisemanu is accused of stealing about $7,270 in cash and 10 cell phones worth about $7,550. The phones were recovered from a shed belonging to Fitisemanu. Of the cash, about $1,500 was recovered. Fitisemanu told investigators he spent the rest of the money. kob.com

Kohl's Loss Prevention and Hermitage, TN Police arrest 2 ORC suspects with $2,100 in merchandise Two women were arrested for shoplifting outside a Hermitage clothing store Thursday afternoon. It happened at the Kohl's on Lebanon Pike around 1:30 p.m. Police reported Melissa Key, 41, and Sonya Allison, 43, were seen on surveillance placing merchandise inside two bags. According to an affidavit, Key left the store and drove a vehicle to the front entrance so Allison could run out with the bags. Police stopped the car and found nearly $2,100 worth of merchandise. A member of the News 2 iReport 2 network sent in this photo from the scene. Key and Allison were booked in the metro jail on charges of theft of merchandise. wkrn.com


Cleveland man arrested for stealing $4,000 in Polo shirts from Great Lakes Mall; possible connection to Macy's $7,650 theft in University Hts, OH Police arrested a 52-year-old Cleveland man on charges of accusing him of stealing $4,000 of Ralph Lauren Polo shirts from a Mentor department store. Michael Hatcher was taken into custody Thursday in connection with the theft. University Heights police are investigating a similar incident that occurred March 13 at Macy's where $7,650 in Polo shirts were stolen. University Heights police said they have a person of interest in that case, but would not confirm whether Hatcher is a suspect. Hatcher is charged with felony theft, receiving stolen property and possessing criminal tools. cleveland.com

Hayward man arrested for stealing $1,200 worth of gaming consoles from Fry's in Palo Alto, CA Investigators have arrested a 30-year-old Hayward man that is accused of being an outstanding suspect in an armed robbery at a Palo Alto electronics store back in January, according to CBS Local. David Gandara is being accused of stealing three gaming consoles with an estimated value of $1,200. Police believe Gandara, as well his partner Jason Fayyad, stole the gaming consoles at gun-point from Fry's Electronics on Jan. 28. According to police, Gandara allegedly pointed a handgun at a loss-prevention employee. suntimes.com

Joplin, MO man arrested stealing 19 cases of Shotgun Shells form Walmart
A Joplin man was arrested and charged with felony theft after stealing thousands of rounds of shotgun ammunition from the Carthage Walmart and Walmart stores in Webb City and Monett. Carthage Police Lt. Bill Barksdale said 19 cases of shotgun ammunition (approx. value $2,000) were stolen from the Carthage Walmart on Monday, eight cases from the Webb City Walmart later that same day and 14 cases were stolen from the Monett Walmart on Sunday. Garrett Mitchell Koon, 23, Joplin, was arrested on Tuesday and is being held on $15,000 bond on one count of felony stealing. carthagepress.com


Twin Cities ORCA to hold first annual conference
in Minneapolis on Aug. 3-4, 2015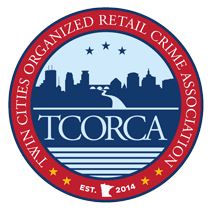 In October 2014, a group of dedicated law enforcement, crime analysts, corporate fraud and loss prevention investigators, and prosecutors created the Twin Cities Organized Retail Crime Association (TCORCA), 501c4 nonprofit corporation, as a private/public partnership to fight Organized Retail Criminal Enterprises negatively affecting our businesses and communities in the Twin Cities metropolitan area, greater Minnesota, and the upper Midwest region. The creation of this Minnesota-based ORCA with ties to the 30+ other ORCAs in the U.S. will facilitate the ability to formalize information sharing and bring these types of criminal cases to prosecution in a more efficient, effective, and timely manner. A sophisticated and secure website, TCORCA.org has been set up to share real-time crime information and intelligence on these groups in order to enhance the identification of offenders and the targeting of criminal enterprises. TCORCA encourages loss prevention and fraud investigators to apply for membership in order to take advantage of the tools available through this great resource. There are no fees or dues associated with being a user of TCORCA.org. Authorized users can post crime alerts, receive bulletins and alerts from other users, request assistance, network with public and private partners, and utilize analytics and mapping.

TCORCA will hold its first annual Twin Cities Organized Retail Crime Association Training and Conference at the Crowne Plaza Minneapolis West in Plymouth, Minnesota on August 3-4, 2015. There will be over 20 speakers on three different tracks. The conference includes advanced training on numerous topics from subject matter experts across the country. Speakers include representation from federal, state, and local law enforcement officials, as well as dynamic leaders across the retail and financial services spectrum. To register for the event, click here.

For a full list of speakers and topics, click here. For event sponsorship opportunities, click here.

To learn more about membership, conference registration, regional intelligence, networking meetings and sponsorship opportunities, contact admin@tcorca.org.