AXIS A8004-VE Network Video Door Station is an open IP-based door station for two-way communication, high-definition video and remote entry control.

It is an ideal complement to any surveillance installation and offers new levels of security for effective identification and entry control.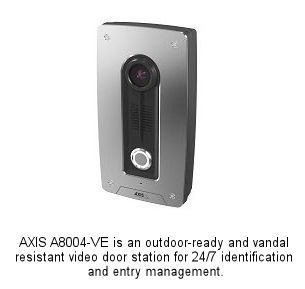 "Axis has a proven track record of bringing product innovation to the security and surveillance market. With AXIS A8004-VE we will provide our customers with an easy to install video door station that extends the capabilities of the security system. AXIS A8004-VE allows our customers to quickly and easily identify and communicate with persons at the door and securely let them in. This is a perfect complement to any surveillance system and as easy to install as any network camera," said Peter Lindström, Director of New Business at Axis Communications.

AXIS A8004-VE is a weather- and vandal-proof video door station suitable for both indoor and outdoor installations. The door station comes with a high-performing intercom function that provides clear and echo-free two-way speech with visitors and an integrated HDTV camera with WDR and excellent low-light performance. The unit offers reliable 24/7 identification of visitors even in the most challenging environments. Power over Ethernet allows for installation with a single network cable and provides sufficient power to support and control most standard door locks directly from the unit.

For small- to mid-sized installations, such as retail stores and offices,
AXIS A8004-VE will help improve security of the premises and simplify everyday operations. The door station makes it possible to communicate and identify visitors and enables remote entry control from an IP-desk phone, a mobile device or directly in a Video Managment System (VMS).

Read more here.

Watch the demo video here.