Two Men Plead Guilty in Manhattan Federal Court in Connection with Violent Daytime Robberies of Jewelry and Watch Stores Across Four States Preet Bharara, the United States Attorney for the Southern District of New York, announced today that Sean Robinson and Kenddal Thompson pled guilty in connection with a robbery conspiracy operating across New York, New Jersey, Virginia, and Connecticut in which members committed daytime robberies of high-end jewelry and watch stores, including Cartier in Manhattan, using violence, including firearms, and resulting in serious injury to victims and the theft of more than one million dollars in watches and other goods. THOMPSON pled guilty today before United States District Judge Loretta A. Preska, and ROBINSON pled guilty on May 7, 2015, before Judge Preska. To date, eight members of the crew have been apprehended and pled guilty. Two defendants, Jamal Dehoyos and Courtney Hardin, remain wanted by the Federal Bureau of Investigation ("FBI") and are considered armed and dangerous. fbi.gov


Phoenix Police arrest 4 stealing $72,000 of Merchandise per Year to support drug habits Four suspects caught in a police surveillance operation admitted they had been shoplifting on average seven days a week for three years to support a drug habit, officers said. Phoenix police arrested Lester Kilpatrick, 44, and his two daughters, Amanda, 22, and Jordan, 21. Officers also took Brandon Muchow, 20, into custody. Tuesday's arrests came after detectives with the Phoenix Police Business and Economic Stability Team worked with local stores to identify the suspects and conduct surveillance on them. Detectives said they observed Lester Kilpatrick and his daughter Amanda steal from various s
tores in the Phoenix metro area and then return the stolen items for a refund. Police said on one occasion, a refund was placed on a gift card which the suspects sold at a nearby gift card reseller. The suspects would then use the cash to buy heroin, Phoenix police Officer James Holmes said. In another incident, the suspects went to a local department store, shoplifted several large bags full of clothing, sorted through the goods and separately returned more than $200 in merchandise to the retailer, Holmes said. All four suspects were arrested following the fraudulent return. Under police questioning, the suspects admitted they shoplifted to feed a $40 a day drug habit for each of them or they would become ill with withdrawals, Holmes said. A fifth person was identified but not detained in connection with the shoplifting ring. Holmes said the group had to steal more than $72,000 a year to satisfy their drug habits. abc15.com

9 Minnesota Men Indicted In $3.8M Stolen Cell Phone Ring
A 30-year-old Golden Valley man is accused of leading a stolen cell phone ring that trafficked at least $3.8 million worth of devices between Hong Kong and the United States. Eight Twin Cities co-conspirators also face charges. Zibo Li was indicted on Thursday in U.S. District Court in Minneapolis. The indictment says Li and others entered used identity theft to fraudulently enter service contracts in the U.S. at the reduced rates that come with long-term contracts. They would then break the contracts with the mobile service carriers and sell the phones in Hong Kong. "These defendants stole the identifying information of nearly 60 known individuals and 20 known businesses," said Assistant United States Attorney Manda M. Sertich in a statement. "They exploited vulnerable members of our society, including people residing in homeless shelters, to steal cell phones and turn a profit." The case is a result of an investigation conducted by the U.S. Secret Service, the St. Paul Police Department, the Minnesota Bureau of Criminal Apprehension, the Minnesota Financial Crimes Task Force, the University of Minnesota Police Department and the Plymouth Police Department. cbslocal.com

Lebanon, PA Judge sends Career Criminal/ Wal-Mart shoplifter to prison
A 35-year-old former Lebanon man with a lengthy criminal record was sentenced to state prison Thursday for shoplifting at Wal-Mart. Judge John C. Tylwalk sentenced Aaron T. Wolfe to eight months to two years in state prison and ordered him to pay a $500 fine. Wolfe, currently an inmate at the State Correctional Institution at Chester, Delaware County, appeared at the hearing by way of a video hookup. He was sentenced for stealing more than $425 worth of merchandise from the North Londonderry Township store on July 1 last year. He took two electric razors, an electric toothbrush and a plastic tote, according to court records. Tylwalk ordered Wolfe to serve the sentence concurrently with a state prison sentence he is serving for a Lancaster County retail theft. Wolfe was sentenced in Lancaster County on Jan. 8 to one to three years for retail theft and conspiracy. ldnews.com

Chinese thieves get five years for $517,000 Monaco ring scam
A French court on Wednesday handed three Chinese thieves five-year jail terms for stealing a ring worth nearly half a million euros from a Monaco jewellery store and replacing it with a fake. The theft took place in January 2014. Two men entered the Fred jewellery store and asked to be shown two rings, while a third man waited outside. Setting their sights on a model with a 453,000-euro ($500,000) price tag the pair paid a deposit of 500 euros and said they would be back by closing time with the balance. They never returned. Instead, the next day, on opening the gift-wrapped box that the saleswoman had prepared, the manager discovered that the ring in the case had been replaced with a cheap replica. The thieves had, it turned out, taken advantage of the saleswoman's back being turned to pocket the original. The ring was never found. Two days later, the trio were detained in Paris after being seen poring over rings worth 300,000 euros and more at the city's glitzy Galeries Lafayette department store. yahoo.com

New York Retailers and Law Enforcement Professionals
Address Statewide Organized Retail Crime Challenge

Written by Joe LaRocca, Vice President & Senior Advisor, Loss Prevention for RetaiLPartners

Albany, New York, April 23, 2015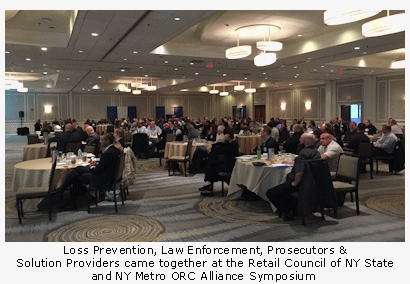 Last month, approximately 200 Loss Prevention, Law Enforcement, Prosecutors and solution providers met in Albany (New York) to share ideas and learn about the latest trends in combating Organized Retail Crime. The event was hosted by the Retail Council of New York State in collaboration with the New York Metro Organized Retail Crime Alliance (NYMORCA).

During the opening remarks, Retail Council President Ted Potrikus, shared the importance of bringing a broad group of attendees together to continue the successful programs to combat ORC, discuss major crime groups targeting retailers and further the important legislative efforts in Albany.

The day was packed with featured sessions by:

Kevin Harrington, Deputy Chief & Commanding Officer, Grand Larceny Division, NYPD
Scott Rappaport, Detective, Wayne Township Police Department
Kenny Fingerman, Agent Development Manager, Sephora
TJ Flynn, Sr. Manager Market Investigations, JCPenney
David Hill, Manager of External Investigations, Hudson's Bay Inc.
Gary Weisbecker, Northeast Investigations Supervisor, Walgreens
Tarik Sheppard, Lieutenant, Grand Larceny Analytical Unit, NYPD
Edward Goldberg, SVP of External Affairs, Macy's

To start the day, I was able to share some of the latest industry statistics, trends and where many leaders in the public and private sector are focused when it comes to ORC and technology programs.

This was a fantastic meeting and I strongly encourage retailers and law enforcement partners with interest in New York, to get involved with the Retail Council (http://retailcouncilnys.com) and the New York Metro Organized Retail Crime Alliance (http://www.nymorca.org).