Kevin Hutcherson Named Universal Surveillance Systems
National Accounts Manager

Rancho Cucamonga, CA, February 15, 2012 – Universal Surveillance Systems LLC (USS), the largest privately held manufacturer of loss prevention technology in the United States, announced the appointment of Kevin Hutcherson as National Accounts Manager. In this position, Hutcherson will work with large companies with national presence in meeting their loss prevention needs.

Hutcherson has extensive experience with loss prevention dating back to 1984 when he began his career as store detective at Macy's. Since that time he has worked for several large national retailers including TJX, Whitehall Jewelers and Bally's Total Fitness where he held senior and executive level loss prevention positions.

"I was first introduced to USS when I worked at Bally's Total Fitness and was drawn to their extraordinary innovation," Hutcherson said. "Bally's was seeking a unique closed circuit television (CCTV) system installation, and USS listened to our ideas and customized a solution that met all of our needs and vastly increased the effectiveness of our LP program. With their focus on superior customer service, I am pleased to be a part of such an innovative, customer-focused company."

Adel Sayegh, USS President and CEO, commented, "USS is pleased to add a seasoned loss prevention pro like Kevin to our talented team. With his extensive background in the industry that ranges from the sales floor to the executive level, he brings unparalleled insight into the entire operations of the loss prevention industry. His in-depth understanding of innovative approaches to reduce shrink will help solve the evolving challenges faced by the loss prevention professionals in a multitude of retail settings."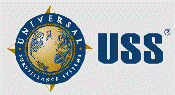 For more information, contact:

Scott Richardson
Corporate Communications Manager
Universal Surveillance Systems
800-488-9097
srichardson@universaleas.com