2012 Archives - 2011 Archives - 2010 Archives

Don't Let Tide Thieves Make a Clean Getaway with Your Profits!

Alpha's CableLok will Deter Detergent Theft. Guaranteed.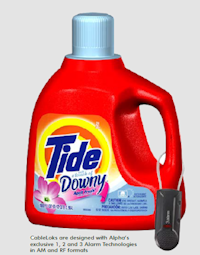 Tide detergent has been flying off the shelves but not because sales are up. Recent headlines about theft of the popular laundry detergent link the increase to drug sales and big profits on the black market. Thefts may even increase as a result of the recent nationwide media attention. Our CableLoks are already being used to protect Tide at many of the top drug stores, grocery stores and discounters. They're proven to provide security and increase sales with a guaranteed ROI in under 12 months. Our proven solutions in your stores will leave detergent thieves all washed up. To find out how Alpha can keep your profits from going down the drain, contact your Alpha Account Executive today.



Alpha's CableLoks were featured on ABC World News with Diane Sawyer.



What's Happening?
Coming in 2012:
Keyword/Phrase Search
Research Capability

Mobile App's

LP Show Coverage

The Top 10