Alpha's CableLoks Deter Detergent Theft and
Stop Thieves from Making a Clean Getaway with Profits

On Tuesday, March 13, Alpha's CableLoks were featured on ABC World News with Diane Sawyer. Nationwide, the media was reacting to an increase in theft of Tide detergent, and Alpha responded by presenting the only solution proven to effectively protect the highly sought after soap, keeping it on store shelves and available for sale. According to CVS spokeswoman Carolyn Castel, "Theft of Tide is not a new issue in the retail industry." However, the problem has escalated recently, especially in the last few months.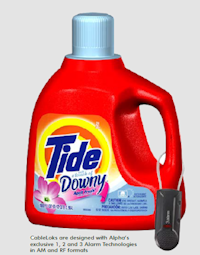 According to retailers and police alike, a black market for laundry detergent has developed in recent years. Tide's resale value on the black market has made the detergent especially enticing for shoplifters. Selling for up to $20 for a large bottle, Tide presents thieves with the opportunity to turn around and sell the soap for half the price for a quick cash profit. In addition to the lackluster economy, many have attributed the increased pilfering to organized retail crime, an issue that affects nearly all retailers. According to the National Retail Federation (NRF), 95 percent of retailers suffered losses from organized shoplifters in 2011. The Global Retail Theft Barometer valued these losses at $45.3 billion in 2011 in North America, a 6 percent increase from 2010.

Although Tide was not mentioned as a top item on the NRF's 2011 Organized Retail Crime Survey, it certainly fits the profile of the items that were listed. According to David Holthaus, reporter for Cincinnati.com, "Tide is valuable, quickly consumable and easily removable from store shelves, all traits that make it attractive to professional thieves."

One Walmart store located in West St. Paul, MN, reported $25,000 in Tide thefts in a little more than a year. In Cincinnati, OH, 103 incidents of Tide theft from grocery stores, convenience stores and drug stores have been reported since the middle of 2010. Numbers like these have forced retailers to try many different methods to protect Tide. Some have locked the detergent behind glass cabinets, while others have decreased the quantities on display. Several stores have tried repositioning the products for improved monitoring, while others have locked the detergent with secure caps and electronic tags.

Alpha's CableLoks are the only proven solution on the market to effectively protect Tide. Many of the top retailers in drug, grocery and discount stores are already using CableLoks to protect their detergent. A highly versatile solution, CableLoks can fit a multitude of products. Available in 1, 2 and 3 Alarm technology in various lengths, Alpha's CableLoks provide an unrivaled range of protection and eliminate the need for hard-wire cabling or locking products behind glass cabinets. CableLoks are Alpha's third largest category of solutions, all of which are proven to provide security and increase sales with a guaranteed ROI in less than 12 months.


For more information on Alpha CableLoks and other solutions to your high-theft challenges, call Diane Wise at 704-206-7849 extension 323.

For more information about our proven solutions, stop by our RILA Booth #428!