Regional Organized Retail Crime Conference to be
Co-Hosted by Safeway and Universal Surveillance Systems on May 23 in Pleasanton, CA
Authorities on Organized Retail Crime to Provide
Comprehensive Discussions on Important Issues

Rancho Cucamonga, CA – April 25, 2012 – The next Regional Organized Retail Crime (ORC) Conference, an instructive conference where leaders in retail, law enforcement, loss prevention and other fields will discuss the latest practices to defeat ORC, will be co-hosted on May 23 in Pleasanton, CA by Safeway Inc. and Universal Surveillance Systems LLC (USS), the largest privately held manufacturer of loss prevention technology in the United States.

Keynote speakers will be from eBay, Department of Homeland Security - ICE, Gap, Barnes and Noble, Safeway and the FBI. The one day conference will feature a number of in-depth educational presentations concerning all aspects of organized retail crime including theft methods, trends, prevention, investigation, legislation and working with law enforcement.

The Regional ORC Conferences were created to fill the need for educational forums on ways to combat the growing incidence of organized retail crime that now affects over 95 percent of retailers, and costs them between $15 billion to $37 billion annually. Because of this, retailers have been forced to invest more each year in loss prevention technology and personnel costs. Regional ORC Conferences have been held throughout the United States and have received high acclaim from their attendees.

USS President and CEO Adel Sayegh said, "Retailers are facing a massive problem as they lose billions of dollars to the plague of organized retail crime every year. These crime rings will skillfully steal thousands of dollars of merchandise in a moment if given the chance. At USS, we have observed the tremendous growth of this problem for our partners and are working relentlessly to combat the evolving methods of ORC thieves. Our Regional Conference is a place for retailers, law enforcement and loss prevention specialists to come together to discuss and exchange critical solutions to stop organized retail crime."

The free, non-commercial event will be open to members of the loss prevention, law enforcement, prosecutorial, judicial and legislative professions. To register, go to http://conta.cc/HW2LsO. For more information, contact Brittney Port at 1-800-488-9097.

Discounted hotel rates are available at Four Points by Sheraton for May 22 and 23rd for the event. Attendees can reserve rooms at https://www.starwoodmeeting.com/Book/orcconference or call 888-627-8072.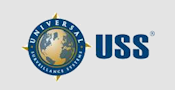 For more information, contact:

Scott Richardson
Corporate Communications Manager
Universal Surveillance Systems
800-488-9097