Obtain Critical Data and Analytic Intelligence With S3i RTLS Wireless In-Store Network

Increases Retail Sales, Improves On-Shelf Availability,
Reduces Shrink on High-Value Merchandise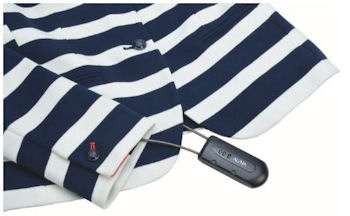 S3i, a scalable RTLS (real time location system) wireless in-store network works with enhanced Alpha High Theft Solutions' alarmed devices to obtain critical data and analytic intelligence, increasing sales, improving on-shelf availability and reducing shrink on high-value merchandise.

S3i's smart devices work in conjunction with smart keys to register all events, such as commissioning, removal of devices and theft. Through better and real-time stock visibility and shrink reduction, store managers are then able to increase sales. Better stock visibility allows retailers to know where the products are in real time, and also have a clear and accurate vision of the quantities, while the use of smart keys reduces both internal and external shrink.

S3i offers retailer's corporate management, store operations and loss prevention critical data on inventory quantity, location and movement of their high-value items within the store. For example, a store manager can have immediate visibility to all of the store's high-value merchandise protected with S3i devices.

When a shopper inquires about a specific item, the store associate can quickly locate it following the user-friendly graphical user interface. Any shoplifting attempt to remove the S3i device creates an immediate alert/alarm that enables store personnel to address according to store policies. In addition, any removal of the S3i device with an authorized key is logged and can help reduce incidents of internal theft.

S3i Devices

Alpha's proven S3 CableLoks, Hard Tags and Spider Wraps have been enhanced by adding S3i technology, making them smart, and giving them the ability to let retailers know exactly where and what is happening with their high-value merchandise. Retailers are enabled to openly display high-risk merchandise such as electronics, designer apparel, luxury handbags and more, improving the shopping experience and increasing likelihood of sale.

Some large retailers are seeing the benefits as they are piloting S3i to create zones around high-risk merchandise and high-risk areas such as backrooms, fitting rooms, rest rooms and exits. With the technology, they are able to detect and deter shoplifting, organized retail crime and employee pilfering. S3i is customized to provide real-time notifications when merchandise enters or exits designated zones or when there is an attempted unauthorized removal of the device. It uses audible and/or visible alerts delivered to associates via smartphones, tablets, radio headsets, or public address systems. This enables retailers to track high-risk merchandise in real-time and respond more quickly to potential theft events.