Universal Surveillance Systems Names
Erin Edwards Vice President of Sales

Rancho Cucamonga, CA – June 19, 2012 –Universal Surveillance Systems LLC (USS), the largest privately held manufacturer of loss prevention technology in the United States, has named Erin Edwards as Vice President of Sales.

A veteran sales and financial executive, Edwards will be responsible for defining USS sales strategies that identify target sectors and channels and overseeing training, recruitment and sales programs to effectively meet the expanding demand for the company's growing product line of innovative loss prevention solutions.

"Erin brings an incredible background in sales management that will take USS to the next level with her ability to understand customer challenges and develop and implement effective sales programs," said Adel Sayegh, USS President and CEO. "With her extensive financial knowledge and experience, she will be able work with our LP partners to better understand the cost returns of various theft prevention solutions and how they can increase return on investment."

Edwards was most recently Senior Director of Sales and Operations for Celluphone, Inc., and has held senior marketing, sales and financial positions at Wingcast LLC and Verizon Wireless. She holds an MBA from University of California, Irvine, and a Bachelor of Arts from California State University, Fullerton.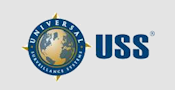 For more information, contact:

Scott Richardson
Corporate Communications Manager
Universal Surveillance Systems
800-488-9097