Checkpoint Systems launches stylish new range of EAS antennas

Classic IP range offers retailers enhanced detection capabilities and data connectivity
THOROFARE, NJ – September, 5, 2012 – Checkpoint Systems (NYSE: CKP), a leading global supplier of shrink management, merchandise visibility and apparel labeling solutions for the retail industry, has launched a stylish new range of Electronic Article Surveillance (EAS) antennas which provide retailers with enhanced detection and data connectivity in a visually appealing format.

Based on retailers' feedback, The CLASSIC IP range – comprising the CLASSIC IP STYLE and CLASSIC IP STREET antennas – includes remote reporting capability, giving operators improved store visibility with ready access to actionable data. The range also enables retailers to integrate visitor counting technology into their businesses. Store managers can monitor customer activity in store, measure the success of their marketing promotions and plan for increased staffing and stock levels in response to busier shopping periods.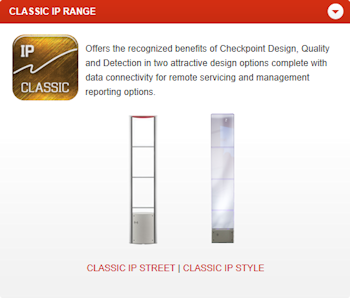 Featuring Checkpoint's energy-saving EVOLVE-ECO electronics, the CLASSIC IP STYLE and CLASSIC IP STREET antennas offer wider aisle width protection enabling retailers to better safeguard their merchandise. Per Levin, President and Chief Sales Officer of Shrink Management Solutions at Checkpoint Systems, explains:

"The Global Retail Theft Barometer highlights that shrink is at its highest level since 2007, so it is essential that retailers continue to take steps to address the problem. While retail operators understand the need for anti-theft measures, they also expect the systems to complement their store designs and provide much-needed functionality. We are confident that Checkpoint's newest range delivers on all fronts, ensuring improved retail store operations, on-shelf availability and consumer shopping experience and to help drive sales."

Designed with input from apparel retailers, the CLASSIC IP STYLE offers the widest aisle width and class-leading detection for a small, discreet antenna. A clear plexiglas structure, integrated LEDs and base covers, available in customised colours, help the antenna to blend with any retail layout. In addition, Checkpoint's VisiPlus units can be integrated for bi-directional overhead, wall or post-mounted visitor counting.

The CLASSIC IP STREET was also designed with feedback from retailers who expressed the need for a tough, robust solution. With its durable alloy construction, slim design and large aisle width detection, the CLASSIC IP STREET is ideal for retailers seeking a sturdy system with the added benefits found in the CLASSIC IP range.

Both antennas within this stylish CLASSIC IP range offer retailers remote support for fast, streamlined service and maintenance.

The CLASSIC IP Range is available to order now.



Press Contact:
Annabel Lemetais
Global Public Relations &
Communications Manager
34 93 745 4825
annabel.lemetais@eur.checkpt.com