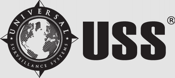 Universal Surveillance System's CCTV Products To Star on truTV Series "Caught Red Handed"

Rancho Cucamonga, CA – November 5, 2012– Universal Surveillance Systems LLC (USS), the architects of surveillance technology, will be one of the fall season's new heroes on "Caught Red Handed", an exciting new series from Nash Entertainment on the truTV channel. Airing on Monday nights beginning November 5, this reality program will follow undercover loss prevention teams as they recommend and implement state-of-the-art solutions from USS to catch some of the most skilled, and in some cases, least bright thieves in very often hilarious games of cat and mouse.

One of the key USS products guest starring on the show is the Stealth Tracker. This quick to install wireless camera shows its worth in this very often hilarious game of cat and mouse. The innovative system attaches to track lighting for power and utilizes a secure Wi-Fi network to carry the video feed to the receiver. "Caught Red Handed" will also feature many other revolutionary USS products as the team snags thieves in New York, New Jersey, California and Florida.

"We are excited about our partnership with Nash Entertainment. "Caught Red Handed" is the perfect venue to showcase the effective performance of USS products and our dedication to assisting loss prevention teams in their efforts against Organized Retail Crime," said USS President and CEO Adel Sayegh, "Nash Entertainment is to be saluted for creating such an entertaining show that features loss prevention."

"Caught Red Handed" can be seen on the truTV Channel available on many cable systems.