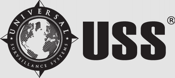 Universal Surveillance Systems Foundation Donates Bicycles to 300 Low Income Children in Ohio and Michigan

Rancho Cucamonga, CA – November 30, 2012 – Following last year's tradition, the Universal Surveillance Systems Foundation (USS Foundation) donated 300 new bicycles to low-income children in Michigan and Ohio through the foundation's second annual Adopt-A-Bike program events on Nov. 27 and 28, 2012.

One hundred students each at the Barber Focus School and Henry Ford Academy in Highland Park, Mich., and 100 students at Belden Elementary School in Canton, Ohio, received the bikes just in time for the holiday season. The students were selected based on good citizenship, academics and attendance. Funding was provided through the generosity of donors and businesses while local Walmarts provided bike discounts and Two Men and a Truck moving services transported the bikes at no cost.

"These children have high hopes for the future and it is important to help them achieve their dreams," said Adel Sayegh, founder and CEO of the USS Foundation. "Unfortunately, the economy has made it difficult for some children to receive transportation to and from school and that is the reason behind our Adopt-A-Bike program. We want to give children the means of transportation to school. Our children are the future and we have to instill in them the importance of education."


The USS Foundation plans on continuing this tradition with upcoming donations in Missouri, Louisiana, Mississippi, Alabama and New York. "Growing up in poverty, I understand the circumstances and resonate with those struggling in this economy," continued Sayegh. "I cannot allow a lack of transportation to hinder a child's chances at a better life and I will continue to fight for a brighter future."

For more information, contact:

Scott Richardson
Corporate Communications Manager
Universal Surveillance Systems
800-488-9097