1.6 million square foot "Megamall" may be coming to Montreal - $1.7B investment with 15,000 jobs The Royalmount would have cinemas, a skating rink, a water park, between 50 and 75 restaurants, two hotels, 1.6 million square feet of retail space and as much office space, a live-entertainment hall with 3,000 seats and so on. The Carbonleo people promise a new kind of shopping mall, something with an "urban feel" where shops would open onto streets or piazzas and pedestrians would be at ease. And, of course, there's a nod to ecology: The roofs would be covered with greenery. Royalmount was partly inspired by Toronto's Yorkdale Shopping Centre and would attract, its developers hope, major upscale retailers.

The left-leaning municipal opposition party, Projet Montréal, is squarely against Royalmount: "We must choose between organic development or the American way of life. This project will be dumped by helicopter into a ghetto deprived of links with the surrounding districts," Projet Montréal leader Luc Ferrandez says. Le Devoir's Jean-François Nadeau complained that it will encourage the plague of overconsumption. Montreal Mayor Denis Coderre hasn't yet made up his mind. He's worried about the impact the project would have on the city. If Carbonleo gets the green light, the megamall would open in 2021. theglobeandmail.com'

Canadian Tire transitioning from "old-world retailing" to digitalized environment - 2015 Corporate Priority In their new Mark's super store they're opening in Canada's largest mall, West Edmonton Mall, this "lab" store will test a variety of concepts: An accessories shop, multiple store-within-store offerings for brands including Alfred Sung, Columbia Sportswear and Levi's, and digital technologies such as screens informing shoppers about the features and benefits of certain products. CTC has identified transitioning from so-called "old-world retailing" to a digitized environment as one of its corporate priorities for 2015, noting that the future of retailing requires "significant investment" in technological platforms. marketingmag.ca

Target Stores Insolvency Biggest In Canadian Retail History - $3B in debt
The biggest insolvency in national retailing history, Target stores' Canadian subsidiary, is scheduled to take key steps on the road to resolution this month and over the summer. It left its landlords and almost 1,800 other suppliers on the hook for close to $3 billion. When it applied for CCAA protection last winter, Target Canada owed approximately $2.4 billion to governments, suppliers of goods and services and employees. It has since established a trust to meet its pay and severance obligations to all employees. At present, Target Canada has approximately $720 million available to meet all obligations. The company raised some of this money by liquidating inventory and other assets and by selling some leases back to landlords. blaney.com

Lowe's Canada taking two Calgary store locations vacated by Target
RioCan said five other former Target locations in Canada have been assigned to Lowe's - Victoria, Toronto, Ottawa, Abbotsford and Burlington - and one in Sudbury next to Canadian Tire. calgaryherald.com

OPP and Mac's team up for "Operation Freeze 2015"; Good deeds rewarded with 'frosters' The OPP is continuing its partnership with Mac's Convenience Stores across Ontario this year for "Operation Freeze 2015", a program that rewards children who demonstrate positive actions, positive behavior and show acts of kindness toward others. OPP officers will be keeping a watchful eye for youngsters carrying out good deeds in communities across the province; and when they catch someone in an act of kindness, the 'thank you' which they will receive is in the form of a free "ticket" for a "froster". Operation Freeze is a Positive Ticketing Program that provides opportunities for OPP officers to interact with young people while recognizing youth for doing good deeds. Officers can use the coupons in a 'positive' way to establish a dialogue with children in their patrol area and build relationships that will last for years to come. "Operation Freeze" provides law enforcement with an additional tool to initiate communication and reward our youth in a positive way", says Sean Sportun - Manager, Loss Prevention & Security for Mac's in Central Canada. "Mac's strives to be a leader in crime prevention and we are very excited about this yearly initiative and the positive message it helps deliver." baytoday.ca

HBC plans up to 25 Off 5th and seven Saks Fifth Avenue stores in Canada

Sobeys buying 1.3M square foot Target Distribution Center in Balzac, Calgary

Mastermind Toys to open 10 or 11 locations this year - 75 stores by 2018 goal

Retail Fast Facts: May 2015

Highlights:
● Total monthly retail sales changed by 2.6 per cent over the comparable month last year.
● Total sales excluding food, automotive and gasoline changed by 6.2 per cent over the comparable month last year. Read more retailcouncil.org



Man, 19, charged in daytime Shooting at Strip Mall in Toronto
A young man has been charged in connection to the death of a 23-year-old who was killed in a strip mall shooting earlier this week. The victim was fatally wounded in a shooting in front of Conrad's Hair Styling Barber Shop, located in the Lawrence Avenue and Markham Road area, on Monday afternoon. He was later identified as 23-year-old Mohamed Arif Patel. On Thursday, Toronto police said they believe that Patel was in a fight with another man at the time of the shooting. Syed Mohammed Ali Zaidi, 19, of Toronto was arrested on Wednesday. Zaidi has been charged with second degree murder, careless use of a firearm, possession of a weapon in a public place and carrying a concealed weapon. ctvnews.ca

Winnipeg Police arrest 3 Suspects in Pembina Highway Jewelry Store Armed Robbery Winnipeg police have arrested three people in connection with an afternoon jewelry-story heist on Tuesday. A shotgun-wielding man went into Winnipeg Jewellers on Pembina Highway at about 4:30 p.m. and demanded the clerk hand over the merchandise, police said in a news release Thursday. He then smashed the display case and grabbed a large quantity of jewelry. The clerk physically tried to stop the man, then remotely locked the door to the store. At that point, the robber started to ransack the store, so the clerk decided to unlock the door and let the man go. globalnews.ca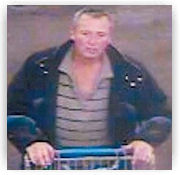 Walmart iPad thefts prompt police to release suspect's photo RCMP in southern Newfoundland released a photo on Wednesday of a man believed to have stolen iPads from a department store in Marystown. Police told CBC News that about $5,100 worth of tablets was reported stolen from the Walmart in Marystown. The theft occurred on May 31. cbc.ca


Robbery suspect wearing cat mask sought by Ottawa police

Alleged Paris jewelry store robber sought by police

Two arrests made in Save Easy break and enter in Twillingate

Pair from Keswick arrested after Ajax drug store robbery
Time is running out to register for Focus On Retail Security!
If you are a security professional working in retail, please join us on June 10 in Toronto for a day of learning and networking opportunities.

Speakers include:
● Canada Post
● Sears Canada
● Staples Canada
● KPMG
● Correctional Service of Canada

You will hear these experts address the most crucial aspects of loss prevention and retail security.


Register today to assure your attendance. Spots are limited!