Defining the Canadian Millennial
The Millennial generation represents approximately 26% of the Canadian population, or about 9 million people. The population is growing quickly, with spending predicted to exceed that of baby boomers. The group defines itself partly by technology, including the number of devices one possesses. Canadian millennials average over three devices per person. Social media acts as their primary medium of communication. They define themselves by how many friends, followers or 'likes' they receive daily. They communicate via Instagram, Snapchat, Vine, Tumblr and/or texting-they often leave Facebook, as it 'belongs to their parents'.

Having been raised by "helicopter parents," this group is optimistic with unrealistic expectations resulting in a very demanding, savvy generation with a lot of "entrepreneurial" spirit. This makes them potentially difficult to manage and hold on to in the everyday workforce, with many companies today struggling to hire and keep Millennial employees past the 2 year mark. retail-insider.com

Quebec to require retailers with English names to add French descriptor
Quebec has made good on its promise to amend the province's language laws to require retailers to add a French description to go with their commercial trademark English names. David said new rules will hopefully be in place by 2016. ctvnews.ca

Loblaws demands workers pay back thousands after payment error
Employees at Your Independent Grocer store in Surrey, B.C., are reeling after being told they owe tens of thousands of dollars in mistaken overpayments. The store is a franchise that is part of the massive Loblaw Companies chain. About 20 workers had opted for a one-time lump sum compensation payment, in exchange for agreeing to new limits on their wages and benefits. But Loblaws says it mistakenly paid them too much and is demanding immediate repayment, under threat of legal action. cbc.ca

'Focus On Retail Security' Seminar - Making Crime Unprofitable
Retail crime is often perceived as a low-risk, high-profit venture, resulting in slap-on-the-wrist penalties, assuming you're even caught and charged. But retail security professionals are working hard to change not only the image, but the reality of crime in stores and its outcomes. By working with fellow retailers to share information about possible criminal activities, and developing closer relationships with law enforcement, the tide is turning, according to information shared at Focus On Retail Security, a one-day seminar event held in Toronto on June 10.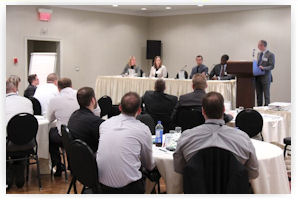 Matt Robertson, manager, corporate inventory and investigations, at Sears Canada, was the opening speaker at Focus On Retail Security. The event was well-attended by retail security professionals who came to hear speakers like Robertson share their knowledge and experience. Robertson noted that retail crime is costing Canadian retailers almost $5 billion a year. "It's very, very profitable for [criminals]. That's something we need to change," he said. But there are indications that change is taking place. Sears is reducing crime in its stores through a combination of CCTV, deep analysis of its retail data and programs like BOLO (Be on the Lookout), which is designed to make employees more vigilant and establish a means to share information quickly between stores. The company has also seen a reduction in fraud cases since its rules were tightened on no bill return transactions and by educating workers on how this type of fraud is perpetrated.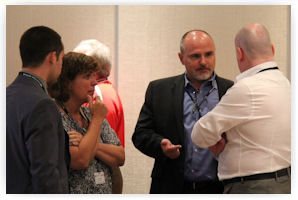 Focus On attendees also heard from a panel of experts on how fraud in the online world has exploded and what can be done to help stem the tide. Robertson returned for the "Retail Crime Online" panel and was joined by Jodi Gerus from Staples Canada, Stacy Hewitt-Bignall from Canada Post and Kevvie Fowler from KPMG. Panelists provided information on combatting this type of crime, managing deliveries to spot possibly fraudulent online transactions, and applying more sophisticated analytics to not only catch perpetrators but put stronger measures in place to prevent them from happening.

Attendees also participated in a group exercise - each of four groups was presented with a scenario (an active shooter threat, a tampering scandal, a data breach and protest activity) and asked to work through outcomes together and arrive at solutions. The day closed with a seminar on restorative justice provided by Mark Yantzi from the Correctional Service of Canada. Yantzi, who has been involved with the movement for more than 40 years, presented an alternate form of conflict resolution - one that focused on positive outcomes. canadiansecuritymag.com

Hudson's Bay in $3.9-billion deal to buy German department store chain

Saskatchewan's Min. Wage to increase to $10.50 on October 1, 2015

What is Canada's largest retailer? - New report tackles this tricky question


Calgary Security Supervisor Christopher Pollitt was responding to alarm in Beiseker when killed in fatal crash Sunday The 32-year-old man killed in Sunday's fatal crash near Crossfield is being remembered as a tireless and diligent friend and colleague. Christopher Pollitt, a field manager for PWM Loss Prevention Services, was responding to an alarm at a school in Beiseker when he was struck and killed by a minivan attempting to cross Hwy. 72 at Hwy. 791. He spent four years as a constable with Kent Police in England before enlisting in the Royal Air Force in 2008, serving two tours of duty in Afghanistan. calgarysun.com

Scuffle sends Atlantic Superstore Loss Prevention officer to hospital in Charlottetown, Prince Edward Island When the accused made an effort to leave the store without paying for items he had picked up the loss prevention officer approached him. That's when the scuffle took place. The loss prevention officer was taken to the Queen Elizabeth Hospital for the treatment of what police describe as non-life -threatening injuries. She has since been released from hospital. Police arrested the 44-year-old Charlottetown man shortly after the incident took place. In addition to robbery charges the accused is also charged with breach of probation. theguardian.pe.ca


Timmins Police release 3 security images of man in Canadian Tire standoff Timmins police have released more information about the 18-hour standoff at a Canadian Tire Store on Wednesday. Three security images of the man who stole guns from the store and fled have been released. At this point, police believe the suspect is still at-large. Investigators said the store's alarm went off at about 4 a.m. on Wednesday and an employee called police after finding an intruder in the building when he or she arrived. Police searched the area and found that a number of weapons were missing from the firearms display. Officers evacuated several other stores, shut down nearby roads and Ontario provincial police set up a broad perimeter around the scene because it was believed the suspect was suspect was holed up with firearms. citynews.ca

A familiar duo nabbed in $350,000 Surrey credit card fraud scheme
Two prolific offenders have been arrested in connection with a Surrey-based fraud operation that cost credit card companies almost $350,000. On April 8, a major Canadian financial institution contacted the Surrey RCMP's economic crime unit to report that one of its customers' corporate credit card accounts had been compromised. An investigation was undertaken and on April 20 investigators executed search warrants at two homes - in the 12500-block 97th Avenue and 13900-block 74th Avenue - and a mailbox depot. Officers seized $20,000 worth of property, including a $10,000 bicycle, several computers (containing hundreds of credit card profiles), furniture, rare coins, 250 stolen credit cards, identification and 450 pieces of mail stolen from Richmond, Surrey and New Westminster. Police also found a loaded shotgun, drugs, body amour and a number of other weapons, including nunchuks (chain-sticks) and brass knuckles. vancouversun.com


38 Calgary gas stations targeted by credit card skimming devices, two arrested; $150,000 in merchandise recovered Denys Ranyuk, 32, and Dimitri Barbu, 33, were arrested Wednesday and hit with 39 total charges. During a search of their home, Investigators found a fully functioning credit card and identification counterfeiting lab inside and what is believed to be more than $150,000 worth of high-end merchandise. Calgary Police allege the pair cheated more than 3,000 credit card holders by using card skimming devices at 38 different gas stations in and around Calgary over the past six months. ctvnews.ca


Armed Robber surrenders outside Vancouver jewellery store Vancouver police are investigating a robbery at a Main Street jewelry store after an armed man allegedly entered the store. According to police, the suspect went into the Ultimate 24 K Gold Company, in Chinatown, around 3 p.m. PT on Thursday. Staff and several customers were evacuated from the store. "Once we managed to get them outside, we were able to negotiate with the suspect who was still inside the store. He did surrender to police and came outside," said Sgt. Randy Fincham. Footage from the scene shows a man walking out with his arms thrown out wide towards a group of armed police. There have been no injuries, and police say the investigation is ongoing. cbc.ca

Regina Pharmacy robber's sentence increased