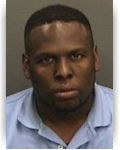 Organized Cargo Theft investigation nets five arrests, one warrant, and recovery of $300,000 in Bloomingdales, Macy's merchandise A former deputy and preacher is one of five people arrested in a sting on an organized cargo theft ring that stole hundreds of thousands of merchandise from Macy's and Bloomingdale's. A joint investigation conducted by the Polk County Sheriff's Office and Florida Highway Patrol, with assistance from the Tampa Police Department and Hillsborough County Sheriff's Office, focusing on organized cargo thefts resulted in five arrests during June & July 2015. A sixth suspect was positively identified and currently has a warrant for his arrest. During the investigation, the PCSO Organized Retail Crime task force was notified by Macy's Asset Protection Investigators that they suspected merchandise was being stolen between the distribution center and retail stores. PCSO notified FHP, as part of the ongoing joint cargo theft task force between the two agencies, and an investigation ensued.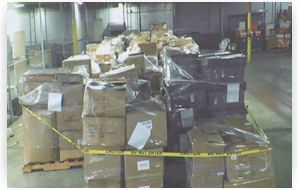 Alexander Nealy of Plant City - a former preacher, DeSoto County Sheriff's deputy and Titusville and Cocoa Police officer - was identified as a suspect. Nealy and two of his accomplices were employed as tractor-trailer drivers for SalSon Logistics, a trucking contractor for Macy's providing product distribution throughout the state of Florida. The Polk County Sheriff's Office said Nealy and his accomplices would open boxes meant for the stores, pull out merchandise and reseal the boxes. Detectives served a search warrant on a storage unit in Ybor City belonging to Nealy, during which they found 272 boxes of stolen Macy's merchandise, valued at approximately $72,500. Detectives served two additional search warrants at storage units in Tampa belonging to Nealy - there they found 392 boxes of Macy's merchandise, valued at approximately $135,800, and over $59,000 worth of Bloomingdale's merchandise, for a total of $267,900 worth of stolen merchandise. Nealy was arrested at his church on June 25 for Felony Cargo Theft. wtsp.com baynews9.com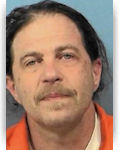 Man convicted in $2 million Toys R Us Lego theft charged with burglary in Lombard - He's at it again Florida man who several years ago was charged with stealing $2 million worth of Lego sets has landed in the DuPage County Jail for allegedly stealing paint brushes. DuPage prosecutors said Thursday they have charged Ignatius M. Pollara, 49, of Tamarac, Fla., with felony burglary after he was caught stealing brushes from a Hobby Lobby in Lombard on July 3rd. Prosecutors said authorities had been tipped that Pollara would be traveling to Illinois from Florida, and he was apprehended with the brushes hidden in his pants near the small of his back as he left the store on Roosevelt Road. Pollara made headlines in 2012 when he, his 70-year-old mother and another man were charged in the big money, multistate theft of Lego toys from Toys R Us in Broward County, Fla. They had hit 139 stores in 27 states. chicagotribune.com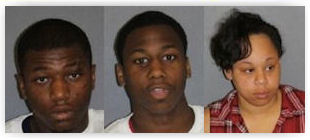 Irvine Police Believe Four iPad Thieves Stole from 20 California Stores and stores in Oregon and Washington Irvine cops thought they were closing in on thieves who made off with 17 iPads from the Target store at Irvine Spectrum, but now the four people in custody are believed to have pulled similar thefts at 20 California stores and more than a dozen in Oregon and Washington, the department announced Thursday afternoon. Isaiah Woods, 21, of Sun Valley; Vernon Hill, 20, of Ethrata, Washington; Victory Rogers, 25, of Southwestern Burien, Washington; and a male juvenile were arrested Wednesday. Further investigation linked the foursome to 20 similar crimes across California, from Lathrop to San Diego, as well as more than a dozen more in Oregon and Washington, according to Emami, who added the thefts of iPads and other electronics occurred in Target, Walmart and Best Buy stores. Irvine Police worked "in close partnership" with the Ventura and Los Angeles police departments and gave "special thanks" to Target special investigators and Walmart loss prevention for their cooperation and assistance in the investigation, Emami said. ocweekly.com

SAPD: Home where $500K of stolen goods seized like 'Amazon warehouse'
You might have recently bought some stolen items and not have known it, according to the San Antonio Police Department. If you bought something online from a local vendor or from a flea market, police said there's a chance it was stolen, after half a million dollars in stolen merchandize was seized by police Wednesday. San Antonio police worked the scene for hours, seizing all of the stolen items. Police said the inside of the house was more like a warehouse for Amazon.com than a residence. A two-month long investigation led to the discovery of $500,000 of stolen goods in the garage and home, and the arrest of alleged facilitator, 38-year-old James Cross.

San Antonio police said they believe Cross was paying robbers and thieves to steal from stores like Macy's and Walmart, and possible he even had help from employees of those stores. Cross would then turn around and sell the items online or at the Eisenhower Flea Market in San Antonio, said police. A second search warrant was also executed at the flea market Wednesday, an police said additional stolen items were found there. Among the items seized were perfumes, electronics and other items, like basketballs, including even signed memorabilia. Police said Cross is facing a felony charge of possession of stolen property, and there could be more charges in the future. Police expect to make more arrests of people connected to this case. kens5.com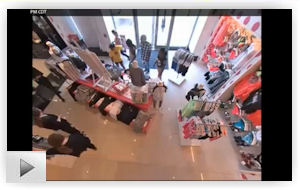 Middle Tennessee police search for 4 suspects in Victoria's Secret theft Four suspects caught on camera stealing over $4,000 in Victoria's Secret merchandise are being sought by Murfreesboro police. The suspects entered store at The Avenue on Wednesday just after 2 p.m. Store surveillance cameras show the four looking at merchandise before they each grab T-shirts, hooded sweatshirts, and pants before running from the store. "It was a very quick snatch-and-grab type operation, but it was clear these individuals had been in the store before," said Murfreesboro police spokesman Sgt. Kyle Evans. Police are hoping the video will be the key in tracking the shoplifters down. wate.com

Egg Harbor Police seeking suspect in $400 Razor theft at CVS
Township police are asking the public to help identify a woman wanted for a suspected strong-arm robbery of shaving products from the CVS Pharmacy on Tilton Road in the Bargaintown section of the township June 25. The suspect was confronted by a store employee and a struggle over the bag ensued. Following the struggle, the suspect was able to secure possession of the stolen property and exit the store. shorenewstoday.com

Organized Theft Ring stealing cartons of cigarettes from Walgreens in Manatee and Collier Co, FL The North Port Police Department is asking for the public's help in finding two suspects who are stealing hundreds of dollars worth of cigarette cartons. Police say Toney Wayne Gwin, 52, and Rickey Emanuel Hayes, 55, are distracting store clerks and stealing the cigarettes. The thefts have taken place north into Manatee County and south into Collier County. mysuncoast.com

Lawn mower thief busted at Home Depot in Kingsport, TN
An early morning incident at Home Depot has landed a man in jail, according to Kingsport police, as he was caught while attempting to steal push mowers, then fled to hide in bushes and he claimed he was asleep. Police responded to the business finding a dismantled Toro push mower outside a gate. A second dismantled mower was located in another section of the parking lot. They were each valued at $300. timesnews.net

Man, 77, bought $50K in "stolen" items for makeshift store