Background
Pep Boys is a full-service automotive aftermarket retail chain, headquartered in Philadelphia, PA. Operating over 700 stores do-it-yourselfer, do-it-for-me (service) and buy-for-resale (sales to professional garages) who have come to rely on Pep Boys for high-quality, name-brands, low prices, convenience and un-matched service.

The Challenge
Pep Boys has always focused on delivering safety and loss prevention messages down to the associate level. Similar to other retail organizations, they had instituted a fairly robust store level awareness program that included posters, monthly manager-led meetings and when required, impromptu huddles.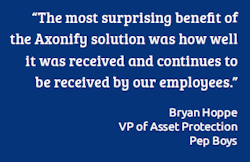 Pep Boys found that although they were doing a variety of things around awareness training, they weren't seeing the reductions in inventory shrink and safety incidents that they expected. Issues such as back injuries and internal theft were still plaguing the organization. They often saw their incident and shrink rates start to fall and then quickly rise again with no discernable pattern.

The team at Pep Boys hypothesized that their lack of sustainable success was largely due to the fact that their employees were not retaining and operationalizing their learning. Associates would get the message and shortly thereafter return to their prior habits with no long-term change in behavior. With over 19,000 employees being trained, it was virtually impossible to track who the message was getting through to and who it wasn't. It was even more challenging to understand who was actually applying learning to their job.

The Solution
In 2009, Pep Boys implemented the Axonify solution as part of an overhaul to their loss prevention and safety awareness programs. The goal was to reduce their shrink and safety incident rates. Via the Axonify platform, associates now receive daily reinforcement of monthly training they've received through their LMS system. Employees answer targeted, quick questions related to risk, loss prevention, safety and operational policies and procedures that they need to know. If they answer correctly, they play a slot machine game titled "Quiz to Win" for a chance to win cash prizes. If they demonstrate a knowledge at various intervals until the employee demonstrates adequate information retention. It takes 30 - 90 seconds a day and is
done either at the beginning of the associate's shift or during downtime throughout the day.