Staten Island, New York, Man Sentenced To 54 Months In Prison For Multimillion-Dollar Organized Retail Crime Conspiracy A Staten Island, New York, man was sentenced today to 54 months in prison for his role in a large-scale, organized, retail crime scheme involving the theft of tens of millions of dollars' worth of over-the-counter (OTC) pharmaceuticals and health and beauty aid (HBA) products, U.S. Attorney Paul J. Fishman announced. Mohammed Abuteer, 27, previously pleaded guilty before U.S. District Judge Kevin McNulty to an information charging him with one count of conspiracy to transport stolen goods interstate. Judge McNulty imposed the sentence today in Newark federal court. From 2008 through May 2013, Abuteer participated in an elaborate scheme to steal and resell HBA and OTC, such as Claritin, Zantac, Mucinex, Prilosec, and Crest White Strips. The items were stolen from retail stores including Target, Wal-Mart, and CVS, and military commissaries, some of which were located in New Jersey. justice.gov

Two Radio Shack Burglars arrested in Muscatine, IA after stealing $48,000 in cell phones The Muscatine Police Department arrested two men in the wee hours of Monday morning after they allegedly attempted to steal dozens of cell phones. According to complaints filed by the Muscatine County District Court, Tywon Stanton, 35, Chicago, and Fazon Stanton, 23, Iowa City, were accused of entering Radio Shack by breaking through a wall of an adjacent business. The two men allegedly took approximately 80 cellular phones valued at $48,000. The incident was reported about 1 a.m. Monday. muscatinejournal.com


Suspect wanted in $3,200 Ammunition theft from Gander Mountain in Jacksonville, FL A 26 year old man, Ronald Fuller, will face charges of grand theft in the Burglary of $3,200 of ammunition from the Gander Mountain store in Jacksonville. Police say Fuller has an extensive criminal background involving theft and drug charges. According to Police, Fuller went into the Gander Mountain store with a small child carrying a backpack. Fuller filled the backpack with the ammunition and walked to the check-out with 1 box of ammo still in his hand. Fuller attempted to purchase the 1 box, but his credit card was declined. Gander Mountain officials were able to get the suspect vehicle information and called Police. Gander Mountain officials stated that due to Company Policy, they are not able to detain a shoplifter without Police presence. news4jax.com

Polk Co, FL Sheriff's Office charges man with 8 thefts at the same Target store
At approximately 8:23 pm, on Monday, July 20, 2015, Polk County Sheriff's Office deputies received a call about a possible retail theft occurring at the Target retail store located in Davenport, FL. Through the investigation, the suspect was identified as 22-year-old Timothy J. Raschke, of Davenport. Detectives learned Raschke had concealed a Charge device, a Mobile gamming device and a candy bar and attempted to leave the store without paying. Detectives learned Raschke had been involved in seven additional thefts from the same store. Raschke had taken merchandise from the store on June 9, June 10, June 14, June 15, June 17, July 7, and July 9. Raschke admitted to stealing the merchandise during each of the incidents, and then selling it on Craigslist. Raschke then told detectives he used the money to pay for his hotel room. During a search of the room, over $300 worth of Target merchandise was located. dailyridge.com


Academy Sports and Corpus Christi, TX Police seeking Organized Retail thieves The Corpus Christi Police Department is looking for two suspects who are accused of stealing from a store. Store employees say, the two men walked into the Academy Store on July 15, Tuesday. They picked up a duffel bag off the shelf and started to put clothing in it. When approached by store employees the suspects made a dash through the fire exit with the unpaid merchandise. Store employees gave chase to the suspects who dropped the bag of merchandise. The duffel bag was recovered. The merchandise inside was valued at over $1,700. kristv.com

Petaluma, CA Police seek suspects in $1,000 Target theft
Petaluma police are searching for two men wanted for stealing $1,000-worth of merchandise from the Petaluma Target store on Friday. Police say the men entered Target around 1:30 p.m. on Friday afternoon and placed a GPS device, razors, electronics and other miscellaneous items into a shopping cart. One suspect placed a hand basket in the bottom of the shopping cart, making it easier to remove the property from the cart. petaluma360.com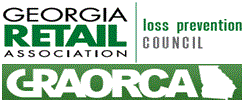 2015 GRAORCA Retail Crime Conference
August 19th - Atlanta GA

WHEN: Wednesday August 19, 2015 08:00am - 05:00pm

WHERE: AmericasMart, Bldg. 2, 230 Spring Street, Atlanta, GA

Please join over 400 Retail Security and Law Enforcement professionals for a full day of training and networking in the battle against Organized Retail Crime. Local, State and National speakers will present on various topics. Breakfast and lunch will be provided. CFI/CFE and POST credits are anticipated. Go to http://www.georgiaretail.org/lpconference/ to register.