SEARS LP CRISIS TEAM FEATURED IN
CHICAGO TRIBUNE

Sears crisis center ready to react to Isaac

By Cheryl V. Jackson
Chicago Tribune
August 29, 2012
As Hurricane Isaac hung over the New Orleans region Wednesday morning, dozens of Sears Holdings managers were holed up in a high-tech space on the retailer's Hoffman Estates campus planning to react to the storm by reopening its affected stores there and restocking others.

It's a war room of sorts, this Sears Crisis Command Center, where the mission is to have high-demand items in the stores as soon as possible.

Monitors show The Weather Channel, other cable news channels and a local news channel. A map displays red and green dots that represent Sears' and Kmart stores -- with the red noting downed stores. As of Wednesday afternoon, about 40 stores have been closed with another 120 in danger of being affected by the storm.

"We're monitoring all these types of events, but we're all reacting too," said Bill Titus, vice president of loss prevention and safety. "And it's not just people. We're taking advantage of all the technology."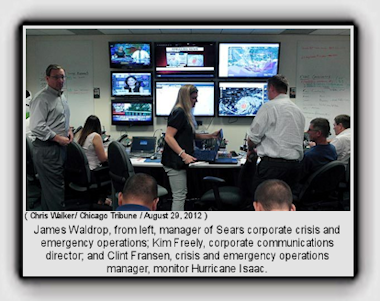 Managers from logistics, transportation, human resources and communications are all on hand for teleconferenced updates from employees on the ground, as well as from federal and state emergency management officials, which have contracts with Sears to vend supplies.

A nominal staff, which is typically on guard, has been watching Isaac for eight days. Wednesday morning, as many as 45 people have been through the crisis room.

The company established the command center two years ago to track and respond to any man-made or natural disaster that threatens the operation of its stores across the country. Such events have ranged from a fugitive running through a Las Vegas store and into a standoff with police nearby, to a bear wandering into an outlet in Pittsburg, Pa.

On Wednesday, it was Isaac, which was lingering, and delaying the team's ability to access damage.

Before the storm, Sears sent additional supplies to stock store shelves after the storm. Trucks stocked with water, generators and cleaning supplies, are stationed just outside the affected areas waiting to follow Isaac's path, Sears said.

"You have to kind of watch and see what's the final impact," said James R. Waldrop, manager of corporate crisis and emergency operations.

---


In regards to the above article Bill Titus, VP LP, Sears Holdings had this to say:

"The need to have a robust Crisis Management plan and team is critical in the protection of our customers, associates and facilities at Sears Holdings we work hard daily to ensure we have both."