Select Systems Technology Names Kent Oda, Retired LAPD Detective III, New Vice President of Business Development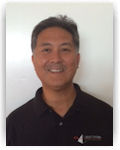 TORRANCE, CALIFORNIA - SEPTEMBER 1, 2015 - SELECT SYSTEMS TECHNOLOGY, the industry leader in doing more with less, is proud to announce the hiring of Kent Oda, ret. LAPD, as Vice President of Business Development. Kent will be reporting to Vijay Patel, Executive Vice President. "I am thrilled to be working with Kent as he brings our unique approach of doing more with less to a broader array of retailers," said Patel. "Kent's service oriented career with the LAPD is a perfect fit with Select Systems' approach to business."

One of the highlights of Kent's distinguished 26-year career with the LAPD was the founding of the Los Angeles Area Organized Retail Crimes Association, of which he served as program coordinator while with the LAPD. In 2011, Kent was named one of the "Most Influential People in Security," by Security Magazine.

"Select Systems approach to protecting the retailer's original investment is unique in the industry," said Oda. "I was surprised that Select Systems is the only company, that I know of, that has the ability to upgrade a 15-year-old Intellex DVR to current PCI standards."




ABOUT SELECT SYSTEMS TECHNOLOGY

Select Systems Technology, founded in 1992, has tailored solutions to fit each customer's unique needs and more importantly, their budget.

Services and products offered:

Re-manufacturing Service - We offer complete re-manufacturing service for all legacy Sensormatic - American Dynamics CCTV and EAS products.

CCTV - Certified GENETEC, OPENEYE, CBC/GANZ, PELCO, AMERICAN DYNAMICS. We also carry many other lines of CCTV products.

Access Control - we offer complete solutions from one-door system to enterprise-level solutions.

390 AMAPOLA AVE, SUITE 6, TORRANCE, CA 90501 - TEL (310) 224-3000