Report: 'Perfect Storm' Brewing for Canadian Retail
- 15-20% of retailers predicted to go out of business in next 20 years
Canadian retailers face tough times in the years ahead - and so might those heading north of the border for the first time, according to a new study. In his 2015 Canadian Apparel Yearbook, Trendex North America president Randy Harris forecasts that 15 percent to 20 percent of Canadian retailers, most from Quebec, will go out of business in the next 20 years. "The clouds are there. In fact, I would say there is a perfect storm brewing," Harris said.

According to the data compiled, the continued growth of foreign retailers in Canada, coupled with the surge of off-price retailing in the country, is expected to impact every level of the country's apparel industry, as Harris projects. In addition, as upscale players like Nordstrom and Saks Fifth Avenue stake their ground in Canada and introduce consumers to off-price concepts like Nordstrom Rack and Saks Off 5th, Winners, Marshalls, Hudson's Bay Co. and others will feel the pinch because of the product and prices these U.S. retailers will offer. Harris predicts "a massive explosion" coming in off-price retail in Canada, which is an area of the fashion industry that is underdeveloped.

Moreover, as foreign luxury retailers saturate the Canadian market, this overexpansion will test high-end businesses like Holt Renfrew, Harry Rosen and others, as well as new entries like Nordstrom, Harris forecasts. "When Nordstrom decided to launch in Canada five years ago they made the right decision based on the facts they had at the time. However, this model is no longer valid," said Harris. "Five years ago we didn't know Saks would be coming to Canada or have any clue that there would be this boom of luxury retailers coming into the country," he added. "But there just aren't enough people here to support this overexpansion. Therein lies the problem." wwd.com

Canadian retailers poised to raise prices amid slumping loonie
Retailers are expected to hike prices in the coming months as they feel the pinch of a weak Canadian dollar and higher costs for imported goods. theglobeandmail.com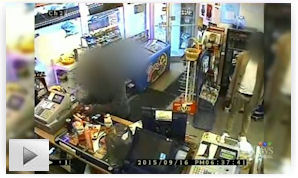 Merchants warn about debit card scam hitting businesses in Montreal - $5,000 gone in 20 seconds
Merchants taken in by a debit card scam that has affected at least six Montreal businesses are sounding the alarm, warning others to be on the lookout. Depanneur manager Hossain Shirani said it took 20 seconds for his store to lose $5,000 in the scam. Caught on surveillance camera, a young man is seen beginning a debit card transaction. His alleged accomplices distract the cashier, then the main terminal is grabbed. With the push of a few buttons, Shirani said the $5,000 was refunded to the card. He said two of his depanneurs were targeted last week. "Basically we lost $10,000 in two days," said Shirani, adding that the money won't be easy to recover. His debit card provider Elavon said there's little they can do. "No, (they said) it's not our responsibility, it's yours. And that's it, you go after them and call the police and you make a report," he said. The alleged thieves have been busy. Last weekend, the same group was caught on surveillance camera at another depanneur, running the same scam. Elavon was also the debit service provider. In a statement the company said: We are aware of this recent debit card scam and are working closely with local authorities to stop these incidents from recurring. ctvnews.ca

West Coast retail leaders set to meet in Vancouver on Oct. 7th for Retail Council of Canada's Retail West 2015 conference
The movers and shakers of western Canada's retail industry will meet in Vancouver on October 7 for Retail West 2015, a day-long conference hosted by Retail Council of Canada (RCC) and presented by Interac Association. The annual event brings together more than 300 retailers of all sizes and categories, from independent merchants to Canada's largest chains, as well as industry vendors and suppliers. Retail West, to be held at the Pan Pacific Hotel Vancouver, is open to RCC members and non-members. Media are invited to attend the conference. For registration information, click here.

Canadian retailers slow to adapt beacon tech despite shopper awareness
Consumer awareness of location-based technology on smartphones is high, but few retailers are taking advantage of its potential benefits, finds a study titled The Mobile-Driven Shopper, conducted by the Canadian Marketing Association and Air Miles operator LoyaltyOne. The study found 86% of Canadian consumers (and 91% of millennials and gen x-ers) are aware of beacon technology and 56% have used it to help them make more informed purchasing decisions. canadiangrocer.com

Mac's convenience stores to be rebranded as Circle K

Windsor's Sears store set to close

Why Rexall could be the next big Canadian retailer up for sale

Report: Canada's retail sales rose for a third month

Retail Fast Facts: September 2015
● Total monthly retail sales changed by 2.4 per cent over the comparable month last year.
● Total sales excluding food, automotive and gasoline changed by 4.1 per cent over the comparable month last year. Read more.




Toronto, CN: Police release video of violent convenience store robbery;
elderly man injured
Toronto police are searching for two suspects after an elderly man was badly beaten during a violent convenience store robbery last Tuesday. Authorities released footage of the incident today that left a 73-year-old man in hospital. Police say they made the video public in hopes of getting assistance identifying the two suspects. The attack happened at the Super Queen's Market near the intersection of Queen Street West and Bathurst Street. Last Tuesday at approximately 4 a.m., two men entered the store and began repeatedly punching the shopkeeper in the head and stomach. cbc.ca

Regina, Sask, CN: Regina Police probe debit card 'skimming' linked to New York Police in Regina are investigating after a number of complaints arose about debit card 'skimming' linked to New York City. Police said Wednesday that between March and April debit card numbers were "compromised at different Regina businesses, likely by using card skimming equipment." They said that the link to New York City was noticed on Sept. 20 when information "fraudulently-obtained last spring" was used at ATM machines located in New York City. They said they have received reports of 50 such transactions, but believe the number of victims may be higher. cbc.ca




Cambridge, ON, CN: Suspect sought in Pharmasave robbery
A pharmacy in Cambridge was robbed of prescription drugs, police say. The robbery at the Pharmasave on King Street East was reported around 3:30 p.m. Monday. According to Waterloo Regional Police, a man entered the pharmacy and demanded drugs, then left the area on a bicycle. ctvnews.ca



Saskatoon, CN: Teen arrested after Saskatoon drug store robbed
A teen is facing a number of charges after allegedly robbing a Saskatoon drug store. The robbery happened Friday morning at the store located in the 200-block of Acadia Drive. According to the police report, the teen entered the store, pointed both a rifle and handgun at employees and demanded cash. He then took off in a vehicle. Officers were able to identify the suspect and determine the vehicle had been reported stolen. He was found at a nearby residence where police seized several imitation guns. globalnews.ca

Surrey, BC, CN: RCMP warn public to be vigilant as 32 suspects arrested
in three months for robberies
SINCE July 1, 32 suspects have been arrested and are facing up to 72 charges, with additional charges pending, in connection to multiple robberies in Surrey. The majority of these individuals have also either been charged or are suspects in additional robberies across the region. Surrey RCMP's Robbery Unit continues to make arrests of prolific offenders responsible for robberies across the city and police are reminding the public to be vigilant when it comes to their personal safety. voiceonline.com

St Catharine's. ON: Distraction team hits People's Jewelers
On 9/23/2015, sometime between 5:20 PM and 6:45 PM, two subjects, committed a distraction theft at a People's store. The subjects entered the store and asked to see engagement rings. An associate assisted the couple and showed them a 1CT from the Canadian diamond section. The female handed the ring back to the associate. Sometime after the associate removed the three stone, blue diamond center ring, the male subject had taken it. The loss was later discovered after the couple left.

Stephenville, NF, CN: Man turns himself in to Police, charged with $3,000 thefts from Canadian Tire, Walmart and Dominion Market
Chad Pitcher, the 28-year-old Stephenville man who turned himself in to police this week has been sentenced to four months in jail and one year probation. Pitcher has previously been charged with shoplifting after he and 21-year-old Cassandra Young were caught on Aug. 19 with more than $3,000 in stolen merchandise. thewesternstar.com

Pickering, ON, CN: Jewelry store Grab & Run at a Pickering
Town Center jewelry store
On Wednesday, September 16th 2015 at approximately 5:31pm a male subject entered a retail jewelry store located in Pickering Town Centre, Pickering, Ontario. The subject asked to see a heavy gold men's chain. The subject ran from the store with it. He had not paid for it. jewellrycrimecanada.ca

Lindsay, ON, CN: Two females distract jewelry store clerk, gold chain stolen
On Friday, September 4th 2015 at approximately 3:00pm, two female subjects entered a retail jewelry store located in Lindsay Square Mall, Lindsay, Ontario. The subjects asked to look at gold chains. One of the subjects managed to distract the sales person, while the other subject took gold chains from a display case. They left the store without paying for them. jewellerycrimecanada.ca