Winston-Salem PD Hosts Inaugural North Carolina ORC Investigators Conference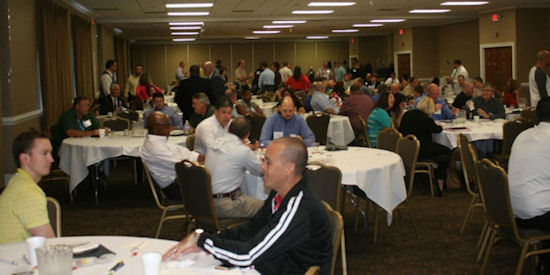 By Investigator Stephen Horsley,
Winston-Salem Police Department

On September 16, 2015 the Winston-Salem Police Department hosted the inaugural 2015 NORTH CAROLINA ORGANIZED RETAIL CRIME INVESTIGATORS CONFERENCE, which was held at the Village Inn Event Center, in Clemmons NC. Donations to assist were made by Sheetz, Local Wal-Mart, and Target, personnel from CVS and the Greensboro Police Department, TW Garner Food Company, and Burroughs Wellcome Fund.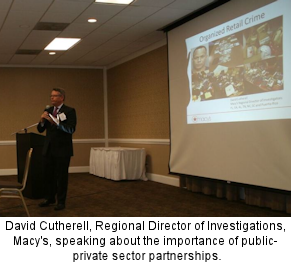 The event was attended by retailers, loss prevention agents, prosecutors, and law enforcement officers from North Carolina and around the country. There were 20 law enforcement agencies and 30 businesses from 9 states represented.

The topics covered by state and national speakers were, "The Important of Partnership between the Private and Public Sector in Organized Retail Crime Cases," by David Cutherell of Macy's; "How to Create and Accomplish a Successful Organized Retail Crime Task Force," by Lt. Jim Ostojic of the Polk County Sheriff's Office; "Dismantling an Organized Retail Crime Criminal Enterprise (Case Study)," by Brendan "Ben" Dugan of Walgreens; "Interviewing a Booster," by Rory Stallard of Home Depot; "The High Point Police Department Larceny Initiative," by Lt. Tracy Perry of the High Point Department; and "Local ORC Groups/ North Carolina Organized Retail Crime Investigators Association (NCORCIA)," by Inv. Stephen Horsley of the Winston-Salem Police Department.

The opening address was given by Chief Barry Rountree of the Winston-Salem Police Department, with the Winston-Salem Police Department Honor Guard presenting the national anthem to start the conference.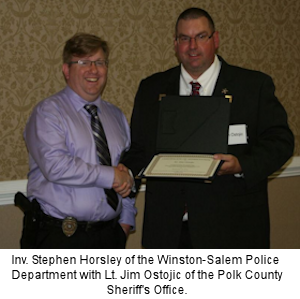 The feedback received from the Conference was outstanding with requests for the conference to continue next year; which is being planned. We are hoping for around the same time next year.

"Stephen, I just wanted to take a moment to thank you for everything that you did to host this for all of us. You pulled together some great speakers and I feel it was important for all of us. Your dedication and passion really showed, as I can imagine the effort it took to pull such a great conference together. It is the few like you that make a huge difference in bridging the gaps b/t retail and LE." -Richard Allen, Regional Loss Prevention, Sally Beauty Supply/Cosmo Prof

"Stephen, Thank you for your hard work in putting this together. It was great seeing such a huge turnout the first time around. I really enjoyed the conference (I know other retailers did also) and look forward to working with you." -Luis Loayza, Macy's



Ringleader of $24M identity theft ring gets 15 years
Federal authorities say that the sentencing of a woman on Friday brings to an end a huge $24 million scheme in which 10 women from Alabama and Georgia stole more than 9,000 identities from the U.S. Army, several Alabama state agencies and Georgia companies and used them to defraud the government through falsified tax returns. Keisha Lanier, who the U.S. Attorney's Office prosecuted as the ringleader of the operation, was sentenced to 15 years in prison to be followed by three years of supervised release. She was also ordered to forfeit $5,811,406. montgomeryadvertiser.com

Shenandoah, PA: Couple face charges for credit card fraud of more than $140K Police said that, in their West Oak Street home, the two had a credit card embosser and magnetic stripe card reader-writer and used the items to make counterfeit credit cards. Valentine and Aker made credit cards using fraudulently obtained credit card information to create counterfeit credit cards under alias names for their own personal use. During the 11 months the crimes were being committed, police said the two used the fake credit cards to make purchases totaling $145,866.59 at stores in Schuylkill, Luzerne, Dauphin and other counties throughout Pennsylvania. republicanherald.com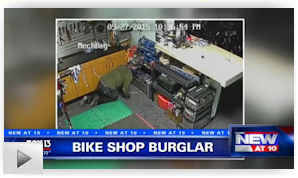 Brandon, FL: $104K worth of bikes stolen from King Cycles shop
Detectives are looking for thieves who stole $104,000 worth of bicycles and other items from King Cycles shop in Brandon. Around 11:35 p.m. Sunday, suspects forced their way into the shop at 733 Lumsden Road and took 30 to 35 mountain bikes and other merchandise, according to the Hillsborough County Sheriff's Office. The suspects fled the scene, possibly using a box truck or trailer, detectives say. fox13news.com


Moultrie, GA: Walmart Shoplifter arrested after $8,200 shopping spree
An employee at Wal-Mart reported a theft on Saturday. Police and store security confronted Ashlen Divon Brown as he was walking out of the store, Moultrie Police Department reports said. Stolen merchandise, including LG Bluetooth headphones, a wrist watch and earrings, were recovered, police said. The merchandise was valued at $8,264. moultrieobserver.com

Sebring, FL: Four charged with $400 theft from Walmart
Two men and two women were arrested after a Walmart security employee saw them leaving the store without paying for about $400 of merchandise. The subjects were observed concealing electronics, clothing and health and beauty products. When security employees attempted to detain the suspects, one suspect ran, but was later arrested. highlandstoday.com