Ontario to begin retail audits under AODA
Retail companies in Ontario with 500 or more employees should start preparing for provincial compliance audits related to the Accessibility for Ontarians with Disabilities Act (AODA). During a three-month period beginning this fall, audits will target workplaces and employee practices to ensure that employers are making accessibility a regular part of recruiting and supporting employees with disabilities. This initiative is part of the government's goal of an accessible Ontario by 2025.

Large retailers must meet requirements under AODA including, creating and making public a multi-year accessibility plan that outlines the steps put in place to remove and prevent barriers for employees and customers. Secondly, retailers must develop customized emergency plans for employees with disabilities.

Resources can be accessed on the government website. Non-compliance could result in inspections, notices of order and director's orders and prosecution. Penalties range from $500 to $15,000 for corporations. reminetwork.com

New Outlet Collection Winnipeg set to open May 2017
Outlet Collection Winnipeg represents a $200-million investment and is slated to create 1,300 retail jobs. The collection will be home to 100 outlet brands and will be similar to Ivanhoé Cambridge's other collection outlet in Niagara, with a few tweaks for Winnipeg. Our Outlet Collection at Niagara is Canada's largest open-air outlet, and while we could have done the same in Winnipeg. winnipegfreepress.com

7-Eleven to offer pickup points for Wal-Mart online customers in
GTA in 6 store test
Wal-Mart Canada and 7-Eleven Canada are joining forces to do an e-commerce pilot project in the Toronto area. It's an extension of a Wal-Mart locker service, currently available at the retailer's Canadian head office, some of its stores in the Greater Toronto Area and in Kapuskasing, Ont. theglobeandmail.com

Montreal: Portable Payment Device Scammers Hitting Businesses -
POS Terminals: small machines give thieves access to big accounts
The portable payment devices are turning into a hot commodity among thieves and within the past week thieves tried to steal five such machines from Madisons Grill in Montreal. Employees at the store managed to catch one thief, but a second person got away. Anyone possessing the machines and armed with the right technical knowledge can use them to transfer thousands of dollars of money from the owner of a store or restaurant to a card holder.

Last month CTV Montreal spoke with depanneur owners who had been robbed when people supposedly making purchases instead took advantage of a momentary distraction to reverse charges and transfer $10,000 from store owners' accounts to their own debit cards. He said he knew of four other businesses that had fallen victim to the same scam. ctvnews.ca

David's Tea Reveals Expansion Plans to double store count & hit 250 Canadian stores

DSW Designer Shoes Reveals 4 Canadian Locations to Open Next Spring

Swatch Continues Canadian Expansion with New Locations


Retail Fast Facts: September 2015
● Total monthly retail sales changed by 2.4 per cent over the comparable month last year.
● Total sales excluding food, automotive and gasoline changed by 4.1 per cent over the comparable month last year. Read more.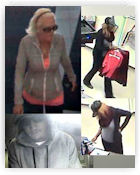 RCMP Look to Identify Okanagan Credit Card Fraud Suspects
Kelowna RCMP are investigating a rash of thefts from vehicles that have hit the region from Vernon to West Kelowna. The suspects allegedly gained access to locked vehicles parked at hiking trails, regional parks, and shopping mall parking lots, taking wallets and other valuable items like credit cards and bank cards. kelownanow.com




Etobicoke, ON: Grab and Run a man in his twenties entered People's store and asked to see rings
He asked to see multiple rings, but the associate insisted that this was against company policy and she was only allowed to show him one at a time. After viewing multiple rings one at a time, the subject asked to see the Celebration ring again. As soon as the associate handed him the ring, he ran from the store with the ring in his possession. The subject was apprehended, but the ring could not be found. A Celebration grand ring was taken, valued at $4,000.00. edp24.co.uk

Battlefords: Quick-thinking store clerk averts robbery
RCMP in the Battlefords are hunting for a silver mini van and two masked women after a botched armed robbery. It happened just before midnight at a gas station on the edge of town. In a news release, RCMP said it began when a van pulled up outside the station, and a woman came inside to use the pay phone. While that was happening, a second woman came in wearing a mask and armed with a knife. She demanded cash, but the clerk refused and told her that police had been called. 620ckrm.com

Terrace B.C: Father and son arrested for shoplifting at Walmart
Two men shoplifted a bunch of items from Sport Chek. A second call was received that the same two men tried stealing from Canadian Tire. Under investigation. terracestandard.com

Toronto: Three men facing charges in rash of robberies

Ottawa man, 23, charged in drug-store robbery