D&D Daily Restructures for Growth,
Adds Contributing Editor and Writer

Cleveland, OH - (October 14, 2015) - The D&D Daily - the #1 digital news source for retail loss prevention and IT security executives throughout North America - has added two industry leaders to its editorial team and restructured the existing organization to help the publication continue to grow and add even more value for its readers.

The new roles include the following:

● Amber Bradley, Owner & Brand Strategist, Calibration LLC, was named Contributing Editor. Utilizing her extensive network, Amber will focus on industry liaison, social media and facilitating industry engagement. Amber has Co-MC'ed the Loss Prevention News Network's groundbreaking LIVE broadcasts, while contributing regular articles, event recaps and other content for the Daily.

● Mike Nagyhazy, Senior Director, Loss Prevention, 24 Hour Fitness, was named Contributing Writer. Mike has written a number of Op/Ed articles for the Daily as part of his "Roadmap for New LP Executives" series.

● Mike Crissman was named Executive Editor, LP Newswire and Managing Editor, D&D Daily. In addition to his various responsibilities with the Daily, LP Newswire and LPNN, Mike also acts as Vendor Advocate for the Daily, maximizing value and exposure for sponsors on the e-newsletter.

● Gordon Smith was named Retail Crime & ORC Editor.
Gordon served the Loss Prevention industry for 17 years before returning to the Downing & Downing team as an Executive Search Consultant. He has expanded his role as a contributing writer and editor for the Daily, bringing his industry expertise to the Retail Crime and ORC columns.

● Katie Bowles was named Content Editor.
Katie manages the layout and visual presentation of the Daily each day, in addition to writing articles, coordinating content and graphics, conducting research and updating the d-ddaily.com website.

Gus Downing, Executive Editor commented:
"The growth of the D&D Daily over the last five years has been a truly humbling experience for our entire team. With so many involved from the LP industry itself, including our valued sponsors and from our own team, we view these appointments not only as well-earned achievements but also as critical developments that will enable us to continue to evolve the Daily as the #1 and only daily news source for the Loss Prevention and IT Security communities. We look forward to continuing to earn your readership and our team is absolutely committed to ensuring you have the news and information that you need to be successful in this digital age."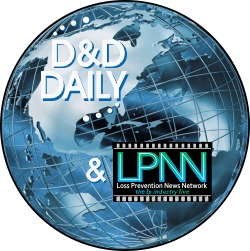 About the D&D Daily
Retail Loss Prevention's #1 daily and fastest growing digital e-newsletter and information resource, the D&D Daily delivers real-time news, information and industry trends that are reshaping the retail world. The Daily e-newsletter promotes industry engagement through a collaborative social-media-like platform whose mission is to inform, educate and instill a sense of community for executives of the retail LP and IT security industry. Subscribe for free at www.d-ddaily.com.

About Downing & Downing, Inc.
Established in 1983, Downing & Downing is North America's largest executive search and consulting firm specializing in the Retail Loss Prevention & Safety industries. Over the years, it has successfully staffed more senior loss prevention positions and helped design and build more loss prevention teams than any other firm in history. Learn more at www.downing-downing.com.