USS Tactical Tagging Strategy Highlighted
at LPRC Conference


GAINESVILLE, Fla., (October 7, 2015) – The Loss Prevention Research Council reported very positive results from its study of USS' Tactical Tagging™ strategy at this year's LPRC Impact Conference in Gainesville, Fla. The study, conducted in cooperation with a major retailer, showed that USS' Tactical Tagging approach creates a major deterrent to theft by creating uncertainty in the offender's mind about what the tag might do if tampered with.

"Offenders dislike not knowing what will happen next, or how something works" said Mike Giblin, an LPRC research scientist in his conference presentation to over 200 LP professionals. "They love being in control: 'I know what this is, I know how it works, I know what will happen if I try to steal it.'"

USS Tactical Tagging consists of using EAS tags that look identical, but have different levels of protection. The one-alarm tags have the lowest cost and offer one level of protection; three-alarm tags have the highest cost and offer three levels of protection; two-alarm tags are in-between.

A retailer has the opportunity to mix and match the number of tags from each category to fit its budget and shrink level at each store. But to an offender, all tags look like three-alarm tags: alarm speaker, blinking LED light, aggressive look.

LPRC research involved 10 actual offenders who were shown Tactical Tags and asked for feedback. "100 percent were very concerned about them," said Giblin. Some of the comments from the offenders include:

- "I can see the speaker inside, I know it has a speaker built in."

- "Very clever."

- "If I can't tell what's real and will alarm, I don't bother stealing."

Giblin reported that, of the offenders interviewed, "none could tell the difference between the tags." He added that "offenders assumed a high level of technological ability," and that prior research showed there is the tendency for "the offender to think that there is more to the protection measure than there is."

"Once debriefed on tags being different, offenders expressed strong dislike for uncertainty," said Giblin. "Even truth is a deterrent," he concluded.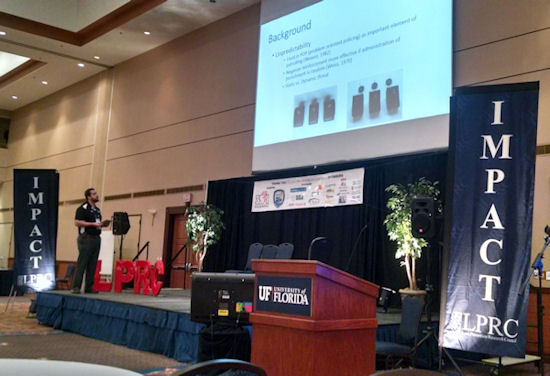 LPRC research scientist Mike Giblin explains the science behind USS' Tactical Tagging approach

For more information, contact:
Bané Obrenovich
USS
(909) 484-7870
bane@ussinnovate.com