Coalition of Law Enforcement and Retail's 6th Annual Conference - Biggest Yet

By Dave Collins, Sr. Manager Loss Prevention, Signet Jewelers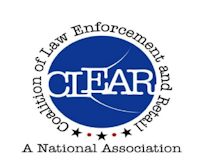 This year, the 6th annual Coalition of Law Enforcement and Retail conference was held at the Baltimore Marriott Inner Harbor at Camden Yards on October 12th through October 15th. Thanks to all the attendees for making this the biggest and best conference yet with nearly 200 attendees, split almost 50/50 between Law Enforcement and Loss Prevention.

As always, the conference began with awards for Retail Loss Prevention Investigator of the year and also the Law Enforcement Investigator of the year. These awards are given based on submissions from the industry, then the CLEAR Board of Directors chooses the recipients. This year, the Loss Prevention Investigator of the year was Beau Lachance from Home Depot and Law Enforcement Investigator of the year was Mike Mauldin from the Harris County District Attorney's office. Congratulations!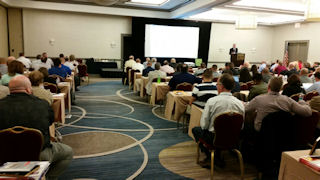 There were 16 different presentations over the 2 ½ days. As always, there was a great range of topics that would appeal to both retail Loss Prevention and Law enforcement. Tuesday's conference started off with a presentation on mobile surveillance by Det. Edgar Whyte from LPAPD, statements and case study by Dave Zulawski and how to build an ORC by Vance Gilbert, then a presentation on Civil Unrest Preparation and Retail Business Recovery by Col. Melissa Hyatt of the Baltimore PD, Jon Grander of Caleres Shoe Co., Dave Cohen from Walgreens and Millie Kresevich from Luxottica Retail. We wrapped up with legislative updates by Millie Kresevich from Luxottica Retail.

Wednesday's presentations started off with Gus Downing giving an overview of the national ORC problem and Gene Smith presenting on the Loss Prevention Foundation. We rolled into presentations on gift card fraud by Chris Guerra and then a Rental Car security group with Jake Annable from Enterprise and Dennis Letts from Avis. The final presentation of the day was by Scott Guginsky from the Jewelers Security Alliance. We wrapped up the day with a reception where we rented the Sports Legends Museum at Camden yards.

The final day had a presentation by Mark Youngblood Michael Keller and Matt Callahan from the US Secret Service, a gift card fraud presentation by Scott Sanford from Barnes and Noble and a presentation on Jewelry store robberies by Mark Neapolitan from Signet Jewelers.

A great big thanks to all of our vendor partners who help make it all possible. As always, one of the biggest benefits was the networking among peers, and between LP and Law Enforcement. Next year, we'll be back in Reno, NV from October 24th through the 27th. We hope to see everyone there!!!!!



Law Enforcement Investigator of the Year Award Winner, Michael Mauldin



Loss Prevention Investigator of the Year, Beau Lachance with CLEAR President, Curt Crum



Honor Guard kicked off the opening ceremony



Gus Downing discusses how ORC has become a national problem



Dave Zulawski gives the group a case study



Kentucky State Police Investigate Organized Crime Ring in Lexington Area
Kentucky State Police Post 12 Frankfort, in conjunction with the Kroger Loss Prevention Organized Crime Division, ABC, and Lexington Metro Police have been conducting undercover transactions in the Lexington Metro area over the past month. The investigations continued today as multiple agencies served two search warrants at local Lexington businesses. At Florence Food Mart at 760 Florence Road KSP, along with agents from the Alcohol Beverage Control, Kroger, Lexington Metro Police executed a search warrant as the result of stolen items from Kroger's being bought for pennies on the dollar. Arrested and charged with Engaging in Organized Crime and possession of a handgun by a convicted felon was Mufeed Ayyad, age 48, of Lexington, KY.. Located inside the Florence Food Mart was a semi-automatic handgun near the register. KSP and additional agencies converged on the Nikel's Food Market located at 2353 Paris Pike in Lexington. Similar transactions had occurred in the past weeks utilizing stolen merchandise from Kroger's. Arrested and charged with Engaging in Organized Crime was Nikel Ildemar, age 43, of Lexington, Ky. Also arrested was Joao Batista Da Silva, age 52, of Lexington, KY. facebook.com


Laurel Co, KY: Five Walmart shoplifters arrested on Organized Crime charges
Deputies in Laurel County have arrested five people after a shoplifting investigation. The arrests happened at Wal-Mart and in the Wal-Mart parking lot near Corbin. Deputies say they were called to the store after Wal-Mart's loss prevention team had detained one person. Deputies found four people in that vehicle. They tell WKYT that Bowman was shoplifting items inside Wal-Mart, bringing items back to the vehicle, and the people in the car were bagging the shoplifted items into new Wal-mart bags. Deputies say Bowman was then taking those items back inside Wal-Mart, attempting to return the items and receive a gift card in exchange. The car involved was impounded. wkyt.com

Council Bluffs, IA: Prison Escapee steals $1,200 of merchandise from Walmart; tased by Police
A Council Bluffs man was subdued by a stun gun on Friday morning after allegedly trying to steal electronics from Walmart. At 6 a.m., Todd Jensen, 41, was arrested on suspicion of second-degree robbery, resisting arrest and being a fugitive from justice. Jensen was wanted for escape from the Iowa Department of Corrections, according to the Council Bluffs Police Department. According to police, Jensen was seen removing security alarms from electronic merchandise inside the Walmart. Jensen proceeded to push a shopping cart full of merchandise valued at more than $1,200 out of the building without making any attempt to pay for the items. When approached by a Council Bluffs police officer and store employees, Jensen pushed the cart into an employee and took off running, knocking over a manager. The officer struggled briefly with Jensen before deploying a stun in order to gain control of him, police said. nonpareilonline.com

Albuquerque, NM: 13 victims of Identity Theft - Shopping spree ends at suspect's home
Albuquerque police have arrested a suspect linked to more than a dozen identity theft cases. Sheila Rosenau, 31, is accused of receiving thousands of dollars worth of merchandise that was purchased with stolen credit cards and then having it delivered to her home. Detectives were able to identify about 13 victims, but police say based on what they found in Rosenau's home, she could be linked to more cases. She was also wanted on absconding from her probation for a previous identity theft case in Sandoval County. krqe.com