7-Eleven Canada - Tough on Crime, Generous in Donations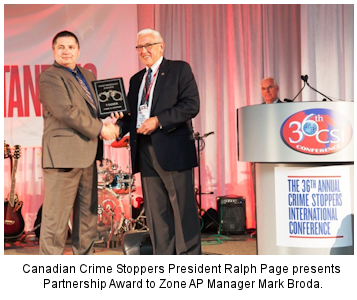 By Byron Smith, Corporate Asset Protection Manager - Corporate Security, International, Acquisitions & Supply Chain, 7-Eleven

7-Eleven Canada, Inc. received a Lifetime Partnership award from Crime Stoppers International. The award was presented at the nonprofit crime-fighting organization's 36th annual conference in Toronto this fall. 7-Eleven has supported Crime Stoppers in Canada since 1989. Under the leadership of then Canada Asset Protection (AP) Manager Len McGeouch, 7-Eleven first partnered with Crime Stoppers in British Columbia to raise donations to support the program. The partnership included annual fund-raising drives through the National Canister Donation Program in Canada's 500 7-Eleven stores. In 26 years, Canadian 7-Eleven customers have generously donated more than $500,000.

Zone AP Manager Mark Broda accepted the award at the conference. As his predecessors before him, Mark also serves on the Crime Stoppers board of directors. "Crime Stoppers is a great organization," he said, "and has solved thousands of crimes in Canada with the support of 7-Eleven and our customers, who have been very generous with their donations over the years."

Founded in 1976 in Albuquerque, New Mexico, Crime Stoppers collects anonymous tips from the public on community safety and passes them on to the police for appropriate action. Crime Stoppers and its local, provincial, national and international associations in 28 countries assist in solving crime somewhere in the world every 14 minutes.


Canadian retailers focus on Black Friday next
Canadian merchants adopted Black Friday to compete with U.S. retailers when the Canadian dollar was at par, to reduce the flow of cross-border shoppers. There is still a lot of excitement here around Black Friday," said LeBlanc, adding that this year is an opportunity for Canadian retailers to consolidate awareness of the event among consumers. "I think last year was a big tipping point for most Canadian retailers," said Retail Council of Canada spokesperson Michael LeBlanc. thestar.com

Parcel Pick-Up Lockers Look to Take Canada by Storm -
A new security risk on your sidewalk
InPost is rolling-out its 24/7 automated-parcel locker machines throughout Canada in an effort to make e-commerce shopping and returns more convenient. The concept launched in Canada earlier this year, and it expects to soon have locations near most Canadians. InPost is seeking landlords and retailers to partner as it expands into Canada. retail-insider.com

Toronto: Many Canadians Feel Vulnerable to Identity Theft
Heading Into Holiday Shopping
Over half of Canadians (54%) say they are more concerned about identity theft today than they were a year ago according to a recent study by Equifax Canada on consumer spending habits online and in stores. Over the past 18 months, Equifax Canada has received over 180 reports of data breaches involving companies of every size. When surveyed almost half (49%) of Canadians indicated they are particularly worried about the risk of identity theft when making online purchases. Even with this growing risk and concern, 75% of shoppers still plan to make their holiday purchases online this year.

In response to fears about identity theft or fraud, the study also revealed that four in five Canadians (81%) have taken at least one of the following steps over the last 12 months:

Double-checked credit card statements - 53%
Updated security passwords - 41%
Shared less about self on social media - 34%
Installed security software - 27%
Used cash more often - 21%
Checked my credit report - 15%
Shopped less online - 15%
Purchased an identity theft product - 4% northumberlandview.ca

IKEA Canada sees 10.4% growth in 2015 Fiscal year ending August 31st. - Hits $1.795B in sales - with 26M store visits & 75M online visits

Holiday retail sales in Canada are projected to grow 4% over last year - Much stronger than U.S. counterparts by far


Retail Fast Facts: October 2015

Highlights:
● Total monthly retail sales changed by 1.4 per cent over the comparable month last year.
● Total sales excluding food, automotive and gasoline changed by 2.2 per cent over the comparable month last year. Read more



Oakville, Ontario: Thieves steal three tractor-trailers loaded with $50,000 worth of Campbell's soup
On Wednesday at around 11:30 p.m., suspects cut the lock on the gate to the fenced compound near the South Service Road and Eighth Line, police said. The intruders stole three Freightliner transport trucks, each towing a Stoughton trailer loaded with property. The trucks and trailers are valued at around $80,000. One trailer was loaded with detergent and other cleaning supplies valued at $23,000. The other two trailers were loaded with $50,000 worth of Campbell's Soup. thespec.com

Stellarton, NS: Sobeys bomb threat closes Stellarton streets for three hours
The store was evacuated of employees. As police investigated, Stellarton fire department with aid from other departments cordoned off some of the streets surrounding the store and remained on standby. A bomb-sniffing dog was brought in to aid the investigation. Emergency personnel were able to clear the scene by just after 8:30 p.m. thechronicleherald.ca



Police seek assistance identifying two men involved in theft of $10,000 watch
On Sunday, October 25, 2015, at approximately 5 p.m., two men entered a business in the Yonge Street and Dundas Street area. Once inside, the two men walked through the store, one man blocked the staff's view, and the other man removed a watch valued at over $10,000 from a display case. Both men then immediately left the store. cp24.com




Portage la Prairie RCMP Seeking Five Violent Men
RCMP in Portage la Prairie are looking for five violent men suspected in a robbery of a local business last month. Police say shortly after midnight on October 10, the men entered a store and stole a quantity of alcohol. They also allegedly assaulted a security guard who tried to stop them. All five suspects are described as aboriginal in appearance and drove away in a dark colored van with an unknown license plate. chrisd.ca



Saskatoon: Police are searching for a masked Armed Robber who hit a west side convenience store